Awards & Prizes
Portugal's Festa da Animação 2021: The Real Animation Celebration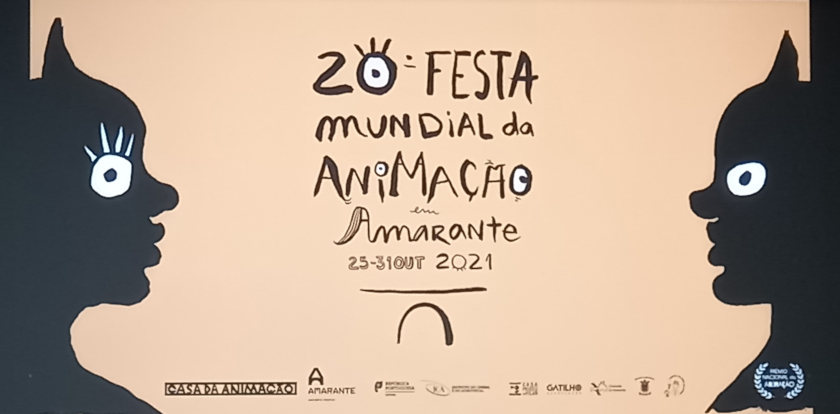 Between the 25th and 31st of October, the 20th Festa da Animação (the Portuguese celebration of animation) took place in Amarante, Portugal. A yearly recurring event that is already part of the cultural and artistic calendar of the country, and transforms its host city into the "National Capital of Animation".
Festa da Animação is an annual event organized by the Portuguese Cultural Association Casa da Animação (with the ASIFA endorsement); the non-profit association aims to "promote and develop animation, namely Portuguese, through exhibition, training, teaching, and dissemination, through curating exhibitions and supporting the creation and representation of the sector". 
The event celebrated its 20th anniversary in 2021, and there were several initiatives -both onsite and online encounters. 4 masterclasses, 8 workshops, 5 exhibitions, and around 32 film sessions in total (between feature films, short films, retrospectives, and awards).
Since I only attended four out of the seven days of the event, I'll limit myself and give a broad overview of what I had the pleasure of experiencing and witnessing at the Festa da Animação de Portugal 2021.
First of all, a brief history. The International Animation Day was instituted by ASIFA in 2002, during the presidency of Abi Feijó, a renowned Portuguese animator. Feijó also accepted the invitation to be this edition's artistic director. Nowadays, the International Animation Day event is a worldwide event celebrated in more than 40 countries. So, we can certainly detect a Portuguese origin here. 
Workshops:

Everything happened in Amarante: from cut-out animation for senior citizens, urban sketch illustration around town, puppet animation, cartoons, sound, up to pixilation.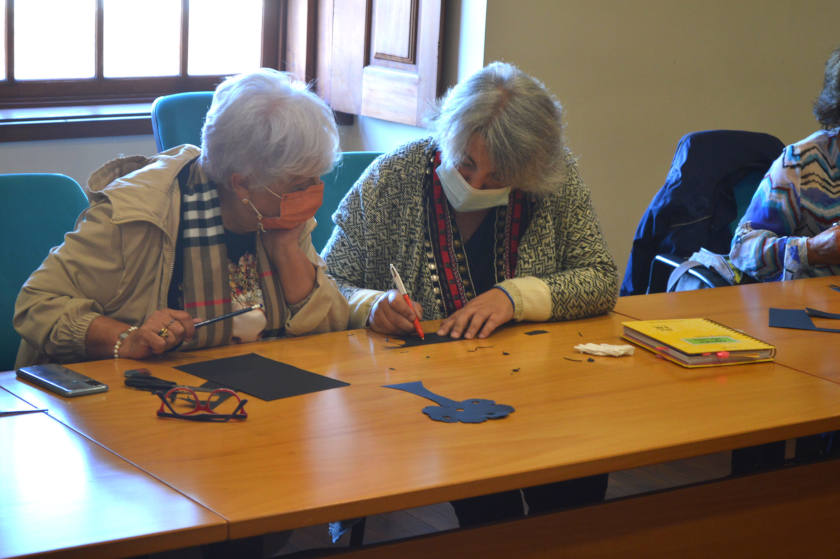 The highlights were the 11-hour workshop given by master Sandra Santos on puppet construction. The entire construction process was approached and experienced by the participants in these classes, most of whom were from universities, even with metal welding classes.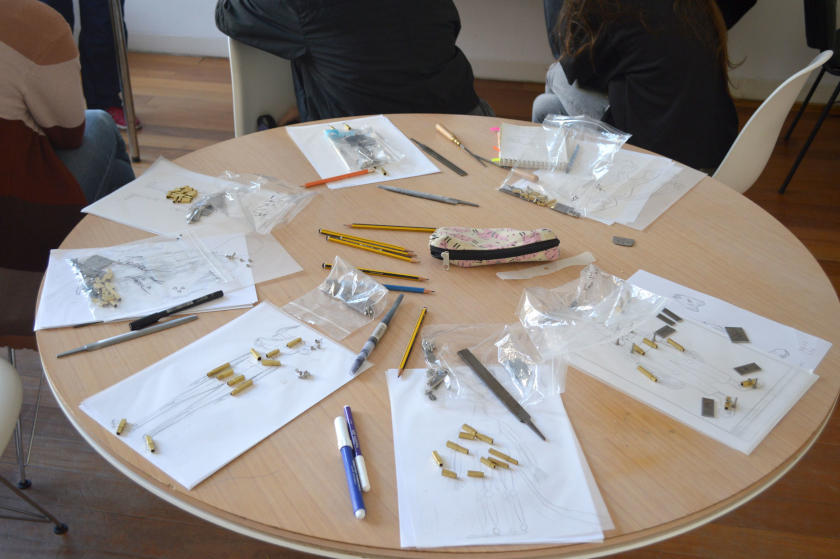 As well as Animated Drawings taught in person by none other than Joanna Quinn. Well, she is a terrific animator, we all know that. However, she is in addition one of the most dedicated teachers I have ever witnessed attending to her students. Plagiarizing Tina Turner: "Mrs. Quinn, you are simply the best".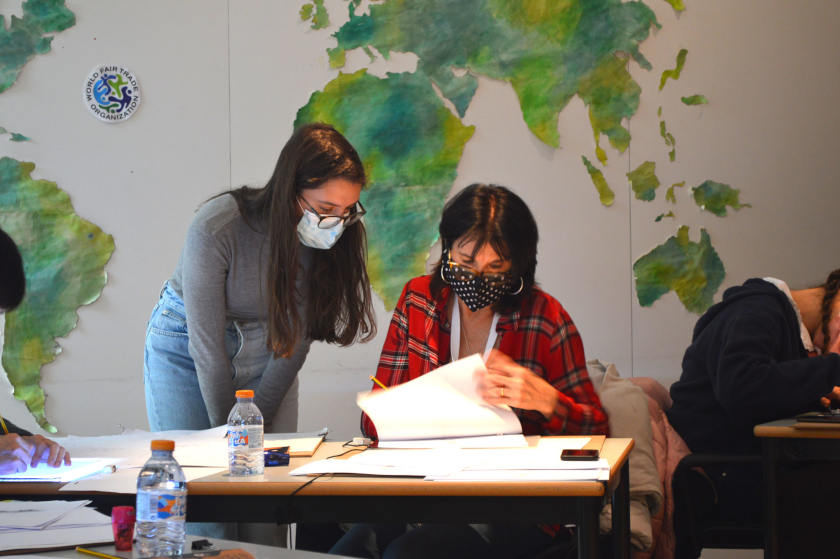 Masterclasses:

- From School to Studio: Professional Path of the First Person: taught by Bruno Simões, from Studio Kimchi. The Portuguese animator has been creatively involved in his career in several studios, including Blue Sky Studios. It was fascinating to follow the individual journey of a young man who leaves his country to work in other countries and on big productions; it was also equally interesting to follow the evolution and variation of software technologies that he experienced.
- Again, Joanna Quinn is highlighted. The Beryl Story - From Script to Screen was much more than talking about a movie. She told us about her professional career and her interest in drawing; how she began drawing when she was 6-7 years old while was watching people pass by on the street. Joanna does not like the backgrounds, and excessive use of color and had difficulties synthesizing the history of the British Empire in Britannia (1993).
Despite the cleanliness, objectivity, and speed of drawing with digital tables, where you can immediately see the result of what you are doing, she prefers to draw on paper. Since this carries an inaccuracy of the line, being necessary to draw an entire sequence to see the result. While on the computer, it is possible to follow the process frame by frame and not the "final result". Which interferes too much with the result of an animated movement.
- There were also Phil Davies' masterclasses on Animation Series Production; and The Creative Process of Carlos Saldanha.
Exhibitions

Of the five exhibitions available, I managed to see two: BAP Animation Studio and "Drawing in Line", both in guided tours by the animators themselves and by the artistic director Abi Feijó. The first is from the Portuguese Animation studio that has stood out internationally in recent years, with works such as Agouro, (Vasco Sá, David Doutel, 2018) Purpleboy (Alexandre Siqueira, 2019), and more recently Tie (Alexandra Ramires, 2020).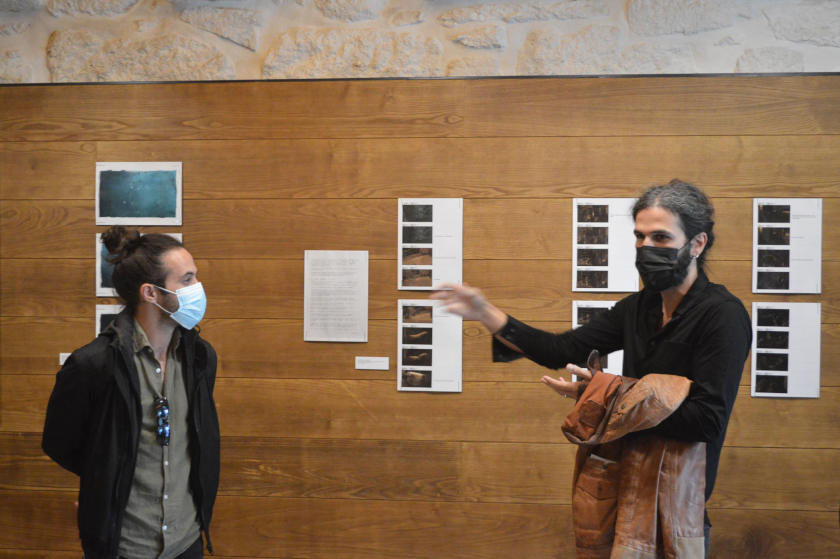 The roughs and storyboards of nine outstanding works by BAP could be seen on the three floors of the former prison building in Amarante. BAP is a group of animators who support each other, usually working on each other's projects. One of these animators is Luís Soares, who won the National Animation Award of this edition, in the professional category, but produced by Filmes do Gajo.
The second exhibition was a visual tour of Joanna Quinn's career. It was amazing because besides everything being of interest to any lover of animated art or drawing, the combination of work + artist is not something that happens every day. Originals of studies and even some cell sheets from films such as Girls Night Out (1988), Britannia (1993), Dreams and Desires – Family Ties (2006), and some works made for advertising were explained in detail and contextualized by the animator. She is communicative and has outstanding humor! A moment to remember ;).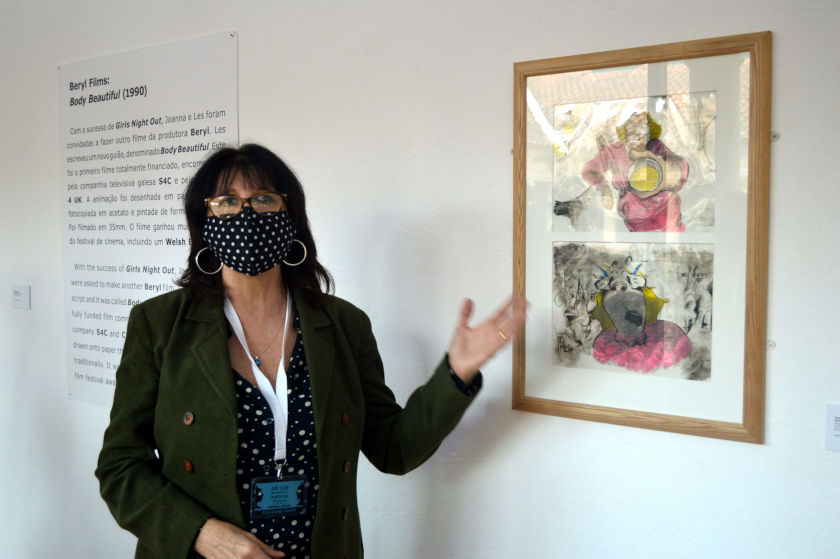 The other exhibitions were: The Workshops of Casa Museu de Vilar, about the beautiful work of teaching animation that Abi Feijó carries out with schools in the region. And From Screen to Screen, Cineviagens: 30 Artists, 30 Films, curated by Elsa Cerqueira, winner of the Global Teacher Prize-winning teacher Portugal, 2021. This exhibition was the result of her activity of more than 10 years at Cineclube de Amarante (the Cinema Club), and the National Cinema Plan of the Secondary School of Amarante - when she challenged 30 artists to create a graphic/painting work from an animated film. 
Sessions and Films

It was a long program with shorts, features, and films for the little ones, including several retrospectives and feature films for all tastes and audiences. From The Nose or The Conspiracy of Mavericks (Andrey Khrzhanovsky 2021) to Ferdinand (Carlos Saldanha, 2017). This is the philosophy of Casa da Animação: to value animation art at all its levels. So, the National Awards Sessions follow this premise. The previously selected films formed three categories: Professional, School, and Workshop  (Short animated films made in primary and secondary schools).
I was honored to be part of the Schools and Workshops Jury, which screened 20 films in total. And I do want to acknowledge the outstanding work of all the workshop tutors, teachers, and students. Also, the quality of  School works created by Portuguese students at the end of their University courses. However, as part of the jury (together with David Silva and José António Cunha), I will understandably refrain from commenting on these works, so I only list the awarded shorts.
Audience Award:
The Return Of The Waves, by Francisco Moutinho de Magalhães, Manon Cansell, Alejandra Guevara Cervera, Edward Kurchevsky, Hortense Mariano, supervision by Youngsun Lee-Tual, and produced by Gobelins, L'Ecole de L'Image;
National Animation Award, Schools Category:
Lascas / Thorns and Fishbones, by Natália Azevedo Andrade, supervision by Réka Gacs and Rita Domonyi, produced by MOME -  Moholy-Nagy University of Art and Design Budapest, 2020).
Honorable Mention, Schools Category:
Kumaru, by Bruno Maravilha, Patrícia Santos, Tânia Teixeira, supervision by Pedro Serrazina, produced by Lusófona Filmes (Universidade Lusófona, 2021).
National Animation Award, Workshop Category:
Estendal /Clothes rack, held by the Children of the ANILUPA workshops of the Porto Playrooms Association: 4th-grade students from the Valrico Basic School, under the guidance of Fernando Saraiva, produced by the Playrooms Association of Porto Harbor.
Honorable Mention, Workshop Category:
O Sumiço dos Sorrisos/ The Vanishing of Smiles - performed by the 6th grade students of the EB 2/3 School of Caíde-de-Rei (Lousada), supervision by Abi Feijó, with the production of Casa Museu de Vilar, 2021.
Honorable Mention, Workshop Category:
A Desconstrução do Natal /Deconstruction of Christmas, carried out by the Escola do Cerco Youth Collective, supervised by António Pinto and Paulo D'Alva, produced by the Porto City Council.
Regarding the Professional Category films, three short films caught my attention:
The Monkey (Xosé Zapata, Lorenzo Degl'Innocenti, 2021), produced by Sardinha Em Lata:
for its visual beauty and richness in the naturalistic detailing of the drawings. 
O Voo das Mantas /The Flight of the Manta Rays (Bruno Carnide 2021), production: Biscay-Carnide Studio, Mailuki Films 
for the poetry and the beautiful use of the colors of its images. And ...
Suspensão / Poise (Luís Soares, 2020), production by Filmes do Gajo.
A sad and restrained man lying on the bed in his empty room. Hesitates, ponders hypotheses in a cycle without deciding, stuck. In exhaustion all anguish equals. Another man is sitting at the window: he looks at him and out to the street. Characters in dysfunctional situations. The key positions and the suspended sequences are shown. The man almost decides - and they almost return, inside and out, to them and to the city, time and movement. Infinite dawn - Film Synopsis
In Portuguese, the title is "suspensão" ("suspension, interruption" in English), which seems to be closer to what the film expresses. The short, made entirely of lines and transparent fills, presents a narrative reminiscent of Eastern European short films, with a constant sense of tension. It received the National Animation Award (Professional Category).
It is interesting to notice how, in recent years, the number of Portuguese animations which present an aesthetic closer to engraving has grown significantly. This could perhaps be attributed to a Regina Pessoa influence, who uses the same aesthetic in her works.
The other awarded productions by the Professional Jury (Joanna Quinn, Fernando Galrito, and Jorge Leitão Ramos) with Honorable Mention: A Menina Parada/The Girl Who Stood Still (Joana Toste, 2021), produced by Sardinha em Lata, and A Mulher do Médico / The Doctor's Wife (Bruno Simões, 2021), produced by Animanostra.
A point to note is that the event had the full support of the host city, Amarante, and from ICA - National Cinema Institute. That is a pearl of the North of Portugal, which has approximately 53,400 inhabitants, located near to Porto city. Amarante preserves the old architecture in various buildings, which contrasts with the animation celebration and party itself, and its young people.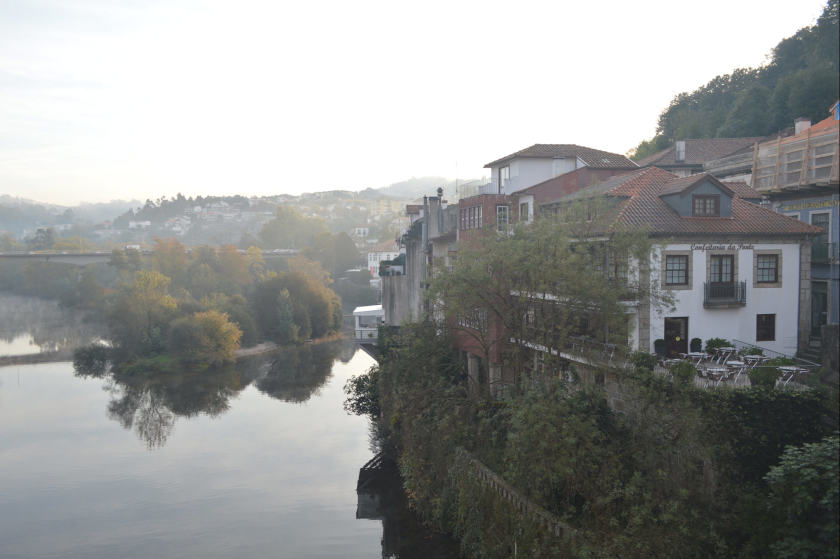 According to Regina Machado, Casa da Animação's president, the event received approximately 20 young volunteers from various parts of the country. More than 100 people took part in the event, including guests, the jury, and several other professionals. Also, more than 600 children from the region participated in the event - a constant line of work that covers the whole year with sessions screened in several schools throughout Portugal.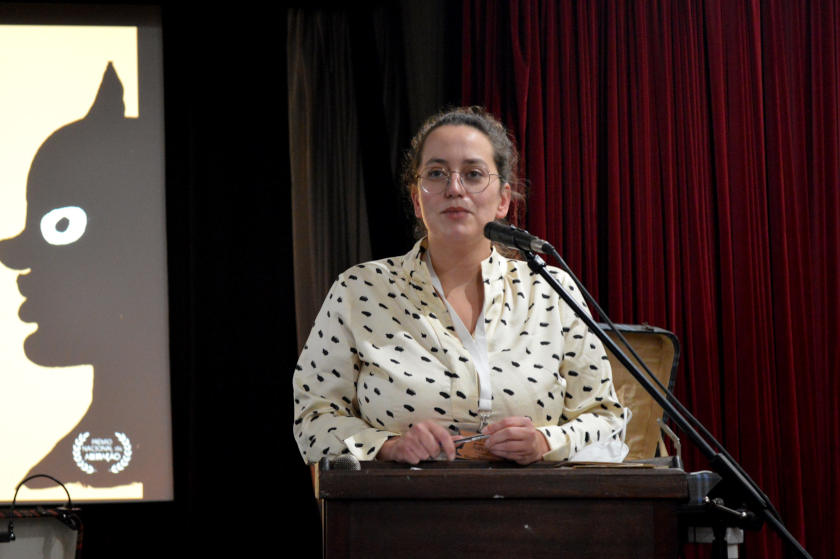 It is the seed of this art that has been cultivated from an early age. It can only bear good fruits.
contributed by: Eliane Gordeeff
(photos: Claudio Roberto)
SIGN UP: Want to read more free articles like this? Sign up for Our Newsletter