Festivals
Annecy Festival 2020: On Limits in Perspectives and Vice Versa / Notes on the Margin(s)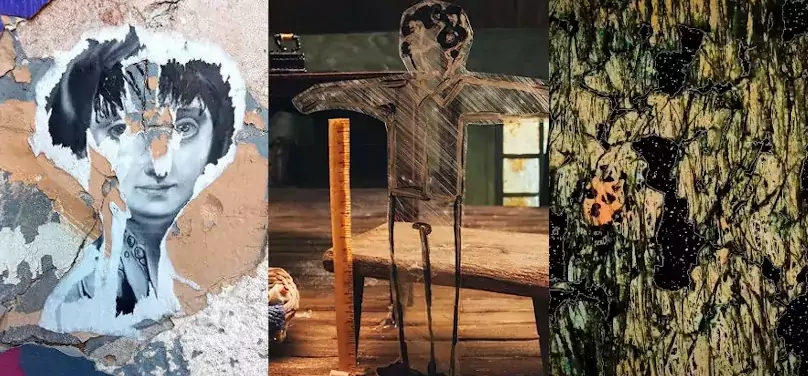 For starters, a frank disclosure: as a newcomer to close observation of Annecy program(s), shorts in particular, I was a bit in a loss between the boundaries and distinctions. And generally speaking, maybe it's worth reminding that the overall disposition was subject to change and amendments, and rather recently. As special categories, Off-limits came about in 2014, and Perspectives – just at the last revamping in 2017, together with Young Audience. With their designated separate awards, are those still to be considered, against the main competition, as respected second-tier? Or just viewed, ideally, at the certain angle, as classified?
Anyway, without questioning logic of programmers or taste of selectors, here are my partitive picks, largely beyond awards, along with no less subjective considerations.
"It's a wide-ranging concept" – as was admitted in the initial press release at introducing the new category - , albeit with a possible focus on "a singular perspective on the world we live in and the state of animation". Well, let's take this at face/framing value.

Urban Sphinx (dir. Maria Lorenzo Hernández, Spain) – by annotation, a tribute to urban artists of Valencia, but in fact appears to be of a broader or deeper ambition: an exercise in exploration of what's habitually called street art and also, if not primarily, modes of its representation, -within and alongside the native environment, so to speak. It's largely a photo-montage type; an old-school slide film of sorts,  though in extreme fast-paced thoroughly build rhythm it becomes 'animated' in good-old Eisensteinian sense; and then becomes moreover sophisticated with elements of mapping and such – sophisticating along the way its very subject matter and playground, and resulting indeed in a collective portrait of a strange and intriguing nature. Or is it rather a variety of essayistic film? – bordering animadoc, albeit in a circuitous way.
Similarly, to a degree, Home (dir. Anita Bruvere, UK) – depicting waves of immigrants, from Huguenots to Irish to Jews, that went through a single London house, the film employs also age-old, indeed the very original variety of stop-motion, or more pointedly, object-substitution technique: homeware, all the stuff of the everyday, culturally-historically marked, would appear on the shelves, tables, floors, and then dissolve, yielding to the next alteration and finally to emptiness. However, on the way all that would be likewise put in play tactfully, that is lightly animated, and complemented again by semi-transparent -as if pen-and-ink key on a virtual cel plane- figures of inhabitants, like ghosts of the hosts;  this home-plot is also framed-circled as 'theater-in-a-suitcase', with a nod from puppet settings. Altogether, beyond the warmly lyrical and moment-appropriate reminder, or even a timely socio-political gesture, it also looks like a good case study in today's concept of memory, fixated in and through the material culture, touched-formed by individual-collective destiny. And again, such a film is by nature not without doc facets; and could've been probably put into the commissioned category, as a project of/for certain foundations-institutions – in a good sense educational with artistic twist.
Black Loop (dir. Adel Elbadrawy, Egypt) could also be viewed as in a way 'commissioned' or rather as clearly 'engaged': in trying to convincingly demonstrate how 'religious fascism and military fascism are interrelated', it plays with a single gagish metaphor, sort of yin-yang gummed-up in nondistinction, an image that feels as both strong and yet as if under-processed. It's definitely an important and bold remark in national discourse, though a bit too plain artistically and ideologically – well, as 'propaganda',albeit a nobly wide-angled one, usually tends to run that slippery slope, doesn't it…
Another piece here looks like commissioned in more direct, technical sense: Pogovorim? / Shall We Talk? (dir. Ekaterina Mikheeva, Russia) was made within/for the certain project, Illuminator, dedicated to social visibility and awareness of LGBT community –which is specifically telling as it comes from Russia given its today's climate in this respect. So, again, quite a sharp point in national discourse, obviously, and even moreover so, since it's in fact an animadoc-like exercise. And in essence, it's all about exactly the discursive practices and hurdles: how coming-out youngsters and their parents can and would talk to each other, if at all; in this case, a very young director (still in film school at the time) finds her way to communicate in tactfully simplified drawings, put almost in a comics-type plot line over the authentic-real dialogues (though perhaps not perfectly sounded, for the native ear, spoken mode – to add a little reservation; but that's, I suspect, might be a common issue for the whole genre, interesting to investigate), with a touch of humor and humility with regard to all the sides involved  -a not necessarily expected tone that seals the deal here, to my mind.  
In terms of national/cultural perspective(s) per se, Night Session (dir. Petre Tomadze,Georgia) might go underappreciated, I'm afraid. For it's not just a scene of domestic violence, as annotation hints, habitual in the eyes of indifferent neighbors in the shared courtyard; it is also - if not primarily - a pretty drastic de-construction of the cultural mythology of that very space-atmosphere: a cozy-shabby-warm-unique microcosm-community of that famous Georgian courtyards, an image so prevalent, say, in 'poetic realism' of the national live-action cinema tradition through decades. And director would emphasize this explicitly, it seems: the narrative in sharply modern graphics, which transforms the feeling in its own right, ends up with a grainy-truthful photo of the real place. Yet another touch of 'doc' in the animated vision of today.
Now, Off-Limits program is thought to be, naturally, a dedicated playground for more explicit experimentation, with emphasis, in part, on "pushing the boundaries of animation and promoting the pathways for other artistic forms". Given the current technological faze and dominant trends, digitalizing the screen universe wholesale, this might sound challenging, if not superfluous; where are exactly those boundaries and pathways anyhow nowadays…
However, yes, some films did play on the margins of the conventional field; and a couple of them in particular stood for me in a curious juxtaposition. 4:3 (dir. Ross Hogg, UK) – in concept, a showy lab work of a peculiar kind, though not that eye- catching in viewing; one more in line of historical studies of optical perception, this time with a principal issue in mind, it seems: how or when the quantitative input gets to qualitative leap. Namely, the interplay of several separate projectors – is it capable of, or pregnant with, so to speak, producing the integrated new image. Regardless of the answer, the significance of the question for the artistic animation at large is in turn questionable, unless the exercise hints to the use of hidden-discovered effect as an aesthetic tool with meaning or a perceptive-sensual shift behind it.
On the other extreme, as it looks, yet another lab work-like exercise – in film (both in one: a stock and an art-form) archaeology, Schneestaub / Snow Dust (dir. Betina Kuntzsch, Germany). Found footage, or even its scraps, of very early, almost proto-animation, with winter scenes, sledge riding on snowy slops and such, undergoes digital – not restoration, contrary to expectations and conventional sense of cultural duty. It is rather a transfiguration, albeit in further destruction through authentic-archaic projection in lanterna magica, as the director confesses. This is a quite emotionally charged piece; and 'cultural moral' after all is somehow being justified, in its archival in essence, 'doc' framing, with real hands holding the real stock pieces-remains, putting what still fits on the real projector pins. The title helps in building the throughline metaphor: both the imagery and its carrier-holder are being dissolved into thin air – or converted to simulacra of pixels, if not just reduced to the name-sake visual effect of consumer catalog. Perhaps, not a quite expected twist in metaphoric sublimation, moreover that it's somewhat over-reliant on the textual poetic matter (based on the poem read in voice-over), as if not trusting the filmic one alone to hold the weight in the sub-genre of lyrical-analytical essay.
Seemingly, the same kind of dichotomy one can see in Trauma Chameleon (dir. Gina Kamentsky, USA) –torn between the word and the image in search of sense and meaning. Not exactly new in terms of basic technique employed, direct-on-film drawing-scratching or imitation thereof, with heavy collage touch; nevertheless, those visuals work good and hard on their own, in quaint pace and rhythm, as the 'character', presumably a fugitive lab rat, lashes around the screen, and through the twinkling imagery including that of textual nature, like old-era inter-titles resurrected to full independent power. Meanwhile, the director insists that the departure point and intrigue here was the research into and fascination with the rules of pronunciation, and old-fashion 'norm', manifesting the sense of language proper; and the old-school reciter is to prove it in voice-over. It strongly feels to me, however, that this interplay manifests in fact the lost meaning(s) – not just of words, but of notions as such, and we along with the poor protagonist find ourselves in deep trouble of 'post-truth', post-lost-misplaced ideas and identities. Indeed, a snapshot of the present day overall traumatic conscience/experience in all the chameleonic disguise.
As we all well know, works made on commission, first of all ads proper, historically could be and used to be also a fruitful ground for experimentation, technical and stylistic alike, an auteur escape and survival niche, and such. Not much of that in this year Commissioned program, in my view. Instead, there is a good variety of sub-genres, with some range of approaches in each.
Out of several festival trailers, Journey of Krok (dir. Nijin Nazeem, India), for my taste, looks more engagingly representative thanks to the 'motivated' overall move – the fluid-like streaming of lines as a trope for the place and mode, and maybe spirit of the particular event.
Of music videos, Past "Tíseň" (dir. Nora Strbova, Alžběta Suchanová, Czech Republic) offers more radical imagery and an intense feel. Of social or advocacy ads, Vow "Rebellion" (dir. Robert Wallace, UK), for campaign against child marriage, appears refreshingly and appropriately light to frolic in tone and style.
And of project-related, primarily educational ones in broader scope, Memoirs of Vegetation "The Castor Bean" (dir. Jessica Oreck, USA) is especially impressive: object-manipulation sketch-study, playful and witty, with second- third thoughts and layers.
One entry here in particular seems to break the sub- and grand-genre boundaries: Short Cuts "Cris et chuchotements"  (dir. Inés Sedan, France) – quite an elegant etude, but of what nature precisely: is it just a free-willing homage to Ingmar Bergman masterpiece Cries and Whispers, or an actual ad-trailer for the film, albeit of an unusually indirect variety, or maybe a starter of certain trend – animated versions-variations, arty digests of 'big brother' classics…
Finally, another couple of films, from different ends, that stand alone for me. In Only the Seas Live Forever (dir. David Ehrlich, China, USA – Perspectives), a veteran filmmaker-educator-curator-critic gives a master-class in visual meditation, in almost abstract forms, almost fluid shapes; so old-schoolish, if not old-fashioned, and at the same time so fresh in feeling – maybe a timely reminder of cinemateque and museum lessons, or perhaps a discovery of the ever-green species in the jungle of animated vision(s).
And in Wieczór/Sunset (dir. Marcin Gizycki, Poland – Off-Limits), a renowned scholar and festival director gives yet another lesson – introducing a specific angle, or maybe opening up a certain sub-genre of 'critical' filmmaking: inspired by the farther-figure of Polish animated industry Zenon Wasilewski (and probably by dichotomy of his stylistic choices- options in films vs. personal painting), he offers, with exquisitely minimalist touch, a peculiar method of film restoration – through restoring, imaginatively reconstructing the possibilities, albeit never realized, but nevertheless so tangibly close, so rich in potential impact… thus, perhaps, offering in fact a way of creative realignment of the art-form history per se.
contributed by: Mikhail Gurevich
About Mikhail Gurevich:
Independent scholar and critic, born in Moscow, Russia. Writes on literature, theater, film and culture at large, with concentration in animation, puppetry, and experimental theater and cinema. From late 1970s was actively contributing to major cultural publications in Russia; later edited independent periodicals. Worked as expert-consultant for professional associations and studios in theater and cinema. From 1992 lives in USA. Wrote on animation in particular for professional and academic publications; recently contributed extensively to the history of world animation by G. Bendazzi; to Global Animation Theory (Zagreb) and Propaganda, Ideology, Animation: Twisted Dreams of History (Krakow). Lectured in several universities and institutions internationally. Participated in a number of festivals as programmer, curator, juror and discussant; currently affiliated with Blow-up International Arthouse Film Festival (Chicago). Also involved in broader cultural journalism and documentary film-making; interpreter and translator.