Awards & Prizes
BAFTA Children's Awards 2013: Animation Winners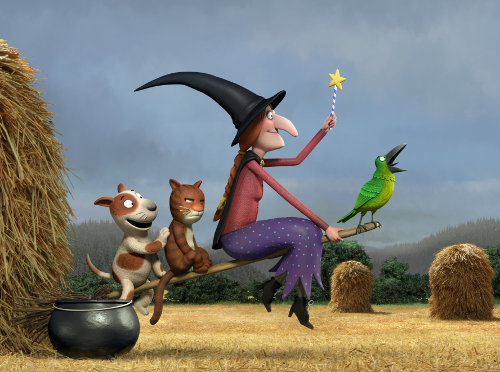 The animated Room on the Broom ,based on the children's picture book (Julia Donaldson-Axel Scheffler) won best animation at the BAFTA Children's Awards 2013. Directed by Max Lang and Jan Lachauer, and produced by Magic Light Pictures, the animated film managed to win The Amazing World of Gumball, recipient of the corresponding 2012 BAFTA award (and also nominated at the 2013 awards).
The Amazing World of Gumball (created by Ben Bocquelet and produced by Cartoon Network Development Studio Europe) won the award for best writer.
 Despicable Me 2 won the BAFTA Kids Vote  for best feature film. In BAFTA Kids vote, 7-14 year olds voted online (from 21 Oct to 22 Nov) for their favorite film among animation and live-action films.  The game app Despicable Me 2: Minion Rush also won the BAFTA Children's award for best video game.
The animated series Timmy Time (Jackie Cockle, Liz Whitaker, David Scanlon dir.) won the award for best pre-school animation.
 Review the nominees for Animation, Pre-School Animation, and Feature Films, and see all BAFTA Children's Awards winners.
Children's Animation

The Amazing World Of Gumball, Ben Bocquelet, Mic Graves, Sarah Fell
Room on the Broom, Production Team
Strangehill High, Phil Chalk, Josh Weinstein, Kat Van Henderson
The Snowman and the Snowdog, Hilary Audus, Ruth Fielding, Camilla Deakin
Pre-School Animation
Octonauts, Nicky Phelan, Stephanie Simpson, Kurt Mueller
Timmy Time, Jackie Cockle, Liz Whitaker, David Scanlon
Sarah and Duck, Sarah Gomes Harris, Tim O'Sullivan, Jamie Badminton
Peppa Pig, Phil Davies, Philip Hall, Joris van Hulzen
Children's Feature Film
Wreck-It Ralph, Rich Moore, Clark Spencer, John Lasseter
ParaNorman, Arianne Sutner, Travis Knight, Sam Fell, Chris Butler
Life of Pi, Ang Lee, Gil Netter, David Womark
Brave, Production Team
Read More About: