Awards & Prizes
Dilili in Paris, Wicked Girl Take Home César Awards 2019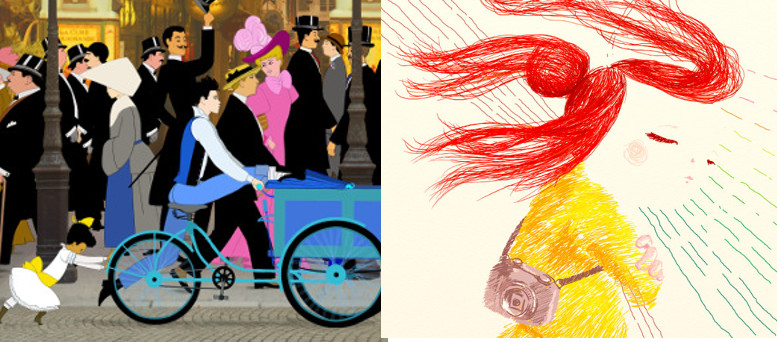 Two animated  films focusing on women and their place in society  were voted by the 4303 members of the Académie des Arts et  Techniques du Cinéma and took home the César animation awards  - revealed 22nd February 2019. 
In the feature film category, Michel Ocelot's modernist Dilili in Paris  (production: Christophe Rossignon, Philip Boëffard / Nord-Ouest Films, ARTE France Cinéma, Artémis Productions, Senator Film Produktion, Studio O ). The film  details a search for missing girls in the Belle-Epoque Paris (view the French trailer) was awarded the César for Best Animated Feature.  
This is the second César award for the French auteur. His first victory was back in 1983, with The Legend of the Poor Hunchback. Below is the backstage interview (in French) of Michel Ocelot, talking about critics and the award.

CÉSAR for the Best Animated Feature Film: Nominees

ASTÉRIX - LE SECRET DE LA POTION MAGIQUE   (Dir: ALEXANDRE ASTIER, LOUIS CLICHY, prod: PHILIPPE BONY)
DILILI À PARIS  (Dir: MICHEL OCELOT, Prod: CHRISTOPHE ROSSIGNON, PHILIP BOËFFARD)
PACHAMAMA (Dir: JUAN ANTIN, Prod: DIDIER BRUNNER, DAMIEN BRUNNER, OLIVIER DE BANNES)

In the short animation category, Turkish director Ayce Kartal  found his way into the 44th French César winners wiith Wicked Girl (production: Les Valseurs). Through the words of a little girl, Wicked Girl modestly approaches the issue of sexual violence against children, especially in Turkey. The strength and delicacy of this film is also due to its very refined graphic style: 10,000 drawings, made by hand, combining several 2D animation techniques.
The film had already collected the Annecy Jury Prize, as well as the Grand Prix of Clermont-Ferrand Festival, among other festival awards. Here's the backstage English interview with Ayce Kartal:
 CÉSAR for the Best Animated Short Film: Nominees 

AU COEUR DES OMBRES (Between the Shadows) Alice Eça Guimarães et Mónica Santos  (Pr:Animais AVPL, Vivement Lundi!, Um Segundo Filmes)
LA MORT, PÈRE & FILS, Denis Walgenwitz et Winshluss (Prod: Je Suis Bien Content)
RAYMONDE OU L'ÉVASION VERTICALE, Sarah Van Den Boom (Prod: Papy3D)
Notable absences: La Chute by Boris Labbé, Reruns by Rosto, Le Mans 1955 by Quentin Baillieux. Compare the previous 12-film shortlist
  
The 44th annual César  ceremony took place 22 February 2019 (Salle Pleyel).
SIGN UP: Want to read more free articles like this? Sign up for Our Newsletter
Read More About: