Festivals
Our Top Animation Short Picks from Encounters Film Festival

This year';s (entirely online) Encounters Film Festival included a breadth of animation, with many films exploring unusual, adult oriented themes and deploying innovative approaches to visualisation and storytelling.
Awards for animation at the festival:
Animated Encounters Grand Prix - The Tiger Who Came to Tea directed by Robin Shaw
Best of British: Animation - Bench directed by Richard Webber
Here is a selection of the animated films as picked up by Joseph Norman for Zippy Frames:

Hibiscus Season, dir. Eleanore Goldberg, Canada, 2019
Zaire, January 1993. Rachel's family, an 8-year-old French girl, lives in Kinshasa in a house overlooking the Congo River. A sensual and intimate film about memory, writing and forgetting.
ZF: This was a very interesting, understated film, shot at a low frame rate with a jerky style, enhanced by watercolour line/fill boil. The story recounts a child's memories of living through an uprising in Zaire. The mood is thoughtful and pensive, with scenes constructed carefully to communicate the brooding sense of impending danger and traumatic memory. 
Isle of Chair, dir. Ivyy Chen, Taiwan/UK
On a secluded island, a chair has fallen down.
ZF: A mysterious atmosphere pervades this beautifully designed short. On a strange island in which a chair has fallen on its side. A floating dot meanders across the island, and a giant person tries to restore harmony by setting the chair straight. The rich design approach and lyrical soundtrack build a slightly eerie quality, and there are some strikingly composed close-up shots.
Six to Six, dir. Neta Cohen, Israel, 2019
During the lengthy sleepless nights, the familiar home surroundings of a new mother take on a dark, eerie appearance.
ZF: A slickly-made paranoid short using monochrome to induce a paranoid atmosphere; with strong hints of The Shining, there is a sense of impending doom, with repeated text messages received and a dreamlike walking…but to where?
The Song of a Lost Boy, dir.  Daniel Quirke, UK, 2020
Ben, a young choir boy, who after his voice breaks mid solo, has a crisis of faith, decides to run away from his community.
ZF: Made by MA students at NFTS: starting with a choir singing in a Church, this stop-mo film tells the story of a young boy escaping in order to find emancipation and connection. Through well-staged handheld camerawork we watch as the boy runs nervously up a ravine into a desert, where he meets a Mad Max-like group of travellers singing and banging drums: a tactile meditation on the need for connection and spirituality through finding one's own voice.
Signs, dir. Dustin Rees, Switzerland 2020
An electrician follows his nightly routine setting up signs in the city. Another film depicting the alienation of modern life; this time, telling the story of a handyman who fixes electronic signs. Life is a repetitive drudgery, where he and his partner barely see each other due to working different shifts.
ZF: The use of jump cuts is effective to convey the oppressive, repetitive nature of shift work; however, some of the characterisations slipped unnecessarily into simplistic stereotypes, and this weakened the overall depth of the narrative.
Wade Director Kalp Sanghvi & Upamanyu Bhattacharyya, India, 2020
In a version of Kolkata, India rendered unliveable by sea level rise, thing stake a dark turn when a family of climate change refugees are ambushed by a tiger on the flooded streets.
ZF: A climate change story, set in Kolcatta: the city is flooded, with packs of tigers roaming the streets and crocs in the floodwater. Animals and humans are united in desperation at the deteriorating situation. The film uses grungily atmospheric environments, painted realistically to build atmosphere.
The Last Train, dir. Ross Hogg from LUX Scotland, UK, 2019
A diverse cross section of tired, drunk, disgruntled, joyous and riotous strangers, pushed together within the confines of the last train home.
ZF: An interesting short, showing the experience of getting the last train home at night: the protagonist sits on the train, as an array of exhausted, loud, quiet, drunk and drugged up passengers get on and off. This stylish short has clear influences of Gorillaz in the character design; using a lyrical linear approach and block colours, it is good to see animation being made to explore this type of socially-aware content.
Protocole Sandwich, dir. Valerie Bousquie, Josephine Meis, Come Roy, Antoine Vignon & Benjamin Warnitz, France 2019
In a wild inhabited desert, a team of rangers is in charge of rescuing people who get lost there.
ZF: A nicely designed French film, about rescue rangers entering a deserted zone, who also maintain power systems. This is a great looking film, with an interesting storyline that could easily have been extended. The use of colour switches and pixellation to signify glitches made a fresh aesthetic.
Only a Child, dir. Simone Giampaolo,
A visual poem which gives shape and colour to the words spoken by 12 year-old Severn Suzuki at the United Nations' Rio Summit in 1992. 
ZF: A great short film, with a child sending a warning to adults about impending environmental and other human-made disasters. Exploring wildly creative jumps between different forms of animation, this is sensitively made leaving a strong message.
Mosaic, dir.  Imge Ozblige, Belgium 2020
In the oldest city of the Middle East, a Muslim musician and a Christian little girl are part of a cultural mosaic. When vicious noises bring war upon their city, a mysterious sunfish appears to save them.
ZF: This film has an interesting production design approach, showing Islamic culture within a city. There is a loose, lyrical hand-drawn quality in the characters and how they deform in motion, and the environment and some characters use an interesting textural approach,  resulting in a hybrid surface of decorative patterns and watercolour drenches.
The special feature section included Memories of Maria Manton, which profiled the late animation producer Maria Manton, including the animated video for re-released ' Here Comes the Sun' by The Beatles. In addition, the Manton produced 'Who I am and What I want', a Chris Shepherd and David Shrigley film, brought his drawings to life in a highly enjoyable and humorous approach, involving defecation, swinging genitals and lots of scribble: a refreshing surprise!
The Edge, dir.  Zaide Kutay, Géraldine Cammisar, Switzerland, 2020
A loan truck driver drives his load, a ferris wheel, through a remote desert landscape.
ZF: A nice, interestingly atmospheric short about a truck driver, delivering a ferris wheel on a lonesome drive through a desert, where its journey is sabotaged by a strange alien form. Big panoramic landscape shots, and a great section where the screen is subdivided 60s-style into a scrunched-up set of comic book frames; this theme of surface fragmentation is developed as a symbol of broken reality and the entering of a new dimension.
2.3 x 2.6 x 3.2, dir. Jiaqi Wang | United Kingdom, China | 2019
Moon, Kareau, Cure, Cancer, How great is my hope?
ZF: A sweet film with an intimate atmosphere, gentle segues between current action and woodcut memories of a relative dying of cancer. The highly sensitive use of foley gives the film a tactile and emotive quality; the experience of cancer is told, and the story moves softly between the woodcut memory and current day.
Nod.Wink.Horse dir. Ellie Magee, RCA
ZF: An atmospherically designed 2d stop-motion film, set within a grungy, inner city environment; the production design deploys scribbly, loose drawing quality and a murky colour sense, giving the film a childlike and grotesque aesthetic, involving pissing, grunting animals and cruel beatings.
Sad Beauty dir. Arjan Brentjes, Netherlands, 2020
In a heavily polluted city, a young woman mourns the disappearance of animals species.
ZF: Against the backdrop of news reportage of the mass extinction of a plethora of animals, and the timely quest to find cure for a virus that is spreading out of control, a woman continues to water her pot plant and draw pictures of winged insects. A timely warning about the climate crisis.
The Physics of Sorrow, dir. Theodor Ushev, Canada, 2019
The Physics of Sorrow tracks an unknown man's life as he sifts through memories of his youth in Bulgaria through to his increasingly rootless and melancholic adulthood in Canada.
ZF: This beautiful film, made using encaustic painting technique, is deeply poetic in its textured landscapes with murmurating flocks of starlings.
Fragments, dir.  Adekemi Roluga,  United Kingdom | 2020
Fragments is an animated, autobiographical film documenting the journey of a young woman who recounts trying to navigate her biracial identity, broken home, and a society that doesn't accept her.
ZF: A thoughtful monochrome animation, using quite striking visuals and linear drawing approach. Limited animated action and a selective simplistic style, showing a monotonous reflection on problems faced in growing up in a mixed heritage family, and experiencing racism and how she tried to deal with discrimination. This film contains a sensitive portrayal of learning to navigate a broken home and the filmmaker's mixed race heritage in a racist society, and delving into her relationship with her Father, and how this has impacted on her own emotional health.
The following films made a deep impression, in their originality of story and striking vision:

Tie, dir.  Alexandra Ramires, Portugal/France, 2020.
Under a gloomy sun, two characters look for adaptation.
ZF: Starting with an animal-eye POV running through scrubland, this highly sensual film depicts animals, landscape, life; evocative of nighttime  atmosphere, as corpses decay, a human with a tiny body climbs out of a pond to don a full-body-sized suit. The film uses moody textures to build atmosphere; underscored by weird, subtle background sounds, this is a strange and memorable work, showing strong production design and lush, fluid character motion. A powerful and hauntingly strange film, and a standout from the festival.
Armstrong, dir. Russ Etheridge, UK
Mel builds sculptures of her crisps-obsessed crush. When the mon vanishes before her eyes, she must find a way to save the world before it crumbles into tiny pieces.
ZF: A female character works on a production line all day. At night, she goes home alone, and spies on her neighbour taking a bath. This is a gloriously surreal film, with strong hints of the painter Joan Miro in the overarching aesthetic. The 'supermarket music' soundtrack enhances a sense of alienation and mass-production. At nighttime, the other houses become greyed-out, like machines that have been switched off. In this greyed-out landscape, she keeps a sculpted grey version of her neighbour, resembling a blow-up doll, which she arranges in different positions to keep her company. However, one night, the greyed-out landscape stars to switch back on, as reality has broken! The neighbour's house is convulsing wildly, and as she watches through a telescope, the neighbour is sucked down the drain with the bathwater. The factory system, now up and running again, now delivers the neighbour, dropping him into her reality. The film features a funny scene where the neighbour awakes naked on her couch and is disturbed to find the greyed-out doll version of himself, wobbling mechanistically in limbo, half-alive with the convulsions of the house. The world is reminiscent of Fritz Lang's Metropolis, and the workers have become automated to fuse with machines. With characters showing a simplistic wonky and blobby aesthetic, and the landscape exuding feeling like it has come off a production line, the aesthetic is extremely confident.
This is an unusual short film, which explores the alienation of humans through working in automated conditions; the production design is original and quirky, and allows for enough character empathy whilst also following a bizarre and surreal aesthetic.
Portrait of a Woman, dir.  Natalia Durszewicz, Poland, 2020
This eponymous 'female portrait' is made of social expectations, stereotypes and cultural constructs.
ZF: This beautiful short is a meditation on a woman's experience of relationships and growing older; highly sensual and painted with a tactile bodily sense of colour and mark, this is a strikingly original film, with dramatic symbolism underpinned by great transitions of painterly wetness.
SH_T Happens, dir. Michaela Mihalyi, David Stumpf Czech Republic, Slovakia, France | 2019
The caretaker exhausted by everything, his frustrated wife and one totally depressed deer.
ZF: Set within a dreamy dysfunctional world, where the humans have lost touch with their Nature, whilst animals enjoy a sensual existence. Within a strange world, we see anthropomorphic animals pissing in the street, a society of animal people. The film is interesting in how it explores the animal-self within human identity, through sex, bodily function, desire, and sensuality of eating. There is a humorous approach to sex and emotional needs between humans: a couple seem to have lost their sexual chemistry, and the female watches enviously as animal couples kiss within an erotically charged nightclub. The woman is lost in a sensual fantasy, as one of her animal neighbours visits her, filled with desire. The soundtrack features a cacophony of animal calls and human grunts, plus a creamy, pastel colour scheme which gives it a kitsch overall feeling.
Symbiosis, dir.  Nadja Andrasev France, Hungary 2019
A betrayed wife starts to investigate her husband's mistresses. Her jealousy is gradually replaced by curiosity.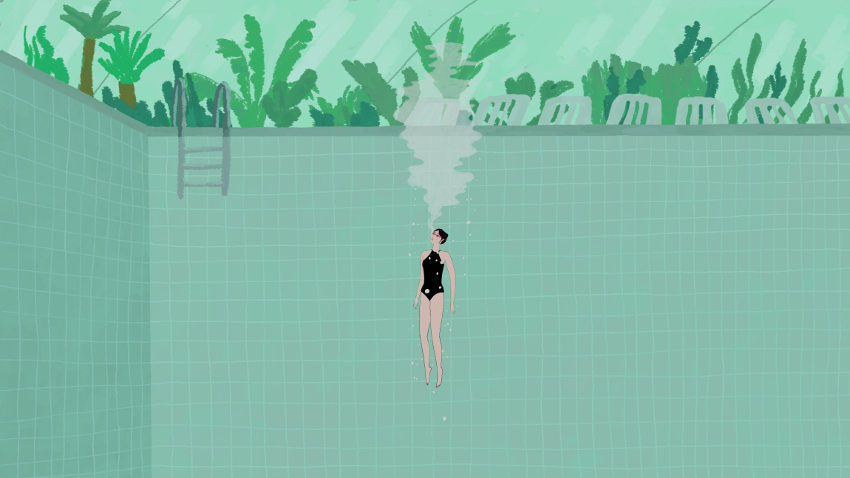 ZF: This final film stood out above all others: A young unnamed woman watches life passing her by from her balcony in a tower block. Depicting a strong sense of  contemporary urban alienation, this is a very interesting adult-oriented film. Unusual in its depiction of sex and masturbation, the film shows a clarity and honesty as the woman observes her partner's infidelities. Desire is ever-present, as the woman dwells on her own existence, and contemplates the natural world of animals and insects, moths exiting their pupae, as she begins to realise her new self in transformation. One of the most powerful scenes shows the woman peering giant-sized from outside the tower block into the tiny flats of others. Stylistically the film exudes a strong Hockney aesthetic, deploying bold patterns, deep colours, linear drawing and stop motion use of materials and insects. A vivid and sensory wonder, with desire and subjectivity at its core.
Joseph Norman was a guest of Encounters Film Festival.
SIGN UP: Want to read more free articles like this? Sign up for Our Newsletter