Awards & Prizes
Of Shadows and Wings Wins at Locarno
In the film Of Shadows and Wings (D'OMBRES ET D'AILES) by Eleonora Marinoni and Elice Meng, amid a population of "birdmen", Moann is shamed when her wings disappear and a strange cracking sets in beneath her feet.
In a society where all that matters is the size of one's wings and ambition, Ciobeck, the nihilist, would like to protect her. But how can they survive in a barren land, pervaded by "caved in" spirits The above story, based on Plato's allegory of the Cave, was made into a 13-minute, French/Swiss animated short.
After its Locarno premiere, it won the Pardino d'argento Swiss Life award in the National Competition (worth 5,000 CHF), and  the Best Swiss Short Film by the Cinema & Gioventù Jury for the Pardi di domani section.

The Mathieu Amalric-narrated film is is a coproduction by Vivement Lundi! and Nadasdy Film, which started in Elice Meng's mind about five years ago, in front of one of her painting entitled "Where are the birds without wings going".
The making of the short film spread out over 14 months, from storyboard to the mixing. A few sequences integrated the technology of Golaem Crowd.
Nicolas Martin composed the original soundtrack.
The 230.000 € budget was provided by RTS, CNC, Office Fédéral de la Culture, Région Bretagne, Cinéforom, Loterie Romande, Département de Loire-Atlantique, TVR and the City of Rennes.
Expect the short to make a decisive entry in the animation festival circuit.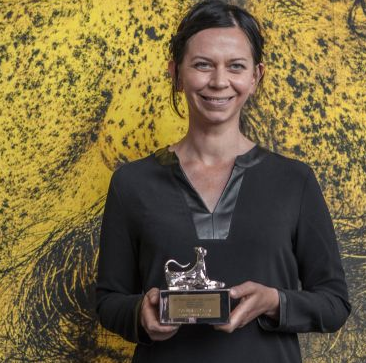 (photo: Elice Meng receives the Locarno award for Best Swiss Film, via pardolive.ch)
Read More About: