Festivals
Stop Trik Festival 2021: Selection Results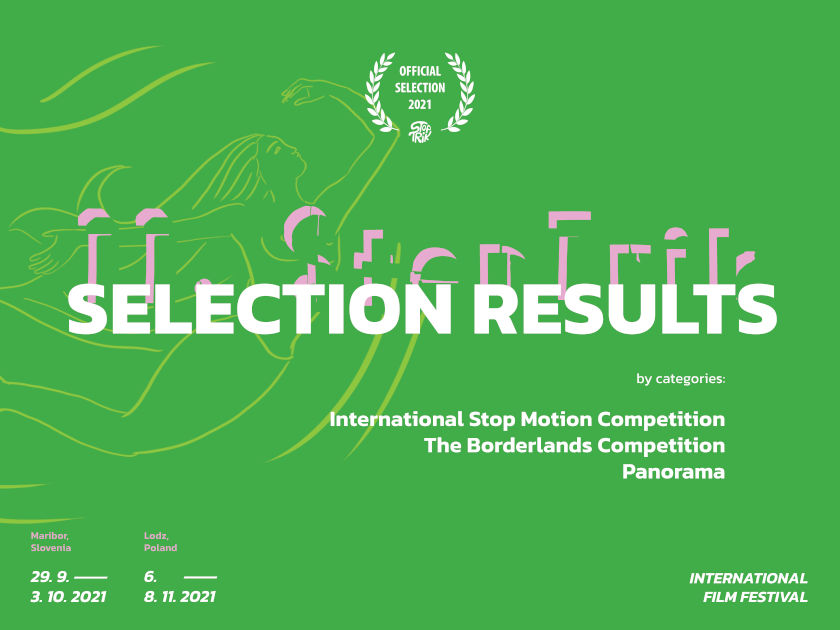 61 recent, stop motion and stop motion-experimental shorts will be presented this year on 11th StopTrik IFF in Maribor (Slovenia) and Lodz (Poland). 
International Stop Motion Competition, a 3-part programme which highlights newest worldwide accomplishments of the animation filmmakers using traditional stop motion techniques (puppet, clay, pixilation, cut-own, object animation, etc.), consists of 26 films.
Among the selected titles one finds already acclaimed hot-picks of the season such as Hugo Covarrubias' BESTIA (Chile), Kang-min Kim's KKUM (South Korea, USA), or Julia Orlik's I'M HERE (Poland) as well as the works of new-comers to stop motion animation. We are especially honored to host the world premiere of Miloš Tomić's MY FATHER'S DAMN CAMERA, proudly produced by Maribor's own Film Factory, and inspired by the photography art of Dragiša Modrinjak, a master of photography from Maribor.
1-set programme of The Borderlands Competition includes 15 animated films that experiment with stop motion techniques by combining them with other animation or live-action filmmaking procedures. Among the competing titles the Audiences will watch Paul Bush's ORGIASTIC HYPER-PLASTIC (UK), Paul Wenninger's O (Austria) but also a strongly engaging example of protest animation #polish_women_resistance made by nearly 50 young animators in the midst of the most significant political and social rebellion in Poland after 1989.
 Unexpectedly, after the terrible year for the film festival culture, we've been overwhelmed with brilliant, daring and thought-provoking submissions; rejecting the films is always the hardest part of the selector's job, but this year it was especially demanding, I'm greatly satisfied with the programme but this doesn't mean I have no regrets - StopTrik IFF Program Director, Michał Bobrowski,  responsible for the festival selection process
Non-competitive Panorama programme showcases 20 films of artistic potential and intellectually inspiring content that should not go overlooked by the festival's Audiences for they present unique visions of the world and sharply mediate social and political criticism.
Full lists of the selected films:
International Stop Motion Competition:  26 films from Argentina, Australia, Belgium, Canada, Chile, Croatia, Estonia, France, Hungary, Israel, Mexico Poland, Serbia, Slovenia, Spain, South Korea, UK & USA (alphabetical order)
1. A Most Exquisite Man / Üks imeline mees, dir. Jonas Taul, prod. OÜ Nukufilm, 2021, Estonia, 14'46''
2. Ailin on the Moon / Ailin en la luna, dir. Claudia Ruiz, prod. EL MOLINETE ANIMATION, 2019, Argentina, 5'
3. Balance, dir. Timothée Crabbé, prod. LUCA School of Arts, Timothée Crabbé, 2019, Belgium, 7'2''
4. Bestia, dir. Hugo Covarrubias, prod. Trébol 3, 2021, Chile, 15'45''
5. Better Angels, The, dir. Michael Cusack, prod. Anifex, 2021, Australia, 12'5''
6. Blink in the Desert, dir. Shinobu Soejima, prod. Tokyo University of the Arts, 2021, Japan, 10'27''
7. Can you see them? / Vidiš li ih ti?, dir. Bruno Razum, prod. Zagreb film, 2021, Croatia, 10'27''
8. Catcalls, dir. & prod. Laura Stewart, Anna Berezowsky, 2020, Canada, 2'2''
9. Chloé Van Herzeele, dir. Anne-Sophie Girault, Clémence Bouchereau, prod. Autoproduction, 2019, France, 16'47''
10. Detektive Thumb and the Infinity House, dir. Preston King, prod. Savannah College of Art and Design, 2020, USA, 5'53''
11. Elusiveness / Trkija, dir. & prod. Marija Vulić, Isidora Vulić, 2020, Serbia, 7'14''
12. Fledge / Plumot, dir. Hani Dombe, Tom Kouris, prod. The Hive Studio, Les Films de l'Arlequin, 2021, Israel, France, 15'25''
13. Footbath / Pediluve, dir. Cléane Ambry, Léa Pulini, prod. EMCA, 2021, France, 3'39''
14. I'm Here / Jestem tutaj, dir. Julia Orlik, prod. PWSFTviT Lodz Film School, 2020, Poland, 15'
15. Kkum / 꿈, dir. Kang-min Kim, prod. Open The Portal, Studio Zazac, 2020, South Korea,USA, 8'53''
16. My Father's Damn Camera! / Ta presneta očetova kamera!, dir. Miloš Tomić, prod. Film Factory, 2021, Slovenia, 6'40''
17. Only with You / Rak Itcha (רק איתך), dir. Raz Merhav, prod. Bezalel Academy Of Art And Design, 2021, Israel, 3'22''
18. Pearl Diver, dir. Margrethe Danielsen, prod. Volda University College, 2020, Norway, 8'45''
19. Plantarium, dir. Tomasz Ducki, prod. EG oFILM, 2020, Poland, Hungary, 7'
20. Poppy 'HER', dir. Chris Ullens, prod. Jade Bogue, 2021, UK, 3'44''
21. Push This Button if You Begin to Panic, dir. Gabriel Böhmer, prod. Rational Vagabund Films, 2020, UK, 13'
22. Re-Animal, dir. & prod. Ruben Garcera, 2021, Spain, 13'7''
23. Selection Process / Proceso de selección, dir. Carla Pereira, prod. TV ON, SL, 2021, Spain, 3'30''
24. Three Jumps to Happiness / Trzy skoki do szczęścia, dir. Artur Hanaj, prod. PWSFTviT Lodz Film School, 2020, Poland, 12'
25. Tio / Tío, dir. Juan J. Medina, prod. IMCiNE, 2021, Mexico, 12'40''
26. Your Own Bullshit / Własne śmieci, dir. Daria Kopiec, prod. Munk Studio - Polish Filmmakers Association, Likaon, 2020, Poland, 6'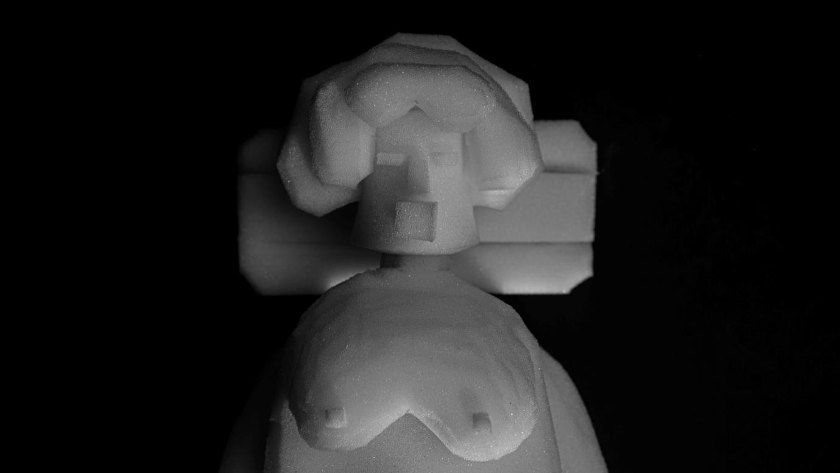 KKUM
The Borderlands Competition: 15 films from Austria, Belarus, Croatia, Denmark, Germany, Iran, Israel, Poland, Russia, South Korea, Taiwan, UK (alphabetical order)
1. #polish_women_resistance / #sprzeciwpolek, dir. collective, prod. LeLe Crossmedia Production, 2020, Poland, 8'17''
2. Alexander Mosolov. Three Pieces / Aleksandr Mosolov. Tri P'yeski (Александр Мосолов.
Три Пьески), dir. Natalia Ryss, prod. Studio M.I.R., 2020, Russia, Belarus, Israel, 2'57''
3. Bird / Niao (鳥), dir. Wu-Ching Chang, prod. Aco Studio, 2019, Taiwan, UK, 4'35''
4. Events Meant to Be Forgotten / Dogadjaji za zaboraviti, dir. Marko Tadić, prod. Kreativni sindikat, 2020, Croatia, 6'
5. Eyes and Horns, dir. Chaerin Im, prod. Fabian& Fred, 2021, Germany, South Korea, SA, 6'15''
6. Film Found, dir. Claudia Munksgaard-Palmqvist, prod. Volda University College, 2020, Denmark, Germany, 3'30''
7. I Come From, dir. & prod. Kate Jessop, 2020, UK, 0'59''
8. O, dir. Paul Wenninger, prod. Kabinett, 2021, Austria, 5'
9. On Time, dir. Zbigniew Czapla, prod. Zbigniew Czapla HOME STUDIO, 2021, Poland, 5'30''
10. Orgiastic Hyper-Plastic, dir. Paul Bush, prod. Late Love Production, 2020, Denmark, UK, 7'
11. Piece of Solitude / Qt'eh tnhaaa (قطعه تنهایی), dir. Elaheh Ghomeishi, prod. Documentary & Experimental Film Center, 2021, Iran, 9'10''
12. This is Only Getting Worse / Hahara haze rak mamshich ligdol (החרא הזה רק ממשיך לגדול), dir. Eran Luzon, Michael Negari, prod. Bezalel Academy of Arts and Design, 2020, Israel, 7'36''
13. Utopia - C, dir. Reinhold Bidner, prod. gold extra, 2020, Austria, 7'38''
14. When We Fell, dir. Ben Spooner, Morgan Twiston Davies, prod. Ben Spooner, 2021, UK, 4'3''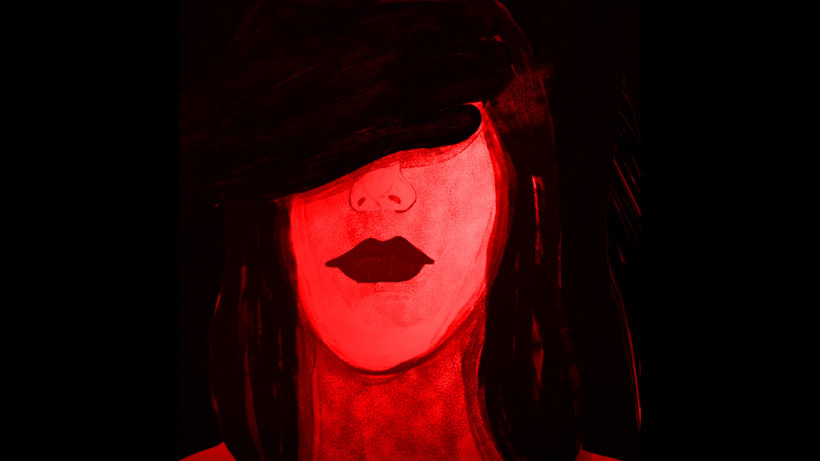 #polish_women_resistance
Panorama: 20 films from Canada, Germany, Hungary, India, Iran, Israel, Italy, Poland, Singapore, Slovenia, Spain, UK, USA (alphabetical order)

1. A Very Gripping Story, dir. Trevor Hardy, prod. Pigbird, 2021, UK, 1'
2. Attitude / Attitüd, dir. Zsuzsa Kemény, Szandra Pataki, prod. Inforg - M&M Film KFt, 2019, Hungary, 7'57''
3. Black Sateen / Satane Siyah, dir. & prod. Shiva Sadegh Asadi, 2021, Iran, 2'10''
4. Crafty Witch, dir. Laura-Beth Cowley, prod. Weird Eye Collective, 2021, UK, 1'
5. Dance In The Depth, The, dir. Karina Hananeia, prod. WILD KIDS Animation Studio, 2020, Israel, 2'30''
6. Fish Bait, dir. Suresh Eriyat, prod. Studio Eeksaurus Productions Pvt. Ltd., 2020, India,0'25''
7. Flamenco, dir. Paulo Scatena, prod. Filmakademie Baden-Württemberg, 2021, Germany, 2'21''
8. Hanged Man's Revenge, dir. & prod. Fabio Catalano, Alex Cattabriga, Matteo Ferrari, 2021, Italy, 3'21''
9. Hexed, dir. Louise Bongartz, D. Forest Gamble, Francisco Martins Fontes, prod. BAU Design College of Barcelona, 2021, Spain, 4'3''
10. Home, Closed, dir. Wobbe F. Koning, prod. ideePIX, Monmouth University, 2020, USA, 3'43''
11. Med Cezir Tango, dir. & prod. Meriç Atalar, Isabel Loyer, 2020, Spain, 3'30''
12. Moments, The / Chwile, dir. & prod. Piotr Kaźmierczak, 2020, Poland, 2'7''
13. My Name is RED, dir. & prod. Sadko Hadzihasanovic, 2021, Canada, 0'55''
14. Roots Home, dir. Audrey Rainville, Miriam Pelletier, prod. Audrey Rainville, 2021, Canada, 3'3''
15. Shopping Sunday / Niedziela handlowa, dir. & prod. Ambroży Dańko, 2021, Poland, 5'30''
16. Social Mâché, dir. Jordan Antonowicz-Behnan, prod. Royal College of Art, 2021, UK, 3'15''
17. Song of the Whales, The / Pesem kitov, dir. Žoel Kastelic, prod. Academy of Fine Arts and
Design Ljubljana, 2021, Slovenia, 2'56''
18. Visit, The, dir. Morrie Tan, prod. Finding Pictures Pte Ltd, 2021, Singapore, 9'6''
19. Wall Unit / Meblościanka, dir. & prod. Joanna Polak, 2021, Poland, 9'47''
20. White, Black and True Love / Bela, črna in prava ljubezen, dir. Anja Paternoster, prod. University of Nova Gorica School of Arts, 2021, Slovenia, 5'7''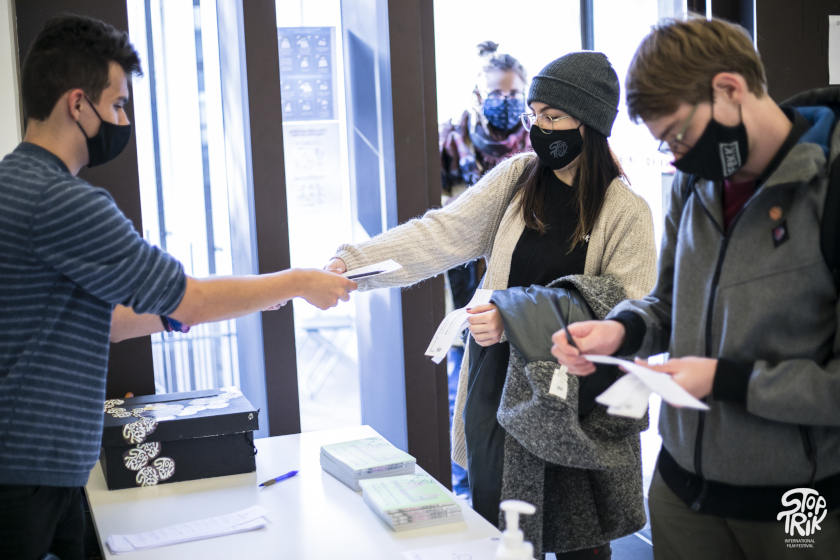 StopTrik Festival voting (photo: Andrej Firm)
Similarly to the previous years, the winners of the StopTrik IFF will be chosen by the Audiences gathered at the screenings in Slovenia and Poland. The groups of Maribor and Lodz students will deliver their separate verdicts. 
The 11th StopTrik IFF takes place in Maribor (29.9. - 3.10.2021) and in Lodz (6.-8.11.2021).
SIGN UP: Want to read more free articles like this? Sign up for Our Newsletter
Read More About: