Festivals
The Lost thing wins at Athens Animfest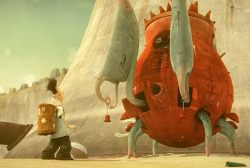 The Lost Thing (also won the Oscar for short animation this March) narrates the story of a peculiar creature, lost about which noone cares. A guy decides to find a place for him.
There was strong speculation about the winners, and
Vicenta
(by the Spanish SAM, who was present in Athens) won the second prize, and also the audience award. An ordinary housewife is turned into the doctor of a Frankenstein in this sincerely enjoyable, colorful and dark film.
Pixels
(by Patrick Jean, France) came in the third place.
US won the student film. Erik Oh and his poignant yet sentimental
Heart
was the big winner, whereas the French crime-story Les Bourbier followed.
The third prize was awarded to the Russian Dog-walking ground (Leonid Shmelkov). The audience award for student films was reserved for the Jordan Film, Missing (Tariq Rimawi)

The Greek section featured a big winner in Voula Koutsoumanis' object animation Lilly's Dress. Effie Pappa (1.2 Million Children) and Mr. Tetelin (l. Kontodima) were also commented for their animatic virtues, gaining the second and third prize respectively.

The students' award (from the University of Patras' Theatrical Studies department) went to Miracle Lady (M. Abuiafia, M. Somer, Israel).

The 6th Animfest closing ceremony featured a crazy marionette performance, and good wine afterwards. It seems like a family affair (even though the room was crowded), but it is all the better that way.

Watch the full list of awards, and selected trailers from the awarded films:

International Short Films
1st prize: The lost thing (Shaun Tan, Andrew Ruheman, Australia)
2nd prize: Vicenta (SAM, Spain)
3rd prize: Pixels (Patrick Jean, France)
Audience award: Vicenta (SAM, Spain)

Student Films
1st prize: Heart (Erik Oh, USA)
2nd prize: Les Bourbier (J. Bennamias et al, France)
3rd prize:  Dog-walking ground (L. Shmelkov, Russia)
Audience award: Missing (T. Rimawi, Jordan)

Prize awarded by university students (Theatrical Studies, Univ. of Patras):  Miracle Lady (M. Abuiafia, M. Somer, Israel)


Read More About: