News
Yakari by Xavier Giacometti Goes to Cannes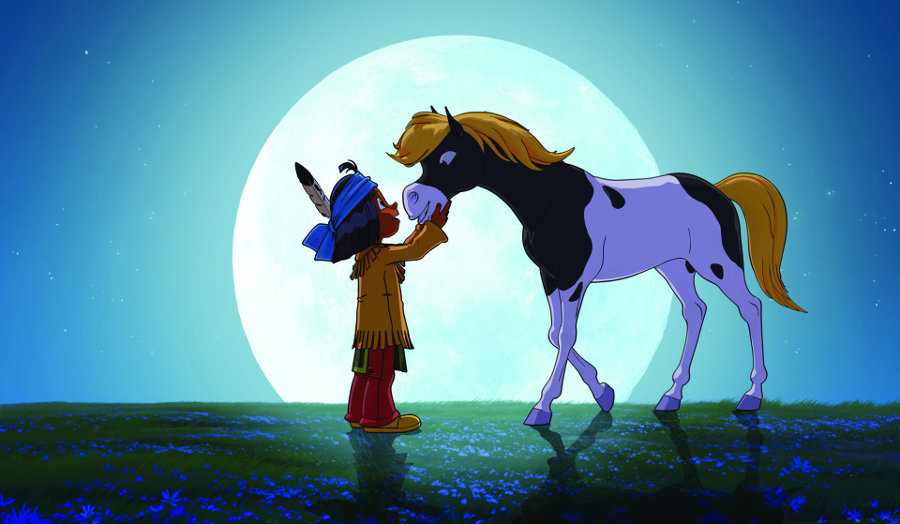 Produced by Dargaud Media in co-production with WunderWerk and Belvision, the 2D/3D animated film Yakari  by Xavier Giacometti (co-directed by Toby Genkel) will be presented on 19 May in Cannes as part of the "Animation Day" initiated by the Film Market and the Annecy International Animated Film Festival.
Yakari is one of the five international projects of the 4th edition of "Annecy goes to Cannes", an event organised by the Annecy Festival to provide an opportunity for a selection of films in production to show their state of progress to distributors, investors and sales agents present in Cannes, and encourage them to support them.
 It is a great honour to be included in the selection, and very encouraging for our film which is currently in the throes of production. Our hero Yakari will be happy to leave the Great Plains and tread the paving stones of the Croisette for the first time. We are thrilled to have this opportunity to reveal some images from the film for the very first time - Maïa Tubiana and Caroline Duvochel, film producers / Dargaud Media.
This is the first feature to be adapted from one of the best known and most sold comic books in Europe – now published by Le Lombard, the series was created in 1969 by Job and Derib and counts 39 volumes –Yakari shows the incredible friendship between Yakari, a young Sioux, and Little Thunder, his inseparable pony.
While the tribe is preparing to migrate, Yakari goes off into the unknown in pursuit of Little Thunder, an allegedly untameable mustang. Alone for the first time in his life, Yakari encounters the magic of Great Eagle, his totem animal, who gives him a wonderful feather and the gift of being able to talk to the animals. But his quest takes him far away, to the territories of the terrifying puma-skinned hunters, to live his first big adventure alongside Little Thunder until he finds his way home with him. A journey through the immense landscapes will seal forever the friendship between the bravest little papoose and a pony that runs faster than the wind - Film Synopsis
 The 76-minute  film is a 3D animation feature with 2D rendering and a budget of 8,1m€. Yakari  is a co- production between France, Germany and Belgium, and is directed by Xavier Giacometti, co-directed by Toby Genkel  (both co-wrote the script).
It is distributed by BAC Films. Theatrical release is scheduled for 2020.
SIGN UP: Want to read more free articles like this? Sign up for Our Newsletter
Read More About: