TV Animation
Katell France Collaborates with Média-Participations Group Towards The Marsupilamis Production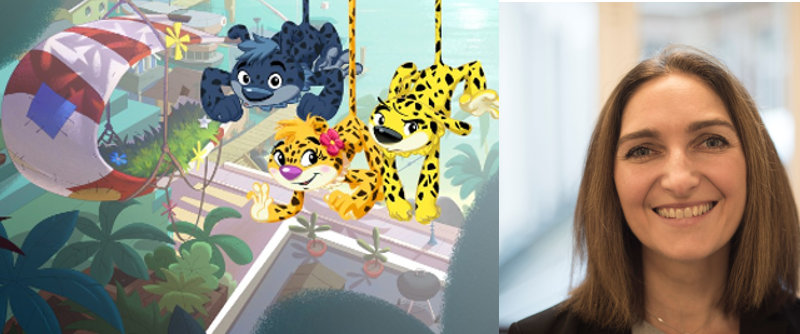 Caroline Duvochel, Managing Director of the French production companies of the Média-Participations Group (Ellipsanime Productions, Dargaud Media, Dupuis Edition & Audiovisuel and Ellipse Studio) has just entrusted Katell France with the mission of consulting producer.
After heading up Studio 100 Animation for 10 years, Katell France became an independent producer and oversaw the further development of the series The Marsupilamis, presented by Dupuis Edition & Audiovisuel and Belvision at Cartoon Forum in September 2019. She is taking over from Maïa Tubiana, who is continuing her collaboration with the group, also as an independent producer, on other projects including the new 3D series The Smurfs.
The Marsupilamis, a 52 x 12' 3D Franco-Belgian co-production, is a new adaptation of the world of the iconic character created by André Franquin in 1951. Directed by Philippe Vidal (The Garfield Show, Boule & Bill…), this series (addressed to an audience of 6+),  combines adventure and comedy, action and sitcom, humour and tenderness. It has been developed in a close collaboration with the comic book publisher Dupuis in total respect of the iconic character created by Franquin.
The Marsupilamis, has enjoyed many adventures. Audiences have come to learn a lot about this legendary creature: his extraordinary abilities, his life in the heart of the Palombian forest, his strong sense of family, his amused curiosity towards his strange human neighbours…  This new series explores a brand-new direction with a story featuring 3 young Marsupilamis propelled in this strange jungle the natives call "town" - Series Synopsis
Working title: The Marsupilamis
Adaptation from The Adventures of the MARSUPILAMI created by André Franquin
Production: Dupuis Edition & Audiovisuel (France), Maïa Tubiana and Caroline Duvochel,and Belvision (Belgium), Raphaële Ingberg
Director: Philippe Vidal
Format: 52 x 12', Technique: 3D, Audience: 6+
International sales: Mediatoon
About Katell France
Passionate about animation for more than 20 years, Katell France began her career at Gaumont in 1995. After numerous assignments as production manager and line producer for various animation studios (TV series, feature films), she joined Xilam in 2007 as Deputy Managing Director. In 2010, Katell France became Managing Director and Executive Producer of Studio 100 Animation producing more than 250 half hours of animation programmes including Maya the Bee, Vic the Viking, Nils Holgersson, Heidi, Arthur and the Minimoys, Galactic Agency as well as the feature Vic the Viking. Her programmes have been widely distributed around the world. 
About the Audiovisual France Division of MEDIA-PARTICIPATIONS
European leaders in animation production (series, features, transmedia content), Ellipsanime Productions, Dargaud Media, Dupuis Edition & Audiovisuel have over several decades produced programmes for all audiences, in a variety of technologies and graphic styles, with the constant search for innovation and renewal. 
Dargaud Shanghai, based in Beijing, supports business and outreach development in China. Their catalogue is distributed around the world by Mediatoon International Distribution.
Manufacturing Studios: Ellipse Studio is the production studio based in Paris and Angoulême.
Madlab, partner studio for mutualised services between Ankama and Ellipsanime Productions, is based in Roubaix.
SIGN UP: Want to read more free articles like this? Sign up for Our Newsletter
Read More About: