London International Animation Festival 2023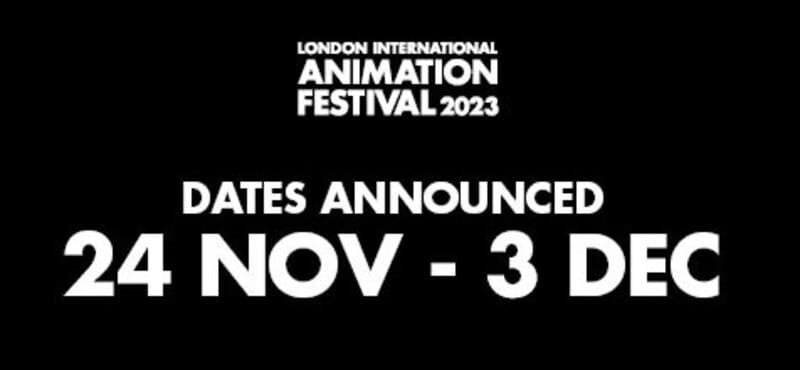 Category
ANIMATION & FILM FESTIVALS
Deadline | Event Dates (period)
Email
This email address is being protected from spambots. You need JavaScript enabled to view it.
Final submission deadline
2023-07-31
Submission/Registration Fee
Yes
Event Description: The London International Animation Festival proudly showcases the whole spectrum of independent creative animation, showing that animation is for everyone. Founded in 2003, LIAF aims to dispel the popular misconception that animation is just cartoons for kids by screening the broadest possible range of intelligent, entertaining, and provocative current films on offer from all around the world as well as retrospectives and specialised sessions from countries and animators who don't normally elicit such attention.
2023 Call for Entries
The 20th London International Animation Festival (LIAF) will take place from 24 November to 3 December 2023 in London.
Eligibility criteria
All animated films including music videos, animated documentaries, and children's films are eligible.
To be considered eligible for selection in LIAF 2023, your film should have been completed

after 1 January 2022

. The Festival Director reserves the right to grant exceptions to this criteria in exceptional circumstances.
Awards and Prizes
Best International Film - cash award/prize
Best British Film - cash award/prize
Best Children Film - cash award/prize
Best Sound Design - cash award/prize
Best music score - cash award/prize
Best Late Night Bizarre film - cash award/prize
Best music video - cash award/prize
All screening material must be in London by 15 October 2023.
Deadlines: 31 May 2023 (regular), 31 July 2023 (late) - fees apply
Archive
2022 Festival Coverage 
2021 Festival Coverage
2020 Festival Coverage
2019 Festival Coverage 2019 LIAF Awards
2018 Festival Coverage
This year LIAF received 2,589 entries and selected 117 finalists from 30 countries to screen in official competition in 10 international competitive programmes including Into The Dark scary shorts, From Absurd to Zany funny shorts, two programmes of Animated Documentaries, the British Showcase and the Abstract Showcase. Films range from the surreal and nutty, to heart-droppingly beautiful with all emotional bases covered – love and hate, sadness, anxiety and confusion and much more.
The 2018 short film competition showcases entries from a mix of festival veterans and first-time competitors. Oscar winners Alison Snowden and David Fine (Canada) join LIAF favourites Chris Shepherd (UK), Jonathan Hodgson (UK), Juan Pablo Zaramella (Argentina), Ulo Pikkov (Estonia), Tom Schroeder (USA), Liz Hobbs (UK), Sawako Kabuki (Japan), Rosto (Netherlands), Paul Bush (UK) and Ruth Lingford (UK) alongside an unprecedented amount of strong new work from all over the world.
Event Dates
From

24/11/2023

to

03/12/2023