Feature Animation
Fritzi: A Revolutionary Tale Gets German Critics Award, Cartoon Tributes Nomination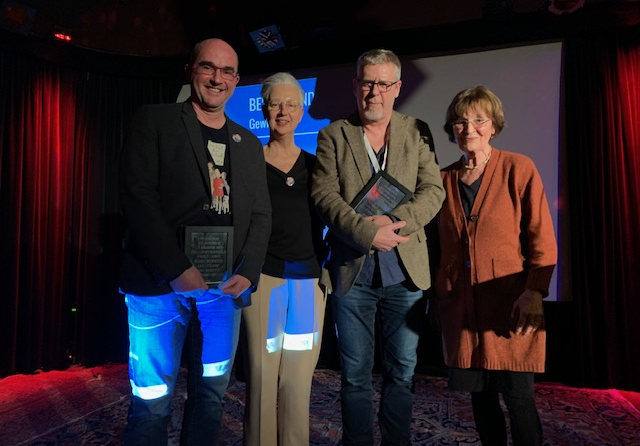 Left to right: Ralf Kukula (director/ producer), Beate Völcker (author), Richard Lutterbeck (producer) and Christel Strobel (Laudator; artechock)
There were two accolades this week for the new German/Luxembourg/Belgian/Czech animation feature, Fritzi: A Revolutionary Tale directed by Ralf Kukula & Matthias Bruhn .
The members of the German Film Critics Association have chosen the winners of the annual German Film Critics Award. Fritzi, a Revolutionary Tale won in the category Best children's film.
The film is based on on the novel Fritizi was dabei by Hanna Schott and Gerda Raidt, and it's a co-production between Balance Film GmbH, Trickstudio Lutterbeck GmbH (Germany),  Doghouse Films (Luxembourg)  Artémis Productions and Digital Graphics (Belgium), and Maur Film (Czech Republic), a first for a Czech production experience in such a European animated project. 
It  tells the story of a 12-year-old girl Fritzi who lives in 1989 East Germany, taking care of Sputnick, the dog of her best friend Sophie. When Sophie doesn't come back from her holidays in Hungary, Fritzi and Sputnik set out in search of their friend. That adventures leads her into the Leipzig's peaceful demonstrations of Leipzig of the period.
The jury statement read: Ralf Kukula and Matthias Bruhn have brilliantly succeeded in filming a political topic, namely the fall of the Berlin Wall, in an exciting and entertaining way that is also suitable for children. At the same time, "Fritzi" is once again a creatively animated cartoon film with an extremely coherent script (Beate Völcker, Péter Palátsik), which doesn't want to be faster, louder and more colourful, but instead trenchantly portrays characters without betraying them and condenses events without distorting reality. And in addition, it tells a historical story that moves and carries away the audience and teaches children without a pedagogical index finger to see the world with their own eyes.
In the upcoming CARTOON Tributes, the film's producers were nominated for European producer of the year award for the film. Nominally, the co-production team Trickstudio Lutterbeck (Germany) / Balance Film (Germany) / Doghouse Films (Luxembourg) / Artemis Productions (Belgium) / MAUR film (Czech Republic) will The Cartoon Tributes are the awards for outstanding contribution to the development of European Animation over the last year.  The vote and ceremony will take place in Bordeaux on Thursday 5 March.
Check the video and the music recording with the FILMharmonic Orchestra in Prague (April 2019).
SIGN UP: Want to read more free articles like this? Sign up for Our Newsletter