Reviews
Frankenweenie review: Hollywood goes to the cemetery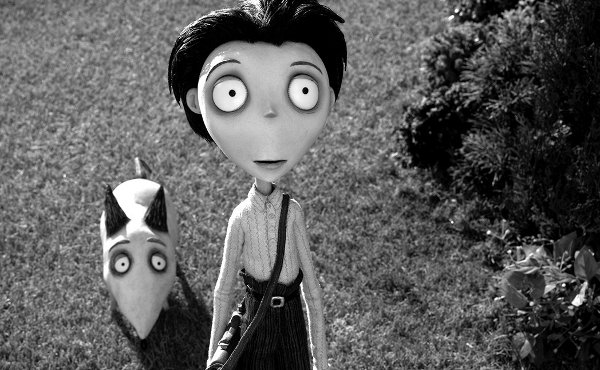 Suburban surroundings and the idea of an outcast readily bring to mind Tim Burton's mainstream triumph, Edward Scissorhands.
But Frankenweenie is not a stop-motion reworking of Scissorhands. Depp is absent from casting, and the grumpy Mr. Burgermeister only once uses a pair of scissors to threaten Sparky.  Frankenweenie is instead a reverent homage to the classic Hollywood terror.
In the New Holl(ywood)land of the 50s, Bambi still plays at the local theaters, but the the stereoscopic glasses are the ones to provide the opening in a film that closely links cinema to science and technology.
 Victor Frankenstein (Charlie Tahan) is a shy, clever boy, whose triangular face bears a great resemblance to his dog's face, Sparky. Victor never really communicates with people. His faith in science is constantly undermined when his schoolmate, the Weird Girl (Catherine O'Hare) forewarns him of the ominous events to happen. Most of all, his failure to communicate with the others makes him partially responsible for Sparky's death.
 Following an electrified lecture by a lookalike Vincent Price science teacher, Mr. Rzykruski (Martin Landau), Victor predictablly decides to resurrect Sparky. No narrative surprises are to follow for those well-versed in classic horror films -including a welcome nod to the Bride of the Frankenstein in a poodle's hairdo.
 From then on, Frankenweenie expands and multiplies its show of monsters rather than develop the theme of the outcast (which was prominent in Tim Burton's eponymous short, live-action film in 1984).
A whole gang of children, each with a distinct spooky appearance (but well-defined via the horror hero library) causes calculated laughter. The hunchback and toothless Edgar (Atticus Shaffer) is by far the most interesting character to watch being animated, and he is the one (instead of Victor) to lead things into more trouble.
 Frankenweenie is a kids' movie in the sense that Rene Clement's classic Forbidden Games (1952) appeals to the kids. Kids can get fun by bringing out the dead, and the monsters they create bring more problems to conservative, uninteresting adult characters.
 Kids are the actors to the science fair of cinema, where even popcorn can be the remedy for the menacing crowds of Sea Monsters.
Frankenweenie looks more like an academic piece than a comedy film on horror, and it never registers imminent danger. Its black and white look evokes horror nostalgia, not gothic. The only graphic and terrifying scene in Frankenweenie occurs in the last act, when the psychotic albino cat Mr. Whisker turns gradually into something that Victor was never prepared to face. It is always of some excitement to reanimate the dead, and Tim Burton refreshes his own work in the comedy horror genre.
But times come when the sweetness of the film has to give way to excitement and awe, and this is what Frankenweenie keeps hidden in its heart.
Vassilis Kroustallis
Read More About: