Reviews
The Art of Happiness (L' Arte Della Felicita) Film Review: Constructing Hope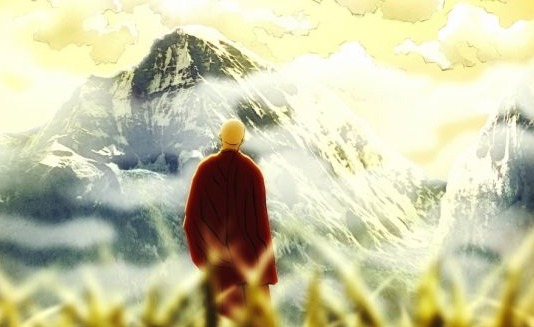 Directed by first-timer in feature animation Italian Alessandro Rak, who co-wrote the script with Luciano Stella,  The Art of Happiness (L' Arte della Felicità) is film of fragments and search for the meaning. Its subject matter might bring to mind Linklater's Waking Life, but Rak's film is a more dramatic than intellectual endeavor.
Sergio is a cab driver in the always drizzling Naples, and seems an outcast drawn out of graphic novels and Italian neorealism. With his beard and taxi smoking habits, the 40-year-old Sergio is a former musician who cannot accommodate himself inside the "trash for exportation" that contemporary Naples seems to be.
Yet appearances deceive. What concerns Sergio is his relationship with his recently deceased brother, Alfredo. The violin player of the music duo and almost a father figure for Sergio, Alfredo surprises everyone when he decides to leave Italy for Dharamsala, India to find his own happiness in the Buddhist teachings. His death will bring back a mess of memories (in constant flashbacks) to his devastated brother.
The Art of Happiness starts like a Dalai Lama graphic novel, kicked off by a pigeon who carries dead souls and unravels the plot. A radio dj who whispers words of wisdom seems to be the city's hidden conscience with his preaching of Samsara and rebirth. Still, this is no cinematic attempt to subscribe to Buddhist Enlightenment through the animation medium.
What keeps the narrative in place is Sergio's never-ending search through his memory to find the reasons and causes for his brother's death, and his anguish when this is not forthcoming. In The Art of Happiness, we watch people who suffer as humans do, not cartoons who utter escapist lines about the failure of Western civilization. (Even when they do, as the radio dj does inside Sergio's cab, Sergio is quick to retort).
Alfredo in India is as wordly as his Skype communication practice, and his fierce debates with his brother makes it the more poignant when we've already been prepared that there'll be no more of that. The richness of their relation is expressed in the variety of filmed flashbacks; almost opaque faces figure in adulthood and their fights, as if to compensate for the clear and trustful faces of their youth.
The middle  act is a kaleidoscope of characters offering feedback but often flawed solutions to Sergio's unnerving trauma. The sardonic story of a man becoming famous by recycling garbage (via a glittering phoenix reborn from his ashes), and the old widow smoker who never tires of being vulgar color the film, but make Sergio's story lose some of its steam. Sergio's own cab tirades against the cartoonist society seem unnecessary; his predicament has been well described so far.
Yet, imminent natural disasters, even if they are not the of the scale of Apocalypse, strongly bring to mind Paul Thomas Anderson's Magnolia. and give the dramatic cue to Sergio to unite his own memories. The ending twist is well-prepared for, as well as a magnificently lit lyrical scene of Sergio playing the piano in the tree of life (in panoramic shots). Another distressed soul might also help allay Sergio's sense of guilt and anguish.
Animation (supervising animator Ivan Cappiello) brings excellently the film's decadence, using broad strokes and elusive details for its human characters, while the Naples and India settings plainly contrast murky skies and surroundings with glowing light. The fight of two brothers looks like a distant relative of Sibelius' Valse Triste animated treatment in Bozzetto's Allegro Non Troppo.
The music score by Antonio Fresa and Luigi Scialdone never leaves one get bored, and works as a connecting thread to the film's fragmented structure.
Not a film that rests on narrative development, The Art of Happiness (produced by the newcomers Mad Naples Studio) is nevertheless an adult animation pic which is beautifully made and invested with pathos. Invoking the human ability to both feel devasted and still cling on to happiness, The Art of Happiness needs to be seen and experienced.
Vassilis Kroustallis
Read More About: