Reviews
The Boxtrolls Review: Nostalgia Rules Stop-Motion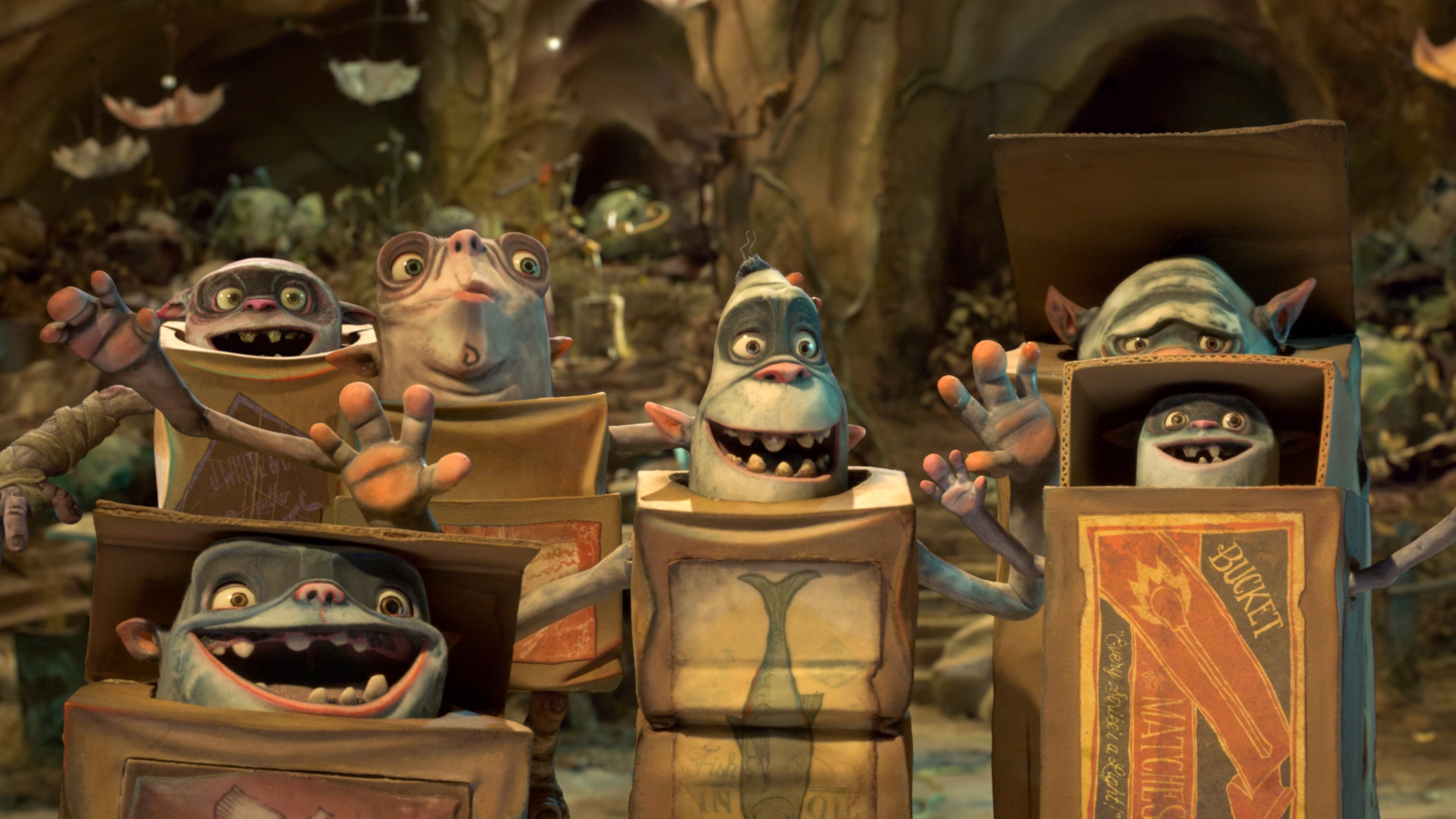 Employing less of the freakish merry-go-round of ParaNorman (but with funny freak shows itself), and less philosophical than the parallel universe of Coraline, The Boxtrolls against explores the territory of what it is to be different, and now opts resolutely for retro solutions.
 In a city of Cheesebridge, with its lovingly crooked lines and dark colors (as Victorian England would permit), there are two worlds. The upper world of Lord Portley-Rind (Jared Harris) and his less-than-lovable friends, lovers of giant cheese and crowd manipulators is the one that The Boxtrolls are opposed to.  
 Living in the sewers, the Boxtrolls with their pointed ears and a name box for a garment are the perennial scapegoat for the cunning and gluttonous villain Archibald Snatcher (Ben Kingsley), whose only ambition is to get a white hat and power, and whose physique is a enchantingly sinister version of  Teniel's Tweedledum/Tweedledee in Through the Looking Glass. Still, the two worlds inadvertently mix up when a small baby (whose father is in danger) is taken away by boxtrolls and fostered as their own child.
Eggs (Isaac Hempstead-Wright), a mellow version of ParaNorman, grows as a boxtroll but will soon face identity problems when he meets the daring but prejudiced Winnie (Elle Fanning), the neglected daughter of Lord Portley-Rind.
 For all its exquisite England setting, The Boxtrolls feels more like a homage to Hugo's The Hunchback of Notre Dame than a Dickensian story of a child abandoned.
What matters is not cruelty (even though Boxtrolls suffer a lot), but ideas of freak show that need to be changed, and which the vibrant character of Archibald Snatcher disguised as a drag queen perfectly explores.
Yet, the film's central plot of conquering your fears lacks in development, and the subplot of Snatcher's quest for power is more interesting than Egg's fate. Soon the theme of identity will be substituted by a series of (well-orchestrated, though) action adventures. This culminates in the improbable happy fate for Egg's father and mechanic, Herbert Trubshaw (Simon Pegg does magic here in a small role).
Enjoyable as it is (with Dario Marinnelli finding the right tempo for every musical scene), it seems that it would have fit The Boxtrolls better if it were a musical: with characters having the time to express their inner worries and fears, it would give more content to the identity and differentiation issues that troubles their characters.
Character design and animation is carefully chosen and executed as not to alienate small kids, and makes the most lovable box monsters (even though some insects and slugs have a prominent role in their diet).
It is also meant to familiarize characters, yet Eggs is designed more timidly than his French counterpart Jack in Jack and the Cuckoo Clock Heart, who also has to face the worries of adulthood.
The Boxtrolls has a handmade love written over it for themes and mechanical techniques that (wrongly) seem to have been superseded by 3D; yet magic here is curiously absent from a film that deals with surprises coming out of boxes.
Vassilis Kroustallis
Read More About: