'Garbage Man', 'My Sunny Maad' Get Top Honors at Animafest Zagreb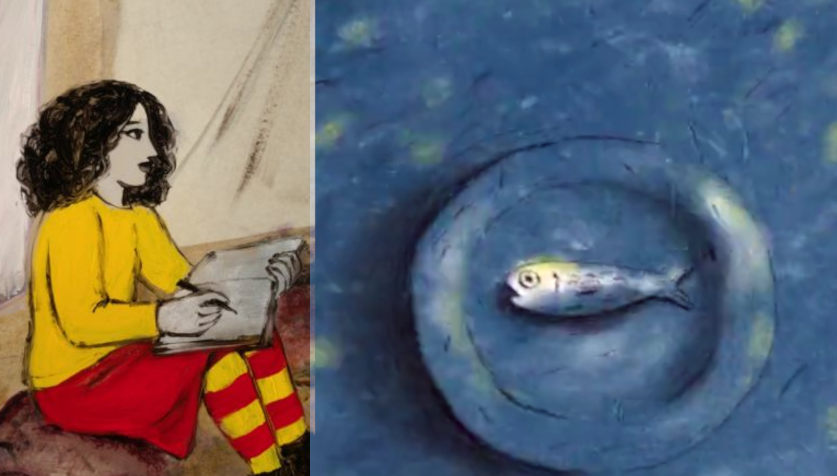 Portuguese victory for the animation short category at Animafest Zagreb. The film 'Garbage Man (O home do lixo) by Laura Gonçalves was the winner (Grand Prix) of the festival.
On a hot August afternoon, the family gathers at the table. The memories of each are crossed to tell the story of uncle Botão. From the dictatorship to the emigration to France, where he worked as a garbage man, and when he arrived with the van filled with "garbage"he transformed into treasures.
Jury statement (Paul Driessen, Les Mills, Alex Dudok de Wit, Ana Nedeljković and Igor Grubić): Many things impressed us in this film. The naturalism of the dialogue. The warmth and intimacy of the family setting. But most of all, the tenderness with which it tells its story of generosity in the midst of political and economic hardship in Portugal. And also, the monkey.
The film also won the Audience award for best short film, the fifth time this happens in the 50-year-history of the festival.

The Oscar-nominated 'Bestia' by Hugo Covarrubias (produced by Trebol 3 Producciones and Maleza Estudio) got the  Golden Zagreb Award for Creativity and Innovative Artistic Achievement. The politically charged stop-motion film is a testament of the Chilean dictatorship period, as it unfolds in the life of a woman and her daily duties.


Jury Statement: Many films at the festival touched on the subject of political violence. But nowhere was the coldness of state brutality more memorably expressed than in the hard, still face of the puppet in this film, whose story evokes the horror of Chile's fascist dictatorship 

The French-Israeli film 'Letter to a Pig' by Tal Kantor (produced by Miyu Productions and The Hive Studio) won the Zlatko Grgić Award for the best first film made outside an educational institution.
A Holocaust survivor writes, after the war, a thank-you letter to a pig that saved his life. After his testimony in a classroom, a young student dreams a tragic version of his story. Beyond her personal vision, the film also explores the themes of collective trauma, vengeance, human evil and compassion.
Jury Statement: We counted many pigs among this year's films. A pig can be repulsive and sweet, brutal and smart, and this film places this complex animal at the heart of a richly ambiguous, elegantly designed story with an unusual perspective on the Holocaust.
Special Mentions
 Igor Grubić: 'Impossible Figures and Other Stories I' by Marta Pajek (produced by Animoon and NFB) a special mention: this film takes us on a journey through a post-apocalyptic, deserted city, in which the protagonist reflects on her personal and collective history in the twilight of her life. The theme and the minimalist style, which achieve a strong poetic effect, together raise issues that are becoming even more relevant in the current socio-political time. Have we learned anything as a civilization, or are we going around in circles? 
Alex Dudok de Wit: 'Thing' (Ding) by Matte Stein.  I was particularly impressed by the conciseness and fine malice of the film , created in the author's independent production, which didn't make me think so much as feel: disgust, even revulsion; acute anxiety; and elation as I burst out laughing at the end,
Les Mills:  'Swallow the Universe' by Nieto (production: Autour de Minuit). I've never taken acid but I imagine that this is what it would be like. The film is an amazingly vivid journey through a bizarre jungle landscape, very skilfully executed – it is an astonishingly intense and memorable experience .
Ana Nedeljković: 'Steakhouse' by Špela Čadež, produced by Finta Film, Fabian & Fred, RTV Slovenia and Miyu Productions. This film found an effective and visually strong way to talk about domestic and verbal violence, topics that many people went through, but were never able to talk about.
Paul Driessen: French film Skinned (Écorchée) by Joachim Hérissé (Komadoli Studio). A gruelling story about two sisters attached to each other by the leg. The scary patched-up dolls reminded me of Caroline Leaf's The Two Sisters. I loved the scene where one of the sisters cuts off her leg and the way the dripping blood is depicted in the style of the overall design.
In the Grand Competition Feature Film, the Grand Prix went to the  Czech-French-Slovak film 'My Sunny Maad' by Michaela Pavlátova, produced by Negativ, Sacrebleu Production and BFILM
My Sunny Maad, Pavlátová focuses on Helena, a Czech student who falls in love with Nazir, an Afghan man and moves to Kabul to live with his extended and welcoming family. Changing her name to Herra she adapts to the restrictions of her new life - wearing a burka in her workplace at the US Embassy and making herself invisible when guests visit the family home - but it is the arrival of an abandoned child named Maad that brings love and sunshine into her world - Film Synopsis
  
Jury (Olga Pärn, Aya Suzuki, Anastasiya Verlinska):
A masterfully directed story that blurs the lines between despair and hope, making one live through the pain of rejection and warmth in acceptance
.
A special mention was given to the Japanese-French film 'Dozens of Norths' (Ikuta no kita) by
Koji Yamamura
(Yamamura Animation and Miyu Productions): 
a stand-out feature portraying surrealist streams of consciousness, never seen before in drawn animation. A masterfully painted canvas of dreams and fears, disturbing us both with visuals and music
A second special mention was given by the jury to the French-German-Czech film 'The Crossing' (La traverse) by Florence Miailhe (produced by Les Films de l'arlequin, Balance Film GmbH, Maurfilm S.R.O., XBO Films):  an outstanding showcase of the true potential of animation, accentuating the story through this powerful art form, which emotionally connects its audience with the characters on their journey towards freedom.
Best Student Film: the French-Taiwanese film 'Butterfly Jam' (La Confiture de papillons) by Shih-Yen Huang, made at ENSAD -u (École nationale supérieure des Arts Décoratifs)
A young woman describes her father and his relationship to his many pets that he never managed to take care of. The animals consistently die one after the other in a context of a family being torn apart. This is the story of those clumsy people whose tactless expression of love ends up pushing away loved ones.
Jury (Alexandra Ramires, Jelena Popović, Igor Prassel): Shih-Yen Huang led us skilfully on a hypnotising journey through lifeless spaces of their home.
The financial prize in the amount of EUR 1,000, which belongs to the winner of the Student Film Competition, is awarded by Zagrebačka banka.

Special mentions:

'Mom, What's up with the Dog?' (Maman, il a quoi le chien?) by Lola Lefevre (France, Atelier de Sèvres)
Jury statement:  for a coherently executed intriguing story about wild instincts of blooming sexuality clashing with unnatural moral taboos of our society
'The Immoral' (L'immoral) by Ekin Koca (France, La Poudrière) 
Jury statement: it shows us how damaging the passiveness and aggressiveness can be in a human condition. Using a very efficient minimalistic animation for the theme approached, it tells us a story full of black humour which represents a very common way of being in our daily lives.
Best Croatian Film

'11' by Vuk Jevremović
Three masters of football... They can perform wonders during the match and score impossible goals... but what happens in their heads when they are about to take penalty kicks?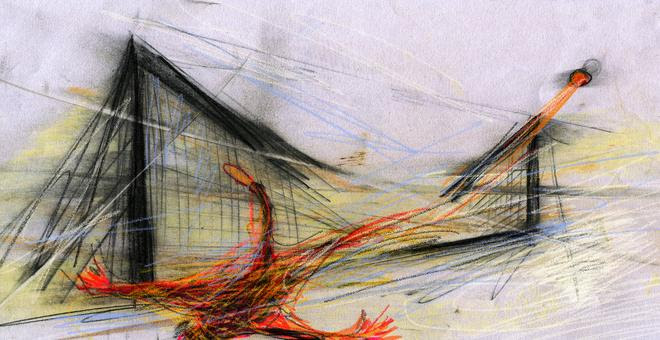 Jury statement:  for its relentless filigree of lines and colours morphing in wild synchrony with the pressure from the bloodstream and from the stands, for its masterful kinetic exploration of the human, the animal and the ball within the angst of a penalty kick.
He is also entitled to a financial award in the amount of 1,000 euros awarded by the Croatian Film Directors' Guild.

Special mention:
'Letters from the Edge of the Forest' by Jelena Oroz (produced by Bonobostudio)
Jury statement: for the originally beautiful art style, smooth animation, perfect editing and rhythmic music accompaniment, but first of all for making kids learn to write, eat a lot of yummy fruits and vegetables and, most importantly, not to be greedy and instead be a good comrade.
Special mention  (best Croatian minority co-production):
'Love in Times of Coal-Based Economy' (Miłość w czasach gospodarki opartej na węglu) by Tomasz Siwiński, co-produced by Letko and Adriatic Animation 
Jury statement: for its visual coherence and the way it approaches the themes with an aesthetic that helps us understand human warmth in the middle of a cold winter, this film leads us to reflect on the weight of an industrial landscape in our evolution.
VR Animation Competition
Winner: 'Samsara' by Hsin-Chien Huang (produced by the Virtual and Physical Media Integration Association of Taiwan)
Jury (Eva Cvijanović, Milen Alempijević and Franziska Bruckner). This immersive journey through time and space took us to breathtaking parallel universes and expanded our consciousness, creating an exceptionally crafted experience.
Special mention: the Canadian-Belgian project 'Marco & Polo Go Round' by Benjamin Steiger Levine (Item 7 and Belga Productions), because some events turn your world upside down.

Films for Children Competition:
Winner: 'Piropiro' by Miyoung Baek,  independent production
A story of two birds. Piropiro from the forest and Dalle at the flower shop in the town. They could meet in front of the flower shop with a small flat, and Piropiro wants to fly together to the forest. 
Jury (Ema and Jakov Barbarović, Gita Gugo, Lala Spremo, Nika Vrbanić): a film with magnificent visuals and animation technique that are well connected: 2D animation and digital drawing. The central message of the film that really impressed us speaks about how the only thing stopping us in life is fear and ourselves, while the important thing is to try 
Special Mention:
'Franzy's Soup Kitchen' (La Soupe de Franzy) by Ana Chubinidze (produced by Folimage and Pocket Studio):

Jury statement: a film with an important message: that it's more beautiful to share than to keep everything to yourself. The film has stunning character design, attractive colours, elements of humour and accentuated visual aesthetic

Audience Award:

Best Feature Film: 'The Crossing' (La traverse) by Florence Miailhe.
Best Short Film: 'Garbage Man'  by Laura Gonçalves 
The 33rd World Festival of Animated Film - Animafest Zagreb will be held from 5 to 10 June 2023.
 Laura Gonçalves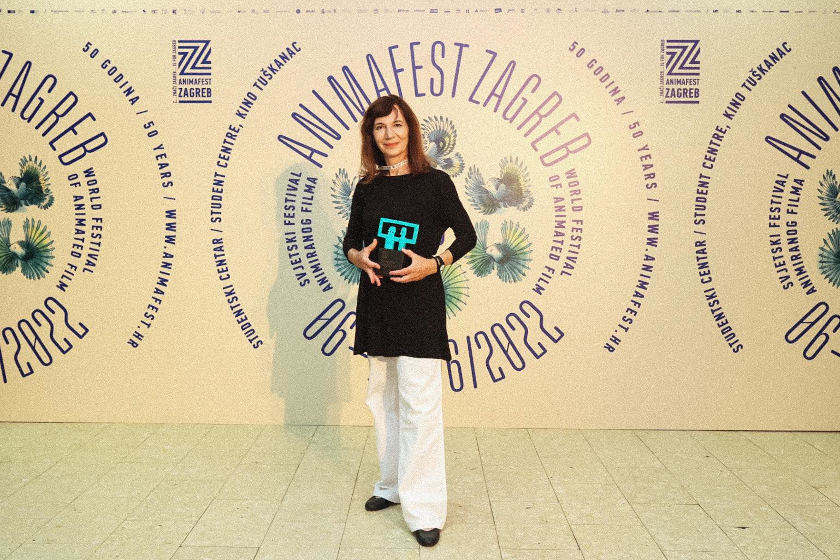 Michaela Pavlátova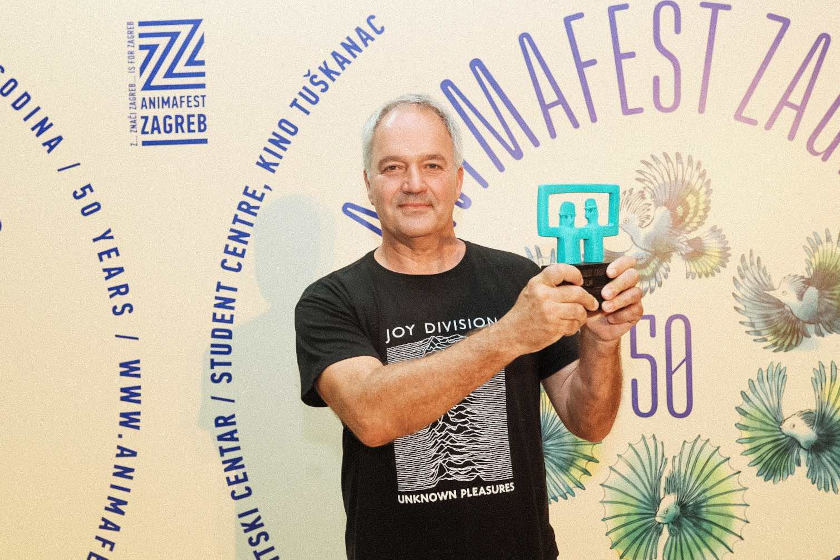 \
Vuk Jevremović
SIGN UP: Want to read more free articles like this? Sign up for Our Newsletter