Animated Dreams Report 2016: Gimme Space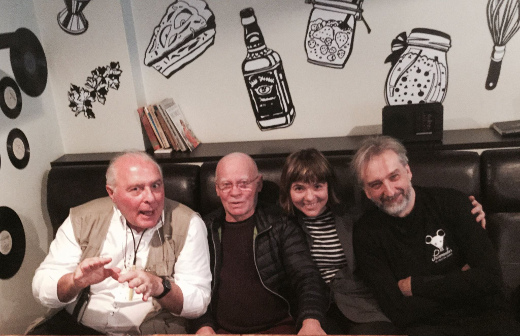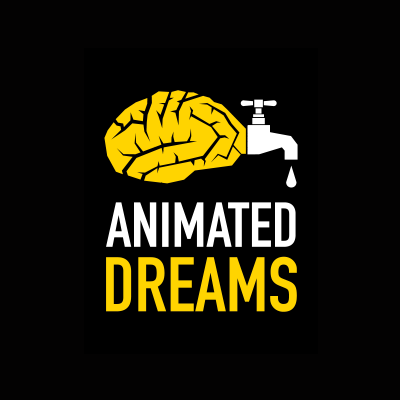 or a festival that still operates under the umbrella of the big PÖFF (now in the A-list of film festivals), it seems that Animated Dreams now wants to claim its own, bigger space.
Although not exactly suffocating (on the contrary, the option to mingle with live-action screenings makes the experience more rewarding for the regular filmgoer -if not for animation professionals), it already seems that the 18th Animated Dreams wants to assert its own, separate identity.
 Estonian animators complained in previous years that there was no space in "their own" festival for the (demanding) Estonian animation; whether this was actually the case or not, in this year's programme 3 Estonian films out of 28 were included in the Grand Competition Programme; 2 Estonian-made films figured in Panorama (the surreal consciousness story Amalimbo by Juan Pablo Libossart could easily have fitted in the main competition) and 3 in student competition.
Additionally, a special programme of films Made in Estonia was a great intro to the non-connoisseur for the pleasures of (and the necessary space for) Estonian animation.
In competition's Empty Space, Ülo Pikkov moved on from the mechanics of his last film (Tick Tack) to a more abstract (and more engaging), silent one-act play and a true story of father absence.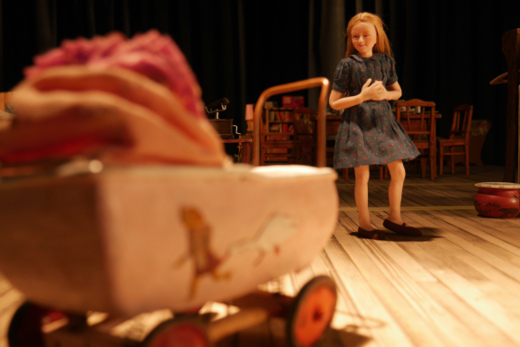 Empty Space
 A single doll / puppet (and a human actor) take turns to face the consequences of inclusion (production design by Anu-Laura Tuttelberg makes staging powerful here).  Martinus Klemet in Fatcula goes softer than his previous Crackhouse, to present a mild satire of diet capitalism, with a dracula palace worth attending to.
 Kristjan Holm's multi-storey Full House (including a naked Estonian postman) works as a sequel to his more claustrophobic Small House some years earlier, and again made the notion of space a prominent theme in this year's festival.
 The 18th Animated Dreams in its competition programme went for selective and eclectic. The small amount of films in competition necessarily limited the films that could actually compete; Theo Ushev's placement of Blind Vaysha (arguably one of the best animated and most awarded shorts of the year) in Panorama section remains of the most daring (and controversial) festival decisions.
 But the new festival director Olga Pärn and her selection team (Heinnrich Sepp and Kamila Kučíková) have done a good job of assembling and presenting both auteurs and the younger generation of indie animation filmmakers.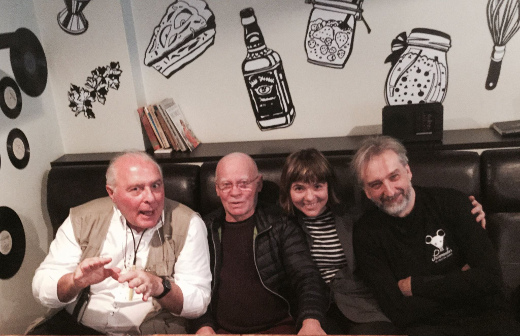 Festival director Olga Pärn and the three animation knights: from left to right, Giannalberto Bendazzi, Priit Pärn and Pedro Rivero (c) Animated Dreams
New films by Paul Driessen (the split-screen Lubitsch satire Cat Meets Dog), Phil Mulloy (his usual daring self in Endgame), Igor Kovalyov (who won the festival's Grand Prix for the majestically odd Before Love), Koji Yamamura's visual wonder of Satie's Parade, and the poetic fable of Travelling Country by Ivan Bogdanov & Vessela Dantcheva are just some of the fine choices that the Grand Competition jury (Giannalberto Bendazzi, Pedro Rivero, Agne Nelk) had to judge.
Puppet animation, and stop-motion animation in general, was not so prominent in this year's festival. The hallucinatory cut-out Nighthawk by  Špela Čadež' (won the Jury Prize in Grand Competition) and Pikkov's Empty Space were one of the few choices.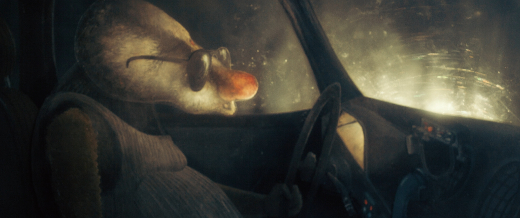 Nighthawk
 On the retrospective side, it's always great to watch old master's work, and Janno Põldma (co-creator of the beloved Estonian dog Lotte, and cinematographer of many Priit Pärn's films), has not been exactly credited in the popular mind as co-forming artistic Estonian animation.
The anarchic Brothers and Sisters (1991), Birthday (1994), the Botero-shaped On the Possibility of Love (1999), and the delightful Concert for a Carrot Pie (2002) effectively tell the success story of this small, former Socialist country joining the post-1989 globalized world.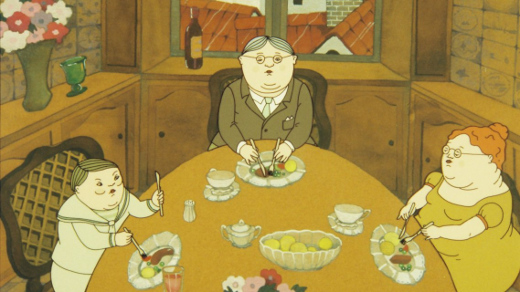 On the Possibility of Love
The absence of a feature film competition - seems intentional, if one considers the no-dialogue SHUT UP! Competition that was introduced earlier in the festival - was supplemented by the national premiere Jean-François Laguionie's lyrical tale of Louise on the shore (Louise en hiver).
France had a small, but focused tribute on the 18th Animated Dreams edition, including  La Poudrière shorts and a screening of the sci-fi auteur classic Fantastic Planet (René Laloux, 1973).
Giannalberto Bendazzi, the Giorgio Vassari of animation scholarship (as he aptly described himself) also has interesting things to say and write about.
His Turning Points of Animation talk managed to find connections between sight and sound in early Disney films usually overlooked -in front of a multiplex cafe audience with kids glued on to their screen.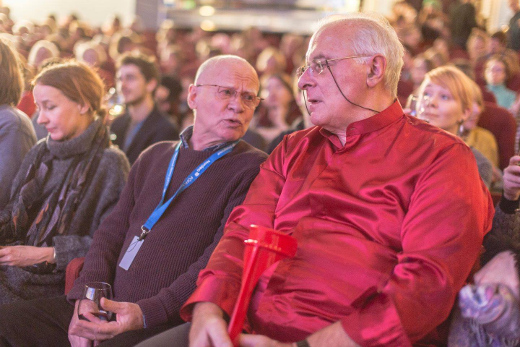 Priit Pärn, Giannalberto Bendazzi in the festival's opening ceremony (c) Animated Dreams

Where does it go from here? Priit Pärn (referred to in the festival catalogue as a volunteer), who cut the 10 years' cake of EKA (Estonian Academy of Arts) Animation department, seems more optimistic for the Department's future, now that the furore over his placement is over. But he still warns of "small changes that can cause huge turmoils", whether in terms of funding for independent animation or other administrative decisions. Don't get enchanted by the warm festival atmosphere (thankfully, not many business cards were distributed at Animated Dreams); the reality out there is hard.
Elli Vuorinen, the director of the exquisite optical character illusion Sore Eyes for Infinity, had to develop marketing skills no one ever taught her to go and have a (successful) crowdfunding campaign for her latest film.
Pedro Rivero's feature (co-directed with Alberto Vázquez) Psiconautas, the forgotten children has garnered awards in festivals, but still has to open in Spain (an early 2017 release is expected). Independent animation also needs its bigger space as well.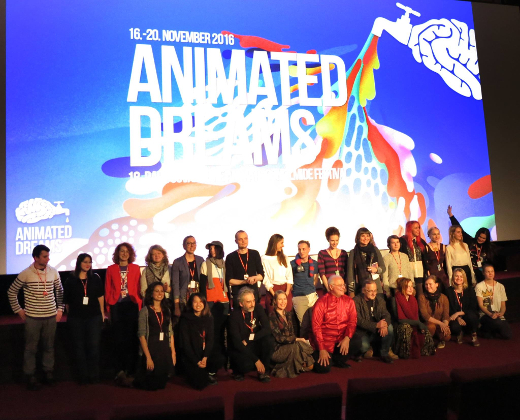 Animated Dreams Closing Ceremony  (photo: Timo Viljakainen)

Animated Dreams knows that independent animation is a hard process, and knows how to build its programme around directors and their work, eschewing more flashy options -perfectly justifiable for festivals like Annecy, but not in the hand-made Tallinn.
View the full list of winners of the 18th Animated Dreams
Vassilis Kroustallis
Read More About: