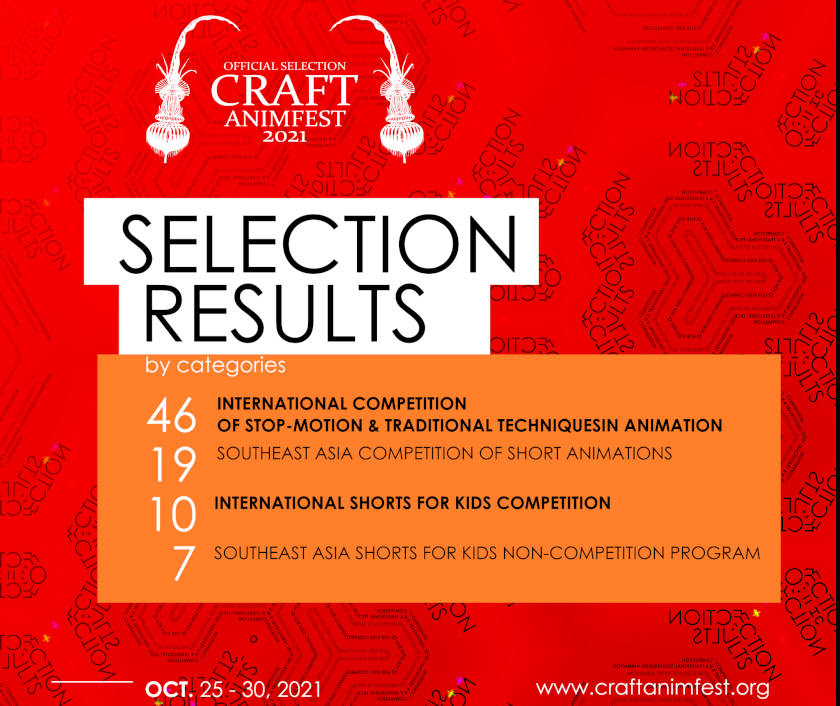 The official selection of the 3rd Craft International Animation Festival on both International and South East Asian competition is in.

46 films in the International Competition (Stop-Motion and Traditional Techniques in Animation), 19 films in the Southeast Asia Competition of Short Animation, 10 films in the International Shorts for Kids Competition, and 7 films in the Southeast Asia shorts for kids (non-competition programme) were selected for the 3rd Craft International Animation Festival. 
The number of films submitted to CRAFT this year (more than 1800 from 97 countries), as well as the quality of the productions proves the robust state of animation even during the pandemic, the organizers emphasize

The CRAFT 21 - like the animated roller coaster - will take our viewers on an unforgettable journey through a diversity of techniques, styles, emotions, and amazing artistic personalities in the contemporary animated world.

The full line-up:

INTERNATIONAL COMPETITION OF STOP-MOTION & TRADITIONAL TECHNIQUES IN ANIMATION
A TASTY FISH, Director: Chihiro Tazuro (S), Japan 2020, 07:38
AMPHIBIA, Director: Gabriela Orozco Peña, Mexico 2020, 05:35
BLÜTE, Director: Raito Low (S), Taiwan 2020, 04:24
CLAUDETE AND THE CAKE, Director: Fádhia Salomão, Brazil 2020, 04:37
CORN, Director: Violeta Mora Acosta, Honduras 2020, 03:06
DARWIN'S NOTEBOOK, Director: Georges Schwizgebel, Switzerland 2020, 09:20
DISTANCE, Director: Katarzyna Orłowska (S), Poland 2021, 03:17
DOG'S FIELD, Director Michalina Musialik, Poland 2020, 11:48
ELEVATOR ALONE, Director: Anastasia Papadopoulou (S), Greece 2021, 03:38
EPIRENOV, Director: Alejandro Ariel Martin, Argentina 2019, 15:00
FOREIGN EXCHANGE, Director: Corrie Francis Parks, United States 2019, 05:45
HANDMADE, Director: Mina Cvetinović Pavkov, Serbia 2020, 06:09
HEART OF GOLD, Director Simon Filliot, France 2020, 12:45
LAH GAH (LETTING GO), Director: Cécile Brun, Switzerland 2019, 06:33
MORNING, Director: Vojtěch Domlátil, Czech Republic 2019, 03:33
MOTHER DIDN'T KNOW, Director: Anita Killi, Norway 2020, 11:16
NOTUN FASAL (NEW HARVEST), Directors: Sovan Dutta , Anindita Dutta , Sawanti Das (S), India 2020, 02:27
PASSWORD TO THE * * * * *, Director: Adél Szegedi (S), United Kingdom 2021, 01:40
POETIC OF CLAY, Director: Giuliana Danza, Brazil 2019, 06:12
PRECIOUS, Director: Paul Mas, France 2020, 14:00
RE-ANIMAL, Director Rubén Garcerá, Spain 2021, 13:07
REAL HUMAN BEING, Directors: Anna Samo, Michaela Mueller, United States 2020, 04:43
RETURN, Director: Jonathan Delgado Herrera (S), Argentina 2020, 11:28
ROACH, Director: Agustín Touriño (S), Argentina 2020, 13:20
ROUTINE: THE PROHIBITION, Director: Sam Orti, Spain 2020, 08:15
SELECTION PROCESS, Director: Carla Pereira, Spain 2021, 03:30
SHAME, Director: Paz del Carre de la Portilla (S), Spain 2020, 02:00
STACHE AND THE INNER WALK, Director: Joanne Fisher, Canada 2020, 03:30
SUBJECT, Directors: Renen Adar, Neta Zaidel (S), Israel 2020, 08:55
TATATA, Director: YiYangSun (S), China 2020, 04:26
THE CHIMNEY SWIFT, Director: Frédéric Schuld, Germany 2020, 05:00
THE DECEASED, Directors: Avishai Simchovitch, Keren Or Zelingher (S), Israel 2020, 06:52
THE ELEPHANT, Director: Dominika Wilkosz (S), Poland 2019, 06:52
THE FOX OF THE PALMGROVE, Director: Divakar SK (S), India 2019, 08:56
THE GREAT MILESTONE, Director Ignasi López Fàbregas, Spain 2020, 12:55
THE ISLE OF TRASHES, Director: Ji Won Choi (S), Republic of Korea 2021, 17:59
THE LANDING, Director Kaisa Penttilä, Finland 2021, 09:23
THE LITTLE SOUL, Director: Barbara Rupik (S), Poland 2019, 09:12
THE PECULIAR CRIME OF ODDBALL MR. JAY, Director Bruno Caetano, Portugal 2019, 10:50
THE STATUE (PEYKAREH), Director: Mohsen Salehi Fard, Islamic Republic of Iran 2021, 09:09
TIE, Director Alexandra Ramires ( Xá ), Portugal 2020, 11:00
TIO, Director: Juan Medina, Mexico 2021, 12:40
TOURIST TRAP, Director: Vera van Wolferen, Netherlands 2020, 02:14
TRANSMUTA, Directors: María Belén Tagliabue, Miriana Bazán, Argentina 2019, 02:01
UNRAVELED, Directors: Arden Colley, Asil Atay, Kellie Fay, Isabel Wiegand (S), Spain 2020, 03:39
THE WINTER, Director: Xin Li (S), Australia 2020, 05:00
46 MOVIES / Total Runtime: 05:51:00

SOUTHEAST ASIA COMPETITION OF SHORT ANIMATIONS
AMBULANCE, Director: Febryo Valentino (S), Indonesia 2020, 04:05
CITSALP , Director: Jean A. Evangelista (S), Philippines 2021, 01:47
FIND YOUR WORDS, Director: Tecsun Yeep, Malaysia 2020, 01:45
FORGOTTEN DREAM, Director: Lee Jun Cong (S), Malaysia 2020, 04:09
HATACHI, Director: Jason Tirtanegara (S), Indonesia 2020, 06:19
HIDE N' RUN, Director: Excel Dermawan (S), Indonesia 2020, 07:06
IAMANNIKA, Director: Dan Verzosa (S), Philippines 2020, 05:00
IRIDESCENT, Director: Chiara Jazmine D Parreñas (S), Philippines 2021, 07:11
JU REN, Director: Zhuang Brothers, Singapore 2019, 05:18
KRING!, Director: Hilmi Ismail, Malaysia 2019, 07:25
KUA BO, Director: Qing Sheng Ang, Singapore 2019, 11:15
MASK DIARIES, Director: Quek Yu Qing (Nanyang Technological University), Singapore 2020, 01:00
RENDANG OF DEATH, Director: Percolate Galactic, Indonesia 2020, 06:52
SCOOPED!, Director: Alan Dharmasaputra Wijaya, Indonesia 2020, 04:11
SERENADE ASMARADANA , Director: Wahyu Aji Sadewa , Indonesia 2020, 01:59
STARS AND RABBIT: MERRY ALONE , Director: Merry Wijaya, Indonesia 2021, 05:04
STRANGE OCCURRENCES: BUKIT BULABU, Directors: Wong Shi Teng, Yeo Jia Min Gloria,, Hana Lee (S), Singapore 2020, 06:19
THE LIFE, Director: Irvine Kamal (S), Malaysia 2020, 03:00
UNEARTHLY, Director: Chan Guanhua (S), Singapore 2020, 06:03
19 MOVIES / TOTAL RUNTIME: 01:23:00


INTERNATIONAL SHORTS FOR KIDS COMPETITION
CRACKS IN THE PAVEMENT, Director: Nicolas Conte, Argentina 2019, 08:51
DINO!, Director: Shin Hosokawa, Japan 2020, 24:42
EATEN, Director: Mohsen Rezapour, Islamic Republic of Iran 2019, 07:20
FLORIAN , Directors: Keshav Abrol, Lucas Londono-Clayton, Pavel Loparev, Alicia Velasco (S), Spain2020, 03:47
ORCHESTRA REHEARSAL, Director: Tatiana Okruzhnova, Russian Federation 2021, 06:30
PATTERNS, Director: Tomoko Inaba, Japan 2020, 05:37
QUMA & THE BEASTS, Directors: Ivan Stur, Javier I. Luna Crook, Argentina 2019, 11:00
THIAGO, Director: Valentín Falconi, Peru 2021, 04:04
WHITE NIGHT, Director: Issam Taachit (S), Algeria 2020, 07:12
WICKED DESIRES, Director: Michele Assante (S), Italy 2020, 04:35
10 MOVIES / TOTAL RUNTIME: 01:24:00

SOUTHEAST ASIA SHORTS FOR KIDS (NON-COMPETITION PROGRAM)
ATLAS BOY MINI ADVENTURES: SERANGAN HANTU ABU-ABU , Directors: Merry Wijaya, Natassya Siregar , Indonesia 2020, 16:42
BIJI, Director: Kin Lek Chew, Malaysia 2020, 06:33
DESA TIMUN (THE CUCUMBER VILLAGE), Director: Daud Nugraha, Indonesia 2021, 04:08
LUKA, Director: Laras Khairina (S), Malaysia 2020, 04:37
MAMAKE, Directors: Nandira Yuvi Deandra, Calita Hin (S), Indonesia 2020, 04:53
SAVE OUR SOLES, Director: Low Qian Ning (S), Malaysia 2020, 03:08
WITCH'S HUNT DAY, Director: Odilia Tanujaya (S), Indonesia 2020, 03:07
7 MOVIES / TOTAL RUNTIME: 00:43:08
Due to the pandemic situation, this year's edition will be held online in the terms 25-30 October 2021, but not only in Yogyakarta but in the whole South-East Asia region.