10+10 Animation Features for Annecy Festival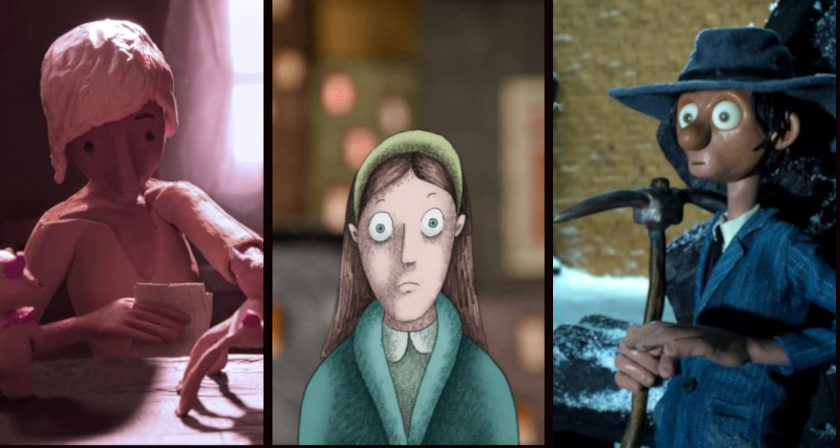 It is a lineup that includes almost everything, from the most radical visual worlds to the most documentary-like realities. 10 films have been selected in the Official Selection of the 2022 Annecy Festival; 10 other animation features make the lineup of the festival's Contrechamp Competition (reserved for more alternative, hybrid features, or features that simply didn't fit in the official competition).
There is an impressive European output overall, and the French films selected seem to somehow align better with the rest of the lineup rather than efforts to address exclusively the French market afterward. There are films whose creators have something important and personal to say, and the 'labor of love' applies to most of them. 
Signe Baumane (Rocks in My Pockets) returns with her new semi-autobiographical feature, 'My Love Affair with Marriage' (the world premiere at Tribeca Film Festival this June).  Another comically poignant story of a marriage that will solve all your problems, coupled with socio-political Cold War considerations, this is a feature that is expected to bear strongly the insignia of its creator.
Anca Damian, a festival regular (she won the Annecy Cristal for her first animated feature, 'Crulic: The Path to Beyond') returns to Annecy with the post-modern musical fable 'The Island'. A film where Robinson Crusoe scrolls his iPad only to find Friday and starts off a journey full of surrealistic but still relatable situations.
Everyone's watching impatiently to see how 'Unicorn Wars', the new feature by Alberto Vázquez ('Birdboy: The Forgotten Children', along with Pedro Rivero) will turn out.  The story's Ted­dy bears and uni­corns fight is another parable of a post-apocalyptic feature that looks so modern -and, of course, with a unique graphic style. Comparisons with the previous feature will still be made, yet the world of graphic novels has its own continuity.
We have already covered the Portuguese feature 'Nayola' by José Miguel Ribeiro at Zippy Frames some time ago. The socio-political Angola war events affecting three generations of women promises a visceral and confrontational film, which will have its world premiere at Annecy Festival.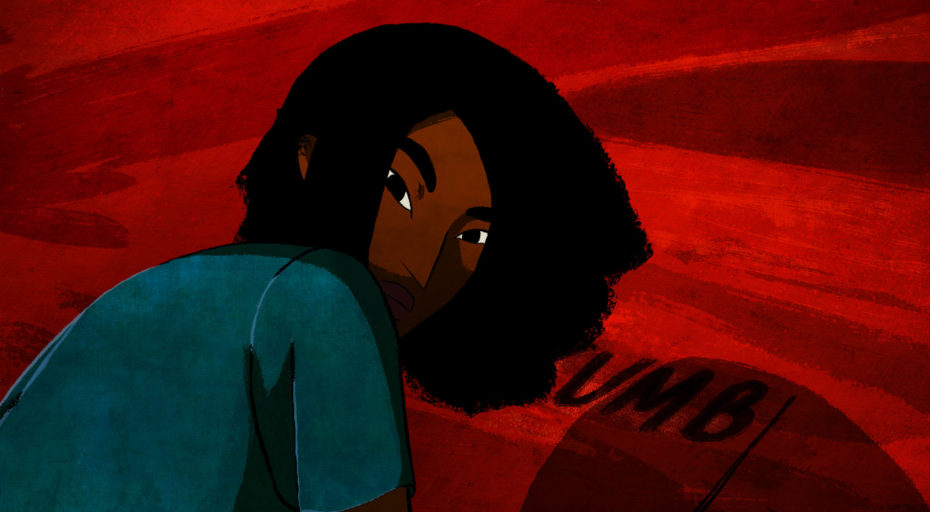 Nayola
From the French side of things, the much-hyped 'Blind Willow, Weeping Woman' by Pierre Földes, based on short stories by Haruki Murakami, will grace the Annecy carpet this year. Another French production (and a stop-motion one) is 'No Dogs Or Italians Allowed' by 'Jasmine' director Alain Ughetto, It describes the quest of Luigi, his grandfather to move away from their Piémont village to the country of "La Merica, where the dollars grow up on trees" -only to settle down in France. And it's an interesting one to see how the immigrant theme actually unfolds in the film itself
We still need to check the latest 'Le Petit Nicolas' film (dir. Amandine Fredon, Benjamin Massoubre) and the Belgian/Canadian/French feature 'Charlotte' by Eric Warin and Tahir Tana, putting on the big screen the biography of German painter Charlotte Solomon
The anime films 'Misaki no Mayoiga' by Shinya Kawatsura and 'Goodbye, DonGlees!' by Atsuko Ishizuka close the official selection competition -curiously absent of children's animation films.
Official Selection
Charlotte, Directed by: Eric WARIN, Tahir RANA / Country: Belgium, Canada, France
Goodbye, DonGlees!, Directed by: Atsuko ISHIZUKA /Country: Japan
Interdit aux chiens et aux Italiens, Directed by: Alain UGHETTO / Country: France, Italy
Le Petit Nicolas - Qu'est-ce qu'on attend pour être heureux ?, Directed by: Amandine FREDON, Benjamin MASSOUBRE / Country: France, Luxembourg
Misaki no Mayoiga, Directed by: Shinya KAWATSURA / Country: Japan
My Love Affair with Marriage, Directed by: Signe BAUMANE / Country: USA, Latvia, Luxembourg
Nayola, Directed by: José Miguel RIBEIRO / Country: Portugal, Belgium, Netherlands, France
Blind Willow, Weeping Woman, Directed by: Pierre FOLDES / Country: France, Luxembourg, Canada
The Island, Directed by: Anca DAMIAN / Country: Romania, France, Belgium
Unicorn Wars, Directed by: Alberto VAZQUEZ / Country: Spain, France
In the Contrechamp Competition, we find the inexplicable placement of the Portuguese stop-motion film 'My Grandfather's Demons' by Nuno Beato (check here and here for our coverage). The story about memories and hidden secrets looks like a quite engaging narrative thread. Were perhaps two Portuguese animation features too much in the Official Competition -so that one of them had to be sidelined to the Contrechamp competition instead?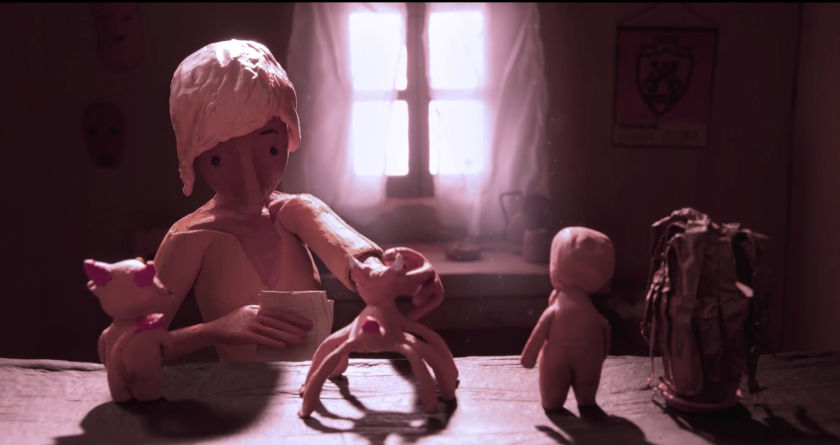 Koji Yamamura's more experimental (and elegiac) 'Dozens of North' graces the category here, while the Colombian feature of non-fitting in 'The Other Shape' by Diego Guzman certainly makes an impression (read our earlier coverage on the film).
Lei Lei gets in with his experimental 'Silver Bird and Rainbow Fish', while the third feature of Alessandro Rak 'Yaya e Lennie-The Walking Liberty' (a 'nature vs. nurture' concept of two forgotten kids in the jungle) becomes part of the Contrechamp competition.
The Armenian genocide finds its cinematic animated expression in the hybrid 'Aurora's Sunrise' by Irina Sahakyan, focusing on an Armenian woman survivor, who goes on to become a Hollywood actress.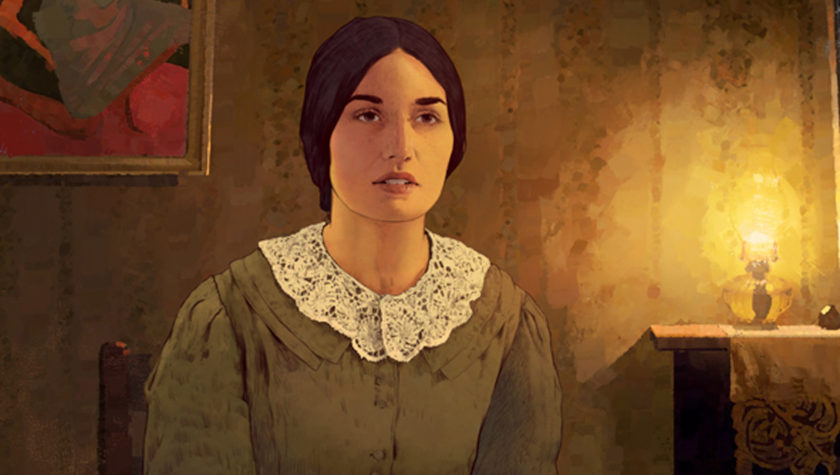 The Korean animation feature, 'Chun Tae-il: A Flame That Lives On' by Jun-pyo Hong looks like an empowering feature for a family audience (a tailor's assistant against inferior working conditions in Korea), and it is the second Asian film in this competition. 
'Quantum Cowboys' by Geoff Marslett moves the terrain into the 1870s Southern Arizona, and narrates the search for a musician -in a road trip filled with philosophical music, in another hybrid feature. 
Carlos Hegerman and Jorge Villalobos present the impossibility of accessing the American Dream' in the immigrant-themed US/Mexican animation feature and documentary 'Home is Somewhere Else'. The first-ever Algerian feature at Annecy is 'Khamsa - The Well of Oblivion' by Khaled Chiheb. The amnesiac boy Abi tries to get his memory back, by navigating a strange land, in a 2D/3D animation feature that started off as a short film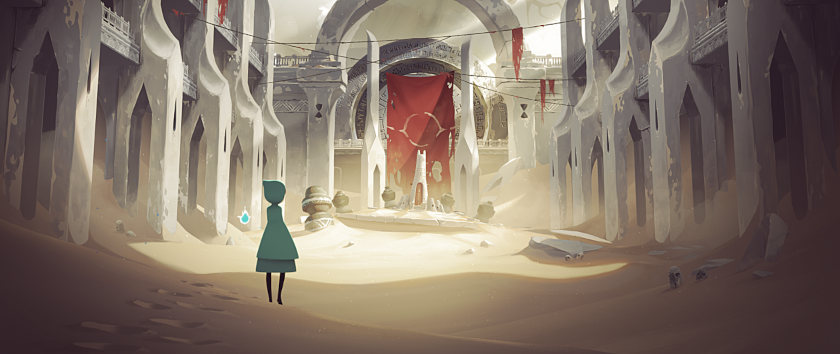 Feature Films Contrechamp in Competition
Aurora's Sunrise, Directed by: Inna SAHAKYAN / Country: Germany, Armenia, Lithuania
Home Is Somewhere Else, Directed by: Carlos HAGERMAN, Jorge VILLALOBOS / Country: USA, Mexico
Dozens of Norths, Directed by: Koji YAMAMURA / Country: France, Japan
Khamsa - The Well of Oblivion, Directed by: Khaled CHIHEB / Country: Algeria
La otra forma, Directed by: Diego GUZMAN / Country: Colombia
My Grandfather's Demons, Directed by: Nuno BEATO / Country: Spain, France, Portugal
Quantum Cowboys, Directed by: Geoff MARSLETT / Country: USA
Silver Bird and Rainbow Fish, Directed by: Lei LEI / Country: USA, Netherlands
Tae-il-i, Directed by: Jun-pyo HONG /Country: South Korea
Yaya e Lennie - The Walking Liberty, Directed by: Alessandro RAK /Country: Italy
Annecy Festival takes place 13-18 June 2022.
SIGN UP: Want to read more free articles like this? Sign up for Our Newsletter