Fest Anča's Extremely Short Films (GoCritic! Review)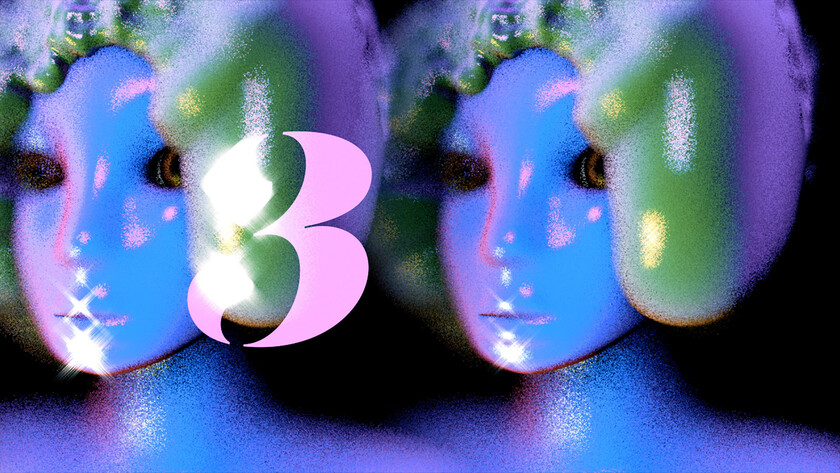 Fest Anča's traditional section of truly short shorts is like a box of chocolates: you never know what you're going to get. The large audience for this late-Saturday-night outdoor screening — projected under a flyover next to a small but busy train station — was treated to 34 very different films made using various animation techniques and touching upon diverse themes… All in a single 48-minute block!
Extremely short films prove that sometimes a single minute is enough to deliver a punchline, tell a deep story and evoke a specific mood. This selection was composed of films that had been submitted for the main competition, but which didn't make the final cut. Pulling together a brilliant and appealing block of shorts is always a challenge, and a whole block of short shorts feels more like a special event. The audience needed to focus because just a moment's inattention might have resulted in them missing the whole film. The block offered up various exercises in animation, comprising comedies, jingles, advertisements, ani-docs, narratives, and boundary-pushing films.
One real gem of the selection was the French experimental film 'PLSTC' (2022) by Laen Sanches, which also linked the block back to this year's festival theme of utopias. The short takes us deep into the ocean, where we witness a dystopia of plastic pollution. 'PLSTC' has already been screened and rewarded at many festivals around the world and, as stated on the film's official webpage, it might be one of the first animated short films to be made using AI-generated footage. The film captivates through its perfectly executed artistic approach, combining images of aquatic species with generated pictures. It also conveys a message about people's devastating behaviour towards marine life, leaving us with all kinds of dark thoughts. Similar emotions linger after watching the Polish film 'It's Not a Bad Dream' (2022) by Michał Mróz. The movie delivers a serious message about war, a phenomenon that can surprise any of us at any time, even in the middle of dinner, regardless of expectations.
Among the more meditative films, the Chilean animated poem 'Return' (2022) combines found footage and animation and is a collaboration between animator Marcos Sánchez and poet Drea Chuma, also known as Supermoon Blues. Already available for online distribution, Return evolves as it progresses, blending a variety of influences, such as classic cartoons and Disney's illusion of life, with a hint of the feeling found in Italian neo-pictorial animated films. This piece elevated the artistic level of the entire block to an incredibly high standard.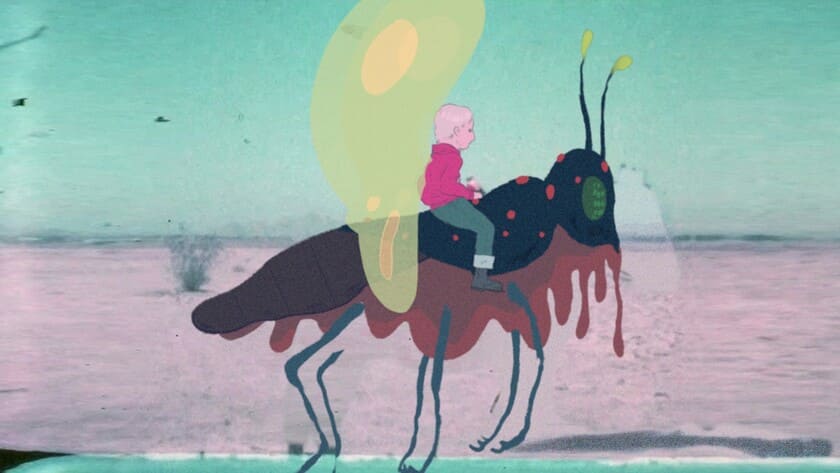 Return by Marcos Sánchez and Drea Chuma (aka Supermoon Blues)
One of the better-known filmmakers selected, Faiyaz Jafri offers up a sparkling, neon demon in his non-narrative work 'Wow' (2022), which aligns with the director's hyper-unreal oeuvre and presents highly stylised female bodies in a blurry, vibrant environment. Feminine corporeality is also at the centre of 'Body' (2021) by the duo Nika Zhukova and Rimma Gefen. They use paper to create prints of naked bodies covered in charcoal, which they then bring back to life through various animation techniques.
Fest Anča always mixes professional and student works in its screening blocks, an interesting dramaturgical choice that tends to yield positive results. In this instance, juxtapositions included established British filmmaker Peter Millard and his humorous, faux-naif, psychedelic work Thomas Tank (2023), alongside FAMU-enrolled Philippe Kastner and his comical picture 'CUT!' (2023), which sees a harassed protagonist splitting themselves in half when torn between various kitchen activities. Both these directors also featured in other line-ups within the festival: Millard in 'Anča in Wonderland' by way of 'Please let me in' (2022), and Kastner in 'Short Films from Around the World' by way of 'Dede is Dead' (2023).
Jostling among the stand-out non-narrative films within the selection, 'Beardiful Tone' (2022) by Masashi Yamamoto was created using the director's own facial hairs, which were then manipulated via stop-motion techniques. Available online, the picture pulsates with energy and harmony by way of its wildly dancing lines and its galvanising musical soundtrack. Similarly playful, the two-minute Spanish production 'COSMOTRIP' (2022) by Júlia Latorre Barcala takes us on a trippy journey through the shapes and colours of life. Pastel drawings of animals transform into mushrooms and then into abstract structures, evoking cosmic space.
Advertisements and jingles in the selection, meanwhile, included 'Der Kurzfilmtag: Potato Falls' (2022) by Janina Putzker, which was commissioned by the German event 'Der Kurzfilmtag (Short Film Day)'. Filled with references to classic films, it features potatoes as the main characters, complete with expressively drawn faces and limbs. The audience was also audibly appreciative of a somewhat trashy animation about the love between a banana and a strawberry: 'Be My Valentine' (2023), by Jan and Ellen Prerovsky. The pair are part of the creative team at Foodly Doodly Doo, a multimedia production company focused on turning vegan foods into film stars and runway models. 'Be My Valentine' is part of the 'Fun with Recipes' series and shows how to make vegan ice cream and sorbet, further details of which can be found on Foodly Doodly Do's social media channels.
Overall, the film block showcased a whole parade of artistic approaches. It proved that even extremely short films can make it to a festival, lifting the audience's spirits and giving them the courage they needed to start creating and animating. It's ok to watch films without big budgets, made just for fun or for learning. This whole selection is proof that there is no need for us to keep our tiny artistic output to ourselves and that everything has the potential to find its own audience.
Contributed by: Michaela Režová
(Central image: Wow by Faiyaz Jafri)
SIGN UP: Want to read more free articles like this? Sign up for Our Newsletter