Foosball, A Town Called Panic, Jamón win NYICFF 2014 Awards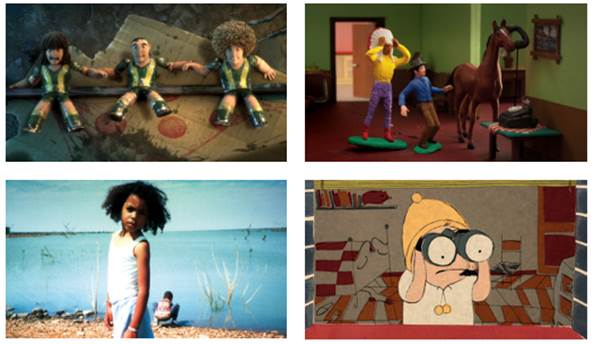 The Goya-awarded feature Foosball by the Argentinian Juan José Campanella (Secret in their eyes) won the Grand Prize for Best Feature at the 17th edition of the New York fest, after four weekends of presenting four weekends of international films for ages 3-18.
Executive producer and co-writer Gastón Gorali, who collected the award,announced  that, after making its US premiere in the Festival, the film has been purchased by the Weinstein Company, and will be released in the US this August under the title The Underdogs.
A Town Called Panic: The Christmas Log (Belgium/France), directed by Stéphane Aubier and Vincent Patar (co-directors of 2014 Oscar® nominee Ernest & Celestine and also the Town Called Panic feature), was awarded the Grand Prize for a short film.
Best Animated Short, and eligible for Oscar® consideration in the Best Animated Short Film categorie, was the Spanish Jamón by Iria Lopez.

The impressive Festival's board of jurors included John Canemaker, Geena Davis, Lynne McVeigh, Matthew Modine, Richard Peña, Billy Plympton, Dana Points, Susan Sarandon, Henry Selick, James Schamus, Evan Shapiro, Uma Thurman, Christine Vachon, Gus Van Sant, Taika Waititi, and Jeffrey Wright.
See all winners:
Grand Prize Feature – FOOSBALL, Juan José Campanella, Argentina
Grand Prize Short – A TOWN CALLED PANIC: THE CHRISTMAS LOG, Stéphane Aubier & Vincent Patar, Belgium/France
Jury Award, Best Animated Short – JAMÓN, Iria Lopez, Spain
Jury Award, Best Live Action Short – CROCODILES WITHOUT SADDLES, Britta Wandaogo, Germany
Audience Award, Ages 3-6 – SNOWFLAKE, Natalia ernusheva, Russia
Audience Award, Ages 5-10 – A TOWN CALLED PANIC: THE CHRISTMAS LOG, Stéphane Aubier & Vincent Patar, Belgium/France
Audience Award, Ages 8-14 – THE DAM KEEPER, Dice Tsutsumi & Robert Kondo, USA
Audience Award, Ages 12-18 – SLEIGHT OF HAND, Michael Cusack, Australia
Parents Award – 9 METER, Anders Walter, Denmark
Read More About: