NYICFF 2014: Full Programme Slate For the New York Fest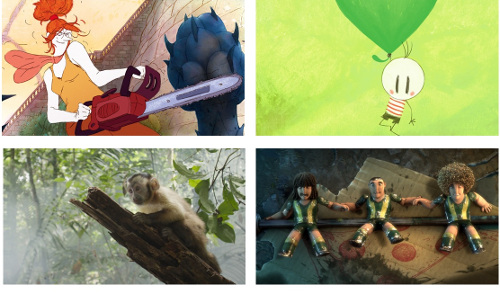 The critically acclaimed New York Int'l Children's Film Festival Festival will present 100 new animated and live action shorts and features, opening and closing night parties, studio showcases, retrospectives, filmmaker Q&As, filmmaking workshops, the Whole Foods Market Pop-Up Concessions Stand, audience voting and the NYICFF Awards Ceremony.
 The 17th edition includes four weeks of groundbreaking and thought-provoking new films for ages 3-18.
The festival opens with live-action Amazonia (3D, Thierry Ragobert ) a photographed 3D adventure into the heart of the Amazon rainforest.
European animated features are well-represented in the festival. The new Folimage feature Aunt Hilda! from the Oscar-nominated French studio Folimage (dir. Jacques-Remy Girerd) is an ecological comedy with gusto.
The Oscar-nominated Ernest & Celestine, which narrates the unusual, Bonnie & Clyde partnership of a bear and a mouse, is part of the festival programme.
Another French animated feature, Jack And The Cuckoo Clock Heart (dir. Stéphane Berla and Mathias Malzieu) tells the interesting story of a outcast boy in 19th century Edinburgh (North American premiere).
Miniscule: Valley Of The Lost Ants continues the lineup of French animated films. Coming off of a #1 box office opening in France, this playful and inventive comic adventure captures an epic showdown between two rival clans of ants and one poor ladybug caught in the middle (North American premiere).
The San Sebastian Festival opener Foosball (directed by Oscar®-winner Juan José Campanella) is a CGI feature from Spain/Argentina, and brings into life the tale of foosball players (US premiere).
US features also enjoy a special, non-competitive place at NYICFF.  A special event LAIKA: BEHIND THE MAGIC , includes a workshop and presentation from the Coraline and ParaNorman producers. Mark Shapiro will give insights into the intricate stop-motion animation process, using footage of time-lapse production, exclusive clips of LAIKA animators at work, and a demonstration using the actual character models from of the movies. New footage from the upcoming LAIKA feature, The Boxtrolls is to be revealed during the festival.
Another special preview of the upcomig sequel to the 2011 hit, The Muppets, MUPPETS MOST WANTED (dir. James Bobin) will take place at NYICFF 2014, to be accompanied by a Muppet Sing-A-Long event.
 RIO 2 (3D) by Carlos Saldanha and Blue Sky Studios will enjoy a special preview (US general release: April 11, 2014)
 he festival takes place at DGA Theater, IFC Center, Scholastic Theater, SVA Theatre and Village East Cinema. Full programme and tickets to be purchased at gkids.com
NYICFF JURY:
· John Canemaker – Academy Award®-winning animator (The Moon and the Son)
· Geena Davis – Academy Award®-winning actor and Founder, Geena Davis Institute on Gender in Media
· Lynne McVeigh – Associate Professor of Children's Media at NYU Tisch School of the Arts
· Matthew Modine – Award-winning actor (Full Metal Jacket, The Dark Knight Rises)
· Richard Peña – Director Emeritus New York Film Festival, Columbia University Professor of Film Studies
· Bill Plympton – Academy Award®-nominated filmmaker (Guard Dog, Idiots and Angels)
· Dana Points – Editor-in-Chief of Parents magazine
· Susan Sarandon – Academy Award®-winning actor (Dead Man Walking, Arbitrage)
· James Schamus – Award-winning filmmaker (Brokeback Mountain, The Ice Storm)
· Henry Selick– Academy Award®-nominated director (Coraline)
· Evan Shapiro – President, Participant Television
· Uma Thurman – Academy Award®-nominated actor (Pulp Fiction, Kill Bill Vol. 1 & 2)
· Christine Vachon – Award-winning filmmaker (Boys Don't Cry, Mildred Pierce)
· Gus Van Sant – Award-winning director (Good Will Hunting, Milk)
· Taika Waititi – Academy Award®-nominated writer/director (Two Cars One Night, Boy)
· Jeffrey Wright – Award-winning actor (Basquiat, The Hunger Games: Catching Fire)