London Int'l Animation Festival 2015: Highlights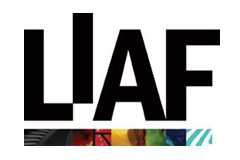 Founded in 2003, London International Animation Festival aims to dispel the popular misconception that animation is just cartoons for kids by screening the broadest possible range of intelligent, entertaining and provocative current films on offer from all around the world as well as retrospectives and specialised sessions from countries and animators who don't normally elicit such attention.
LIAF15 returns to 5 venues across London from December 4 to 13 - the Barbican, the Horse Hospital, the University of East London, Arthouse Crouch End and the Phoenix Cinema East Finchley.
Over 2,400 films were entered into the festival this year and the best 118 new films have been selected to screen across several categories including the British Showcase, Into The Dark scary shorts, and New Japanese Shorts - Beyond Anime.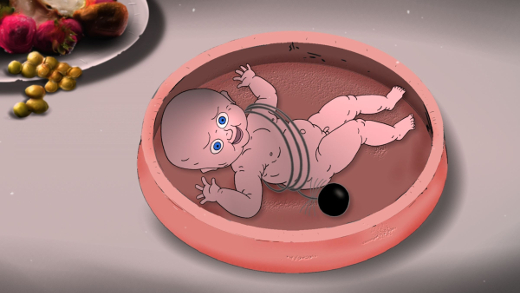 House of Unconsciousness, Priit Tender (Competition section)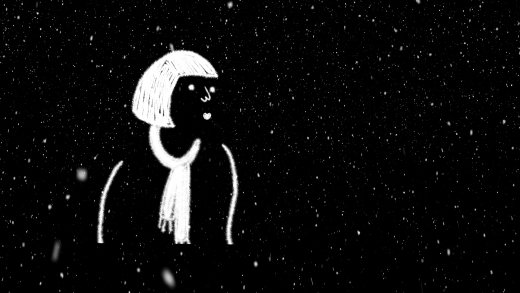 The Evening her mind jumped out of her head - Shaun Clark & Kim Noce
 LIAF 2015's opening night gala (4 Dec) celebrates one of the giants of British animation – Barry Purves. Barry Purves' career spans 25 years with over 60 international awards (including BAFTA and Oscar nominations) and many lifetime achievement awards.
Equally passionate about his theatre work, Barry's films embrace the language of stage and his worldwide teaching on animation enhances his reputation as a raconteur. Purves will talk with unflinching honesty about the ups and downs of being an animator, the creative process involved and we'll get a chance to look back at several of his multi-awarded short films, clips from his TV series and commercials.
LIAF's UK Animator Focus showcases home-grown animation talents. Apart from  Barry Purves, Robert Morgan, the Crafty Women aka Jo Lawrence, Elizabeth Hobbs, and Noriko Okaku (UK), Chris Shepherd, and  Becky and Joe  will deliver workshops, screentalks and career-spanning retrospective screenings.
LIAF15 will also screen the UK Premiere of the acclaimed Czech feature film Little From the Fish Shop  (Jan Balej, Czech Republic), based on Andersen's The Little Mermaid [read the Zippy Frames review].
 Robert Morgan is the unsung hero of UK puppet horror animation and he will grace the Barbican (5 Dec) with his presence in a special career-spanning retrospective entitled 'Death-shriek of the Bird-Man'. Jo Lawrence, Noriko Okaku and Elizabeth Hobbs are the Crafty Women, three animators unified by a hands-on approach to filmmaking, a love of great stories and a willingness to experiment with their work.
 Using a variety of hand-made, craft-based techniques such as collage, classic illustration, animated puppetry, watercolour, ink blots and rubber-stamping the Crafty Women's work borrows from the past but collectively is very much rooted in the 21st Century (7 Dec., Arthouse Crouch End) . Becky and Joe met at Kingston University and have made music videos for Tame Impala, Delicate Steve and Unknown Mortal Orchestra, designed window displays for Selfridges and produced the 5 part online internet-sensation series "Don't Hug Me I'm Scared".
Chris Shepherd and his work fuses comedy with commentary on the darker side of human nature and he has made numerous award-winning short films that have screened to universal acclaim around the world.
Along with Becky and Joe will take part in an informal onstage chat with LIAF Director Nag Vladermersky on closing night of the festival (13 Dec).
Luc Chamberland will present his mini-feature film 'Seth's Dominion', a 42- minute celebration of the Canadian cartoonist "Seth", best known for comic books such as Palookaville.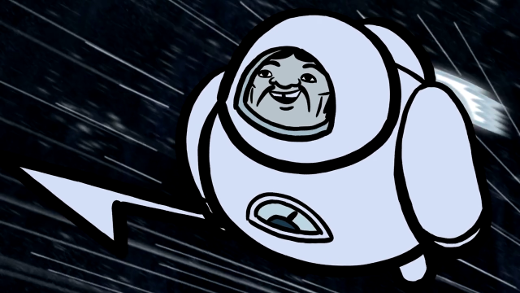 Seth's Dominion
In his personal projects he transforms his poignant inner life into observant and witty graphic stories.
Another LIAF highlight is the NIAF (Netherlands Institute of Animated Film) tribute programme, a poignant look at an utterly unique organisation. Officially opened in September 1993, NIAF was a curious hybrid, intensely focused on supporting animation as an art form through a number of different activities.
The Animated Documentaries programme is a selection of stylish, persuasive and compelling short form narratives mixed with some of the most stunning visuals of the festival, and the Abstract showcase is animation in it's purest form..
 LIAF will also present two programmes of animation specifically for children – Amazing Animations for 0-6 year-olds and Marvellous Animations for 7-15 year-olds  The University of East London (UEL) will be hosting the 'UK Animator Focus' a day-long event (12 Dec)  supported by Film Hub London, with talks and workshops from acclaimed animators Barry Purves, Robert Bradbrook and Luc Chamberland as well a screening of the British Showcase, an exceptional opportunity to see what British animators are doing, how they're doing it and how the art form is travelling.
 The festival ends with the Best-of-the-Festival on Thursday December 10 at the Barbican (repeat screenings Sunday December 13) featuring the best films chosen by our panel of judges and audience votes. Prizes will be awarded by sponsors Toon Boom and MMBF.
 Full programme available online from 10 November at http://liaf.org.uk

Read More About: