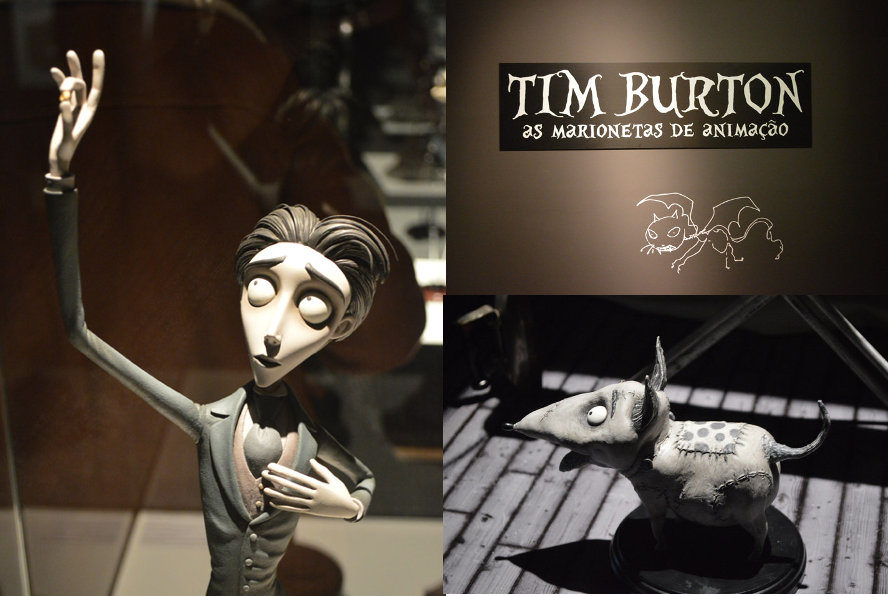 Eliane Gordeeff reports from the Monstra Festival press conference and the Tim Burton exhibition in Lisbon.
At this year's press conference, Fernando Galrito and Miguel Pires de Matos, the directors of the Monstra Festival presented the attractions that will be available in this 2020' edition, confirming what was announced: the theme honored is "the World", and not just a country.
As in 2020, Monstra Festival completes 20 years of activities, the Portuguese Serigraphy Center 35, ASIFA turns 60 and the UN turns 75 years old aroused the idea of ​​"inviting all the World" to an "animated" celebration. 20 invited countries, which took part in previous Monstra festival editions, now return; films from 51 countries which initially founded the United Nations, and also the 193 countries now UN members will now be part of and appear in Monstra Festival 2020.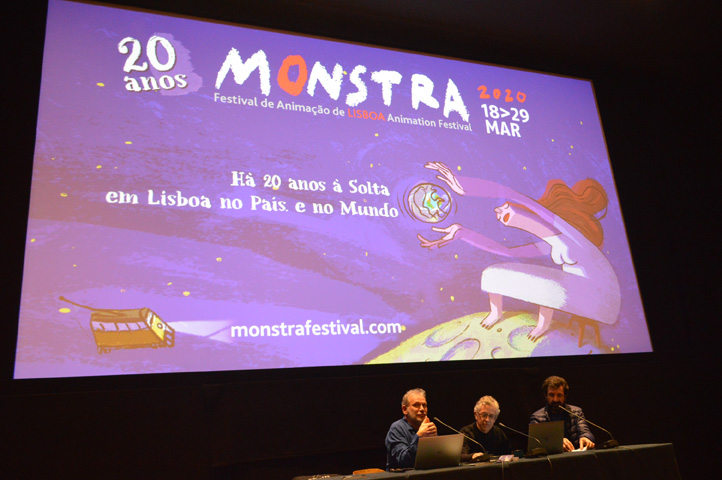 Monstra Festival Press Conference, Photo: Cláudio Roberto
Masterclasses, workshops and competitive sessions take place regularly in the festival, and will continue to do so; in 2020 the competitive session will be composed of 183 short films, 7 feature films from 82 countries, as well as 14 Portuguese productions.
In addition, several exhibitions are planned. These include serigraphs made from images of films by authors from the 20 countries that have already participated in the festival, a retrospective of films from 51 countries (which created the UN). As the Monstra festival artistic director, Fernando Galrito, reports, "193 images taken out from animated films, in which one tries to create a 'map' 'of what today composes the UN institution, is the current festival project to be unveiled at the festival".
The traditional music-animation union is another early highlight to point out. Among the festival offers is the worldwide release of a film made by five animation schools from five respective continents, based on a Normand Roger's soundtrack.
It is a waiting in despair to enjoy all of this!
In 2020, MONSTRA |Lisbon Animation Festival celebrates 20 years of existence and it will happen between the 18th and the 29th of March in several places in Lisbon. From May 2020 on, we will travel around Portugal with MONSTRA on the Loose, a small festival set to:
Present the animation cinema that is created in Portugal and around the world, by professionals but also by young students;
Show not only to children and youngsters, but also to adults, the best and the most recent animation cinema;
Unveil animation cinema as an easy access art – it doesn't need much equipment to be created – and it can be very useful as a pedagogic support, in a logic of Education through Art;
Promote the encounter between works of art, authors, methodologies, cultures, ways of doing, creating and teaching - Monstra On the Loose Festival Statement
For Zippy Frames readers, I leave below just a small preview from what has already took flight: the exhibition Tim Burton, the puppets of animation was inaugurated on 12th February at the Marionette Museum in Lisbon.
With 3,000 visitors already in its first week, It is now possible to see and enjoy study drawings, structures, and molds of the puppets from the films Mars Atttacks (1996), Corpse Bride (2005) and Frankenweenie (2012). The visitors have the fantastic opportunity to see Emily, Frankenweenie, Maggot, Martians, etc. at a short distance.
A fabulous work of Mackinnon & Saunders, which were responsible for the puppet's structures, a fact that was even highlighted by Burton himself:
They do such beautiful work, very sensitive and textural: you do believe the characters are alive - Tim Burton 
As the exhibition curator and Monstra artistic director, Fernando Galrito ​​pointed out: "This 13th Monstra | Marionette Museum exhibition is set to explore this fortunate meeting of talents".
Here, we bring a little bit from the exhibition for those who cannot be present. Hope you enjoy!
The exhibition continues up to 19th April 2020; Monstra Festival will take place from 18th to 29th March 2020.
contributed by: Eliane Gordeeff