Linoleum Contemporary International Animation and Media Art Festival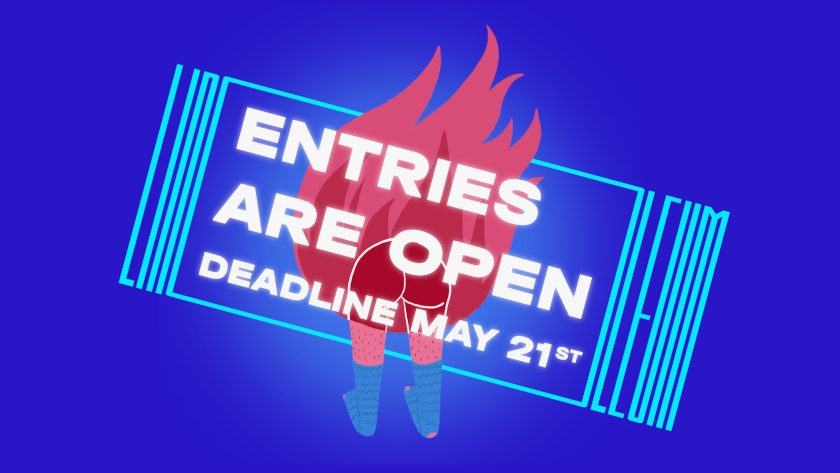 Category
ANIMATION & FILM FESTIVALS
Deadline | Event Dates (period)
Email
This email address is being protected from spambots. You need JavaScript enabled to view it.
Final submission deadline
2022-05-21
Submission/Registration Fee
No
Festival description:
LINOLEUM Festival aims to support animation artists and promote animation worldwide. The objective of the Festival is to encourage and celebrate creativity amongst animators and media artists, promote contemporary animation and media art in Ukraine.
(Archive); 2022 Call for Entries
The 9th edition of the LINOLEUM Contemporary Animation and Media Art Festival will be held in Kyiv from September 7 to 11. The festival aims to promote international animation in Ukraine and create a platform for exchanging experience among industry professionals. It will host a variety of workshops, lectures, and programs. The nominees will be decided upon by the Festival committee.
This year's festival theme is SYSTEMA NATURAE ("System nature" in Latin). Bacteria eat plastic, mushrooms change the stock market, scientists don't quite know how stem cells of frogs replicate. Free and uncontrollable, they are so tiny that they almost become intangible. They are the ecosystem guerrillas, rebels of the planet, irreversible biosoldiers. As we challenge them, they choose us to be their cosy homes. While we declare war on them, they continue their natural selection. Viruses take us back to the starting point and push us forward – to evolution. Through the fear and risk of death - towards the chance of rebirth. Towards understanding that you are a part of all natures. A home for microorganisms, a spark of God, a set of indicators, a bunch of love, an object of observation and an undisputed harbinger of the future.
Eligibility criteria
Films made in any animation technique, including works combining animation with acting and documentaries, are eligible.
The animated part should be at least 40% of the film and not exceed the running time of 30 minutes.
The films must be created

after January 1, 2021

.
Competition categories
International Competition
Ukrainian Competition (only for Ukrainian animation films)
Commissioned Films
Out-of-competition categories
Experimental Animation and Video Art
Animation created for and by kids and teens
VR Animation
Ladies first (for female directors)
Erotique est Magnifique (for erotic animation)
Scary Tales (for horror films)
Directors can submit their works to the International Competition or the Commissioned Films Competition (music videos, educational films, promos). This year, the festival also accepts animated films created by children and teenagers from Ukraine and abroad.
In addition to the International and Commissioned Films Competitions, the programme of the 9th LINOLEUM Festival will include Ukrainian competition, experimental films and video art, VR, animation for children, thematic blocks, Ukrainian animation retrospective, screenings of selections from international festivals and educational programme.
Deadline: 21 May 2022 (no entry fee)
ARCHIVE
2021 Festival Coverage 
This year's theme is PRESENCE. INTIMACY. TOUCH.
One day, we woke up in a world where the normal order of things fell apart. We've learned pretty fast that physical presence is nearly a rarity, intimacy is a forbidden entertainment and touching is a mortal danger.
Crisis behaviour became our new standard, the space around us is now holy and untouchable. We desperately tried to develop new forms of interaction and cut our ties in the name of civic responsibility. We've learned to discover the world from our screens within arm's touch. We've almost put up with the online format. And yet, our touch hunger hasn't disappeared and still needs to be addressed.
We tried to put the madness around us into words and logical constructions. But it turned out that grasping the reality is impossible without close contacts, and culture is lifeless if it doesn't resonate with bodies. We suddenly felt our bodies being part of physical cosmology. We discovered that value is determined by comprehensibility, and existence can be fully experienced within arm's and touch reach.
2020 Festival Coverage:
Winners:

LINOLEUM International Contemporary Animation and Media Art Festival announced the winners in three categories: international, Ukrainian and Commissioned films competitions.
The awards ceremony took place online, as the majority of the festival events this year: all the animation films were available for free from 2 to 6 September on the MEGOGO media service.
This year's LINOLEUM winner is the French animation film Black Sheep Boy (2019) by James Molle. The story revolves around the quest for the meaning of life of a young boy in a strange hat. Searching for some happiness, he engages in a philosophical and absurd journey. The jury was impressed by the film's fresh style, witty dialogues and surreal characters.
With this year's main prize we decided to award an unconventional film that embodies what LINOLEUM stands for: Black Sheep Boy was made by an exciting creator who surprised us by his approach towards the animated form - Jury statement
Three films got Special Mentions in the International competition section:
Dutchgaria by Capucine Muller (Belgium, 2019) for the crafted relatable story with the fresh perspective on the frustration of migration.
The Surrogate by Stas Santimov (Ukraine, 2020) for the power of atmosphere and craft, as well as he fresh angle on the genre conventions of horror.
The piece of tail in the mouth of the snake that bites its own tail by Pablo M. Ballarín (Estonia, 2019) for the impressive author's stylistics.
The Ukrainian competition's main award went to Wrapped in Plastic by Vladi Yudi (2019). It is a satirical pseudo horror film about the collective hysteria around plastic that is sometimes combined with strange superstitions. The jury of the Ukrainian competition almost unanimously decided to award this animation with the main prize.

Despite the fact that Wrapped in Plastic exploits one widespread thought, it does so in such a professional way, creating such a subtle world with a special vibe that holds the viewers' attention immediately. This film also has a tinge of humour and subtle references to the world cinema classics – Yevhen Boytsov, Ukrainian competition jury member.
The jury also gave a Special Mention to 
Mr. Nox 
by Diana Denys (2019) for bringing up the burning issue of cyberbullying.
The main award of the Commissioned films competition went to the music video Jo Goes Hunting - Careful by Alice Saey (France, 2020) about the surreal creatures that turn their world to chaos once they start thinking about their individual appearance too much.
"The repetition and sound is visually represented in a bold esthetic. This short film uses crazy colours, has a distinct graphic style and very beautiful animation. It is extremely psychedelic. All the jury members were impressed by this work - Jury Statement
Three other works were awarded with Special Mentions in this category:
Gardener & Bumblebee by Ignas Meilunas (Lithuania, 2020) for presenting the brand in an informative and also in a funny way.
Facing Water by Daphna Awadish (Israel, 2019) for beautiful esthetics.
Ode by Shadi Adib (Germany, 2019) for simplicity, atmosphere and nontrivial animation. 
The next edition of LINOLEUM festival will take place September 1-5,  2021
2020 Festival Highlights
The international competition section (International competition (44 films), Ukrainian competition (13 films), Commissioned films competition (27 films).) , which contains most of the films, is divided by the curators into 5 blocks. Each one is named after the film that offers the most in-depth reflection on the topic. 
The first block Movements shows how people perceive themselves in time, space and reality in general. The self-titled film from South Korea invites viewers to a contemplation of things that can happen in the space of 10 minutes. In fact, during the same period, the African baobab tree grows 0.008mm and the Earth travels 18,000km around the Sun.
The second competition block Traces explores how our actions can affect history and other people around every minute. The eponymous French film tells about the rituals of ancient people that can still resonate nowadays. 
Short Stories About Loneliness is the third block which is in line with the lockdown experience of humankind. But in this section, isolation is treated more globally and timelessly, without being a reference to the external events. It is the case of the film from the Dominican Republic that shows loneliness through sound, textures, changing colours and abstract images. 
The authors of the fourth competition block Ties question the connection between people. What are we for each other? The eponymous film from Germany focusses on the relations between a young girl and her loving parents, and tells how someone's independence can harm the loved ones. This is the first animation film in the world to be made with a 3D pen: all the film storyboards were physically embodied outside of the frame. Apart from that, this selection contains a Czech animation film Daughter made by the Oscar 2020 nominee. 
The last international competition block's title is Arka, it was named after the animation film from Croatia. It is a journey across the worlds of human subconscious that can get you to meet your own demons and those of the others. The Ukrainian film Surrogate by Stas Santimov will premiere in this section. 
The other Ukrainian films will be shown in the Ukrainian competition program. It includes animation films that touch upon different topics: starting with a free adaptation of The Metamorphosis by Kafka and up to the history of Ukraine in 5 minutes. 
The third competition program is focused on commissioned films. These are the best commercials, trailers and music videos that explore human existence. Out of 28 participants, there are two Ukrainian works: a book trailer for Haska Shyyn's novel Behind their backs that tells the story of a woman trying to apprehend her identity and sexuality, and the music video Problems of Sublimation for the DZ'OB band. 
Thematical non-competition blocks will be presented at LINOLEUM as well. The festival curators will select animation films from different years on the following topics:

Ecoleptic – films about the interaction of people with nature and their impact on the environment, animals and ecology.
Human_Nature – experimental animation and video art works about the place of people in nature and the industrial world.
Human_Capital – experimental animation and video art works that explore the interaction between individuals and economic systems. 
Becoming Human – this year's main festival topic. Animation films about finding your true self, introspection and personal courage. 
Retrospective of Oleg Pedan – the retrospective selection of works by the famous Ukrainian animation director and puppet designer. In his films Nobody Home, The Key, A House for a Snail, he created new worlds that fascinated both kids and adults. 
Ukrainian retrospective – local animation films about different aspects of human existence, oriented for an adult audience. This selection includes films from different years: starting with the cartoons of the Kyivnaukfilm studio up to the student work by Mykyta Lyskov, one of the main representatives of author animation cinema in Ukraine.
Contemporary Japanese animation – independent works by young artists from Japan that were created during the last 5 years. 
Animation for Kids – a selection of best animation films for children. 
Ladies First – a traditional non-competition block at LINOLEUM that presents films made by women for women. Many of these works reflect on corporeality, sexuality and the importance of self-acceptance. 
2020 Visual Identity:
This year's LINOLEUM will go under the main theme of 'Becoming Human'. What makes us human? Thanks to its surreal nature, animation can explore areas of our experience that are elusive for the other forms of arts and science.
"I've been paying attention to the ads on walls for a long time. It is the Ukrainian pop art, a true folk art. On these chaotically covered walls, one can see the whole new world with different stylistic and seasonal tendencies. So when I learned that this year's LINOLEUM theme is 'Becoming Human', I immediately thought about the ads on walls. 'Becoming Human' is exactly what we need now. At least it is as important as plastic windows or insulation of apartments. And LINOLEUM is the favourite festival and an extremely important event for the Ukrainian animators," – Nikita Lyskov.
The platform for the festival screenings this year is MEGOGO media service. Animation films from the competition programs, thematic selections and special screenings will be available for free. 
The festival is supported by Ukrainian Cultural Foundation. Organized by Animagrad.
2019 Festival Coverage
2018 Festival Coverage

 NB: 2023 Festival Dates are tentative
Event Dates
From

07/09/2023

to

11/09/2023