London International Animation Festival 2023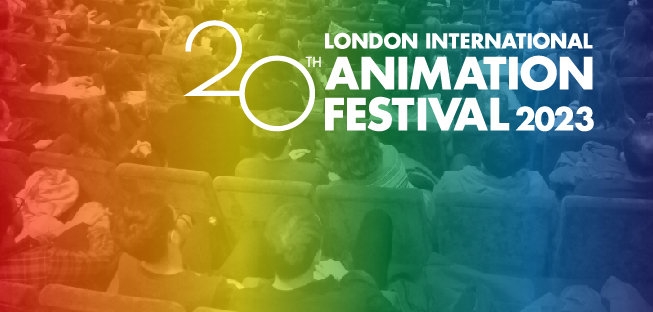 Category
ANIMATION & FILM FESTIVALS
Deadline | Event Dates (period)
Email
This email address is being protected from spambots. You need JavaScript enabled to view it.
Final submission deadline
2023-07-31
Submission/Registration Fee
Yes
Event Description: The London International Animation Festival proudly showcases the whole spectrum of independent creative animation, showing that animation is for everyone. Founded in 2003, LIAF aims to dispel the popular misconception that animation is just cartoons for kids by screening the broadest possible range of intelligent, entertaining, and provocative current films on offer from all around the world as well as retrospectives and specialised sessions from countries and animators who don't normally elicit such attention.
2023 Festival Coverage
Highlights:

● 245 films from 41 countries, 120 premieres.
● Opening night special screening at the Barbican: a celebration of our 20th birthday with a special surprise collection of films from across the 2023 line-up as well as a tribute to the work of one of the most-loved and celebrated British animators - Paul Bush - who sadly passed away earlier this year. Alongside a screening of some of his iconic films we are also proud to have a panel of Paul's friends and colleagues from around the world who will take to the Barbican stage to discuss Paul's life and work.
● 8 international competition screenings: Including From Absurd to Zany (humorous shorts), Into The Dark (scary shorts), Animated Documentaries and the Abstract Showcase. 88 films of every technique, genre and style from the international indie animation universe and the world's most creative talents showing that animation is alive and well and thriving. Many of the filmmakers from the UK and around the world will join us live for post-screening talks and introductions.
● The British Showcase: the best, most recent 14 short films in the UK. The programme paints a vibrant picture of a spirited and imaginative animation nation. Most of the filmmakers will be onstage to introduce their films and talk about the ideas and processes behind them.
● Special screening - Figures in Focus: Apocalypse: A cathartic programme of artists' animated films that delve into our darkest fears and our greatest hopes. Whilst we're living through a time that feels eerily as though we are enduring characters in an unfolding disaster movie, and with the climate crisis ever present in our media and minds, these films proffer reflection, release, escapism, and hope. Figures in Focus was devised by Abigail Addison, in recognition of the under-representation of female and non-binary animators and their stories within the independent animation sector.
● Special screening - Disrupting the Narrative (Changing Mindsets, Expanding Voices) features exciting British and international filmmakers who use a diverse range of live action and animation techniques to explore black, ethnically-diverse themes and how we live in multicultural societies around the world today. After the screening filmmakers will take to the stage to discuss their work chaired by co-curator and BAFTA and Emmy-nominated Director Osbert Parker.
● Special screening - Stop-motion panorama: Since the dawn of cinema puppet animation has provided some of the most mesmerising films ever made and puppet animators have been among the most revered. Breathing a kind of life into inanimate puppets is a very special form of magic and this programme showcases the continuing vibrancy of this technique. These 8 thought-provoking, moving and downright bonkers short puppet films have been made by some of the most talented independent animators in the world proving that tangible and physical stop-motion and puppet animation is alive and well and in rude health in the 21st century.
● 3 very special screenings of the 30 best horror, comedy and animated documentary shorts - Over 20 years LIAF has screened more than 6,000 films from the world's most talented animators (Horse Hospital)
● Late Night Bizarre: a programme of the weirdest, wildest and most demented films submitted to LIAF this year featuring a bunch of anti-classics guaranteed to be as far away from Disney as it's possible to get. Screening at London's best cult underground venue the Horse Hospital.
● Music video programme: the world's best music clips made by the world's most inventive animators. Animation is an integral element in many of the best music videos and here are some of the hottest bands and creative animators coming together to produce 60 minutes of pure aural and visual pleasures. Miles Davis, Hot Chip, Tim Burgess and the Beatles are all featured alongside several others.
● The Best of the Next: The 26 best student films from the world's best film schools made in the last 18 months. The first step on the animation ladder for these talented filmmakers, and the first time their wild and wonderful imaginations have been unleashed.
● Two programmes for children aged 0-7 and 8-15 - short animated films, full of joy from all around the world containing several cheeky, loveable humans and animals in all sorts of mad adventures.
● The Best of the Fest: a roundup of LIAF 2023, where the best films as chosen by audience and industry judges are announced, awarded prizes and re-screened one final time.
● 6 Online Panel Discussions (free, 2-3 December). We'll be looking into the minds of some of the most creative forces currently working in the field of the animated documentary, discussing the intrinsic role of the Animation Producer and how do you get to become one, finding out whether animation can be a viable and satisfying career for people who are neurodiverse, looking back at the meteoric growth of the UK animation industry over the last 20 years and looking forward to how the next 20 years might develop in CGI, 3D and general technology.
2023 Call for Entries (Archive)

The 20th London International Animation Festival (LIAF) will take place from 24 November to 3 December 2023 in London.
Eligibility criteria
All animated films including music videos, animated documentaries, and children's films are eligible.
To be considered eligible for selection in LIAF 2023, your film should have been completed

after 1 January 2022

. The Festival Director reserves the right to grant exceptions to this criteria in exceptional circumstances.
Awards and Prizes
Best International Film - cash award/prize
Best British Film - cash award/prize
Best Children Film - cash award/prize
Best Sound Design - cash award/prize
Best music score - cash award/prize
Best Late Night Bizarre film - cash award/prize
Best music video - cash award/prize
All screening material must be in London by 15 October 2023.
Deadlines: 31 May 2023 (regular), 31 July 2023 (late) - fees apply
Archive
2022 Festival Coverage 
2021 Festival Coverage
2020 Festival Coverage
2019 Festival Coverage 2019 LIAF Awards
2018 Festival Coverage
Event Dates
From

24/11/2023

to

03/12/2023