Primanima World Festival of First Animations 2023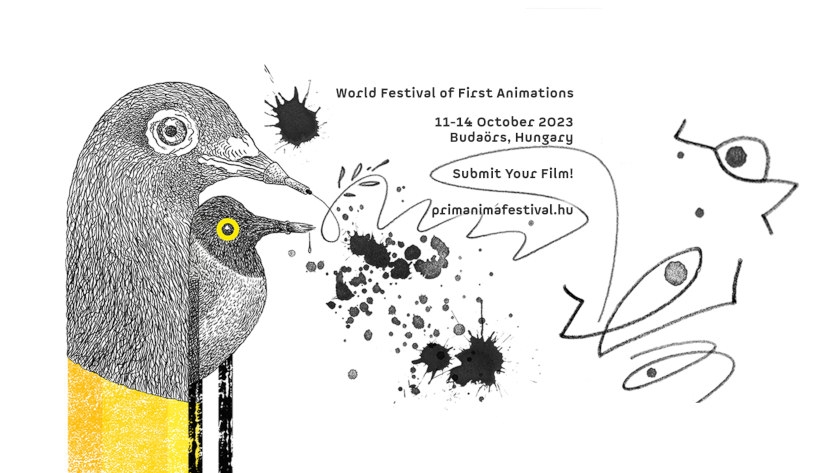 Category
ANIMATION & FILM FESTIVALS
Deadline | Event Dates (period)
Email
This email address is being protected from spambots. You need JavaScript enabled to view it.
Final submission deadline
2023-07-20
Submission/Registration Fee
No
Festival Description
Primanima is an international festival and competition for first animations. Its co-founders launched the festival in 2012 with the goal to provide a platform for talented young animators to introduce their first films, as well as with an aim to add animation and other educational programs to the cultural life of Budaörs.
2023 Call for Entries

The Primanima World Festival of First Animations this year comes with its 11th edition between October 11th and 14th. It will take place in Budaörs, Hungary (a suburb of Budapest). 

The 11th edition apart from the screenings of the competition and panorama programmes will offer a revamped industry platform and international workshop, called Contemporary Animation Horizons which is a joint workshop series with Countryside Animafest Cyprus and Primanima. This year the festival is planning to hold several exhibitions and the audience can enjoy the concerts and parties. 

The call for entries is open for the Primanima's main competition and the festival team is looking forward to receiving the work of young animation artists in following categories:

● student film
● graduation film
● first film
● children's films
● films for teenagers (PrimaTeen category)
For the latter two programmes, the director of the work should be under 40 years old.
The Primanima Masters separate category will be introduced to strengthen the intergenerational dialogue. The programme is mostly, but not exclusively focused on directors who brought a film already to our festival and have been making masterpieces ever since. For this category there are no age and category limitations. 
Apply via the festival website (free) or via FilmFreeway
Deadline: 20 June 2023 (Primanima Masters), 20 July 2023 (all other categories)

The visual identity of this year's festival is the work of Tamás Patrovits is reflecting on the trust that even in times of anxiety, Primanima wants to celebrate animation and cinema as a place to create images in response to the world, as a venue that invites us to contemplate together, as a space that flies us across boundaries.
++++++++++++++++++++
2022 Festival Coverage

2020 Festival Coverage
The festival was postponed
2019 Festival Coverage:

THE AWARD-WINNERS OF THE 8TH PRIMANIMA
AWARDS OF THE JURIES
GRAND PRIX: Barbora HALÍŘOVÁ: Hide N Seek (CZE
GEORGE PAL PRIZE FOR THE MOST PROMISING HUNGARIAN TALENT IN ANIMATION: HORESNYI Máté: Jacques' Rampage or When Do We Lose Our Self-confidence? (HUN)
BEST FIRST FILM: Ryotaro MIYAJIMA: Castle (JAP)
BEST GRADUATION FILM: Daria KASHCHEEVA: Daughter (CZE)
BEST STUDENT FILM: Georis MATHIEU: Alfred Fauchet (BEL)
SPECIAL MENTIONS OF THE JURY MEMBERS:
Milen ALEMPIJEVIC – Michaela MIHÁLYI, David ŠTUMPF: Sh_t Happens (CZE/SVK/FRA)
Lucija MRZLJAK – Jung Hyun KIM: Sweet Sweat (EST)
Maria STEINMETZ' – Cécile BRUN: Letting Go (CHE)
THE AWARD OF THE CHILDREN'S FILM JURY: Rémi DURIN: Big Wolf and Little Wolf (FRA)
PRIMASOUND JURY – BEST SOUND DESIGN: Daria KASHCHEEVA: Daughter (CZE) // Sound by: Daria Kashcheeva, Miroslav Chaloupka
PRIMASOUND SPECIAL MENTION: GYULAI Panni: Broken Things (HUN) // Sound by: Kalotás Csaba, Karina SPECHT: Squaring the Circle (POL) // Sound by: Paweł Cieślak
THE AWARD OF THE PRIMALTER JURY: GYULAI Panni: Broken Things (HUN)
THE AWARD OF THE PRIMAPSYCHO JURY FOR THE BEST FILM IN THE PRIMATEEN SECTION: Siqi SONG: Sister (USA)
THE FAVOURITE FILM OF THE STUDENT JURY: Frederic SIEGEL, Benjamin MORARD: The Lonely Orbit (CHE)
THE FAVOURITE FILM OF PRIMAKIDS JURY: Rémi DURIN: Big Wolf and Little Wolf (FRA)

AUDIENCE AWARDS

MOST POPULAR INTERNATIONAL SHORT FILM: Michaela MIHÁLYI, David ŠTUMPF: Sh_t Happens (CZE/SVK/FRA)
GYULA MACSKÁSSY PRIZE FOR THE MOST POPULAR HUNGARIAN ANIMATION: ANDRASEV Nadja: Symbiosis (HUN/FRA)
MOST POPULAR INTERNATIONAL CHILDREN'S FILM: Fokion XENOS: Heat Wave (GBR)
TIBOR CSERMÁK PRIZE FOR THE MOST POPULAR HUNGARIAN ANIMATION: KELEN Bálint: The Thrilling Tales of Dreadful Draco (HUN)
MOST POPULAR FILM FROM THE PRIMATEEN SELECTION: Christoph SAROW: Blieschow (DEU)
2018 Festival Coverage ( 24-27/10/18):

Event Dates
From

11/10/2023

to

14/10/2023