18th Seoul Indie AniFest: Programme Highlights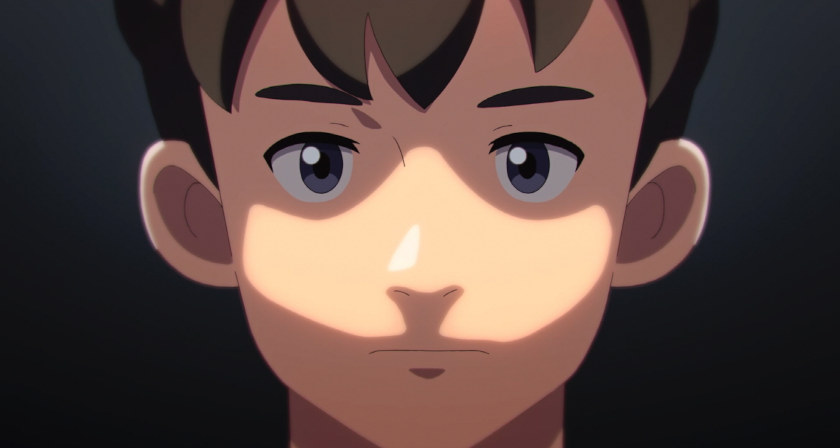 Seoul Indie-AniFest, a film festival created and managed with the participation of independent animation filmmakers from Korea, will celebrate its 18th edition, 22-27 September 2022. The festival celebrates Asian independent animation. As the organizers state:
 Our desire is to create a festival that brings us together and expands through animations. As a film festival that is becoming a focal point in Asia, we will create an expansive space that allows exchange between filmmakers and audiences, offers a means of communication between films and their viewers, and goes beyond the boundaries of genres such as animation, music, and film - Seoul Indie-AniFest organizers
 
This year's programme features 22 Asian animation films in the professional category (aptly called) Independent Walk. We here see films like the silently ominous 'Epicenter' by Heeyoon Hahm and the urban elegy of 'Things That Disappear' by Changsoo Kim.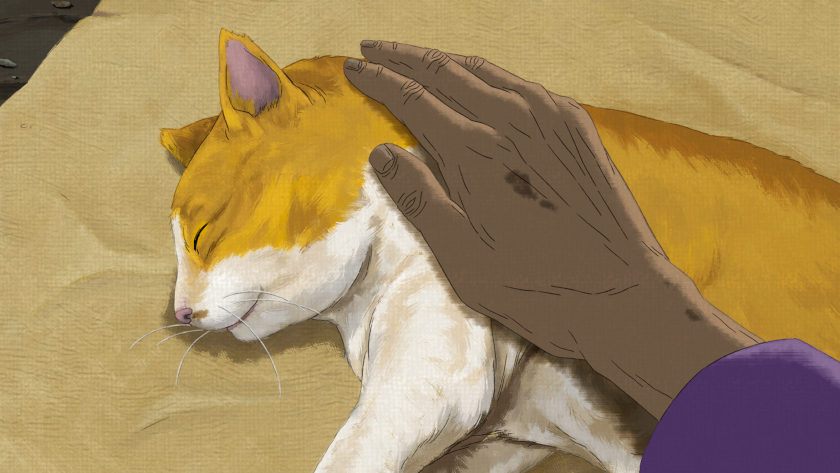 Things That Disappear
26 films compete in the First Flight (Student) competition, including the Annecy-awarded 'Persona' by Sujin Moon. The Web Animation section features 14 Asian animation shorts; we see among those the 'Intro Animated Poetry' series by Lee-seul Oh, based on three contemporary poems with the voices of poets.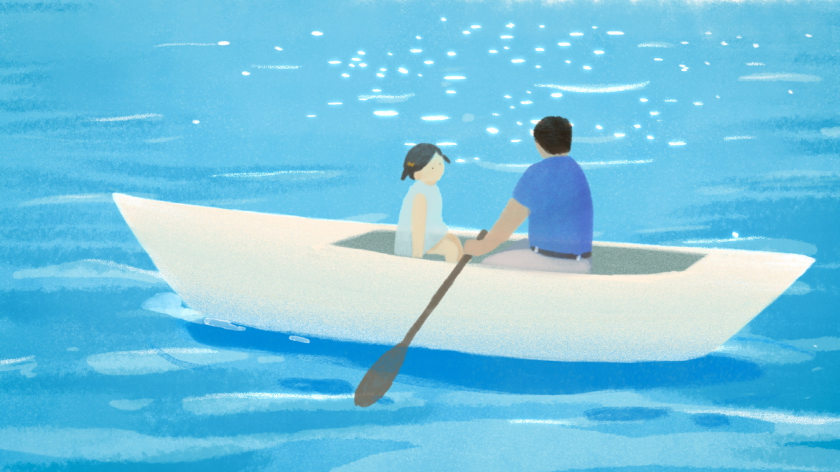 34 films grace the 'Asia Road' programme: from Diana Cam Von Nguyen's 'Love, Dad' animation documentary short to the Israeli film, 'How to Survive the Heatwave and Stay Human' by Ronni Shalev and Qlon Sharabi
Mirinnae Road is the feature animation section, and we discover 5 Asian animation features:
To the Bright Side, Xiya LAN, Nianze LI, Yi ZHAO, Kun YU, Gaoxiang LIU, Maoning LIU, Chen CHEN 2021 1:23:12 Drawing, 기타
This is a family animation film that focuses on "love and emotion". It is adapted from seven original Chinese picture books, and follows the common interactions between parents and children to explore topics such as the mother-child relationship, sibling relations, being good neighbors, etc. Each theme is explored using different animation visual styles such as ink painting, paper-cutting, watercolor, collages, and more to create a simple depiction and affectionate interpretation of life and growth.
Chicken of the Mound, Xi CHEN 2021 1:23:39 2D Computer. A particularly curious larva chicken did not undergo the adult transformation and did not hide in the cave. Instead, it roamed the plains and mounds in robot armour.
Introducing Our New Business Partner, Michael, LEE Yongseuk 2022 0:43:04 2D Computer, Drawing
"I'm tired of working at a company! and so sick of writing resume over and over again! From now on, we are all going to be the boss!" Three friends started a hamburger restaurant out of anger. They find a mysterious skeleton body and a 300 million-dollar purse on the wall during burial construction.
Chun Tae-il, HONG Jun-pyo 2021 1:39:05 2D Computer
At the age of 16, Taeil got a job as a sewing assistant at Pyeonghwa Market. He is a warm-hearted boy who empties his pocket to buy street cakes for fellow workers, knowing that he has to walk home in the morning dew with no penny for a bus ride. His devoted mother passes sleepless nights, waiting for his son Taeil. 
2049+ Voice of Rebirth, Chun-hsu SU 2021 1:12:32 3D Computer
The story centers around temple youth Wei, who discovers the benefits of being a holdout when his grandfather urgently needs money for surgery. In order to get more money out of property developers, Wei teams up with Rainy, a girl opposed to community reconstruction, to apply for historical landmark status for the temple his grandfather left him.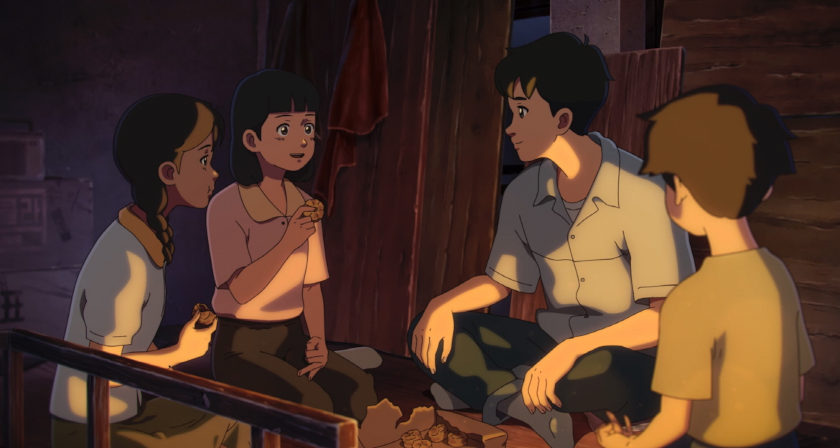 Chun Ta-eil

Three world animation features ('Archipel', ' My grandfather's Demons', 'Where Is Anne Frank') comprise a special animation feature programme. The renowned Swiss animation director and artist Michael Frei has his own special programme, 'offering an in-depth look at his peculiar and fascinating creative world'; the French MIYU distribution company features a special programme, with films like the Oscar-nominated 'Negative Space', 'Egg' and the newest 'Letter to A Pig' is also in place during the festival. 
The opening ceremony takes place on 22 September, showcasing the 25-minute 'Architect A' by Korean animation director Jonghoon Lee, and an accompanying film and music programme. Awards are to be announced on 27 September. 
The film's poster and trailer are designed by Erick Oh: The Mirinae is the river of lights and colors born from our stories. Together, let us fly further and higher than ever before.
Watch the 2022 Seoul Indie-AniFest trailer
The festival is organized by the Korean Independent Animation Filmmakers Association (KIAFA), and is supported (among others) by the Ministry of Culture, Seoul Metropolitan Government and the Korean Academy of Film Arts.
Seoul Indie-AniFest takes place from 22-27 Sep 2022 at CGV Yeonnam, A Bunker, Seoul.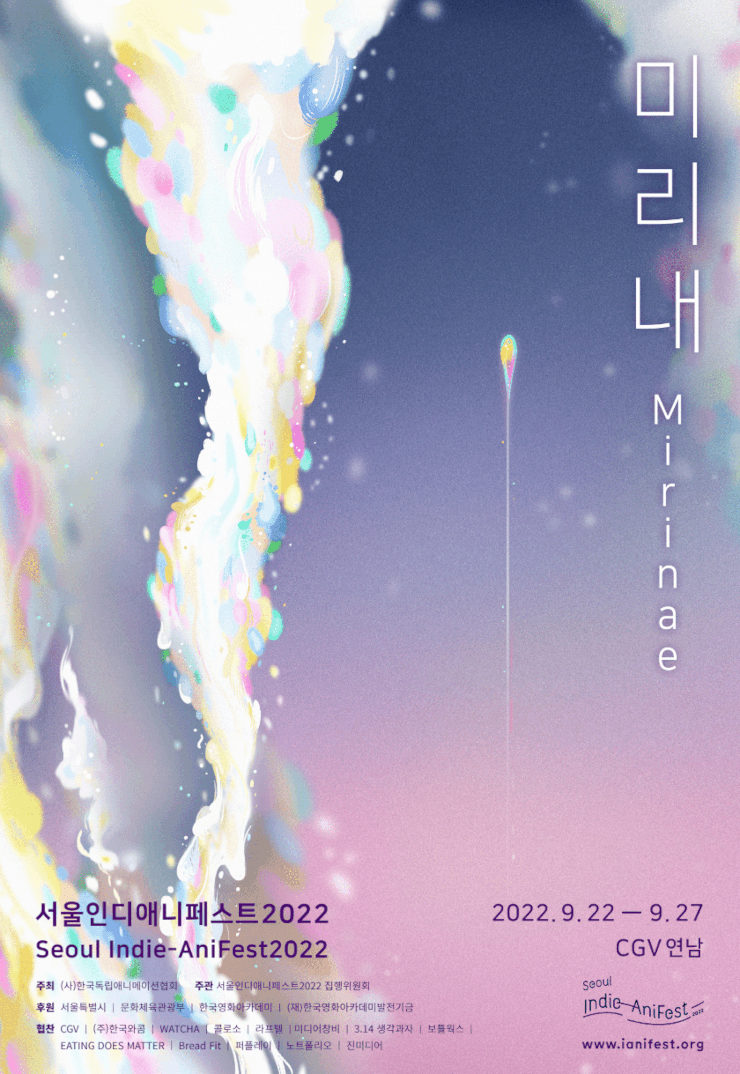 SIGN UP: Want to read more free articles like this? Sign up for Our Newsletter