The Bigger Picture, Oh Wal win at Swiss Fantoche
The 12th edition of the International Festival for Animation Film  with much varied programmes, such as the "War and Peace" theme, "Animation and Multimedia" has given its awards. The Annecy-awarded "The Bigger Picture" (GB, 2014) by Daisy Jacobs has been picked as the "Best Film" in the International Competition.
 The jury, led by Anaïs Emery (CH), Emma de Swaef (BE), Atsushi Wada (JP), Mark Shapiro (US), and  Stu Campbell (AU) stated: This wonderfully innovative short film utilizes original use of multiple techniques to tell a clever, sensitive and upbeat tale of family dysfunction and relationships.
The film involves life-size painted characters interacting with real objects, and has already been awarded at Cannes Cinefondation and various animation festivals.
 Another UK film, Through the Hawthorn (Anna Benner, Pia Borg, Gemma Burditt, GB 2014, 9') about mental illness and the nature of reality  won the High Risk festival award. According to the jury, Through the Hawthorn is a very striking film that explores the sensitive subject of mental illness in an innovative way.
 The audience award was given to My Own Personal Moose by Leonid Shmelkov (RU, 2013).
"Oh Wal" (CH 2014) by Joana Locher led the way in the Swiss Competition and won the award for "Best Swiss" entry.
The film tells the story of the fishing cat that has picked out the biggest nugget in the pond – the whale. When, after a long time planning, the cat finally lands the whale and eats it, the fish are furious about the demise of the whale, their god. They plot their revenge.
The national competition jury, Laurent Guido (CH), Esben Toft Jacobsen (DK), Anja Šošic (PL, HR, D) lauded the film for its renewing the fairy tale genre by creating a crazy but completely plausible, mythical universe.
The Swiss animator Mauro Carraro had a double victory: Swiss special mention for his Aubade and the audience award for the same film.
In the "For A Young Audience" CATEGORY, Dmitry Vysotskiy won the award for "Best Kids" with "Pik Pik Pik" (RU 2014).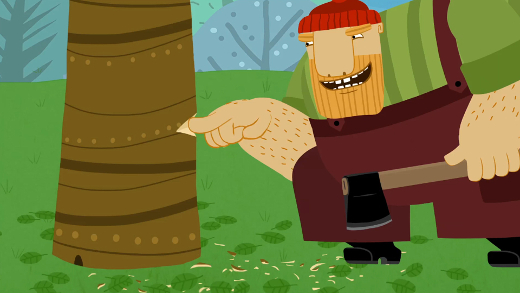 With 14,800 cinema tickets sold and more than 6,300 admissions to the festival's other events, it seems justifiable for Annette Schindler, festival director to state  that Fantoche impressed  visitors with its clearly defined profile and very personal feel.
 Our international guests and local visitors alike appreciate this greatly and also contribute substantially towards this lovely mood."
The festival returns to Baden next year from 1 to 6 September 2015. In the meantime, it organizes its Besf of Fantoche tours.
Review all winners and see the Best of Fantoche proramme.
AWARDS INTERNATIONAL COMPETITION
Jury – Anaïs Emery (CH), Emma de Swaef (BE), Atsushi Wada (JP), Mark Shapiro (US), Stu Campbell (AU)
Best Film: The Bigger Picture, Daisy Jacobs, GB 2014
High Risk: Through the Hawthorn, Anna Brenner, Pia Borg, Gemma Burditt, GB 2014
New Talent: The Wound, Anna Budanova, RU 2013
Best Sound: Snow Hut, Yoriko Mizushiri, JP 2013
Best Visual: Wonder, Mirai Mizue, JP/FR 2014
Special Mention (New Talent): Timber, Nils Hedinger, CH 2014
Audience Award: My Own Personal Mose, Leonid Shmelkov, RU, 2013

AWARDS SWISS COMPETITION
Jury – Laurent Guido (CH), Esben Toft Jacobsen (DK), Anja Šošic (PL, HR, D)
Best Swiss: Oh Wal, Joana Locher, CH 2014
High Swiss Risk: Cyclopèdes, Mathieu Epiney, CH 2014
Swiss Special Mention: Aubade, Mauro Carraro, CH 2014, 5'14"
Audience Award: Aubade, Mauro Carraro, CH, 2012

AWARDS BEST KIDS
Children's jury The "Best Kids" Award was chosen by a jury of six children aged between 6 and 12. The
children's jury was supervised by the children's film club, "Die Zauberlaterne".
Best Kids: Pik Pik Pik, Dmitry Vysotskiy, RU 2014
2014 Children's Public Award: Le vélo de l'éléphant, Olesya Shchukina, FR/BE, 2014
BEST OF FANTOCHE
Fantoche will be taking its "Best of" programmes on tour around various Swiss cities: Two strands of the Fantoche programme will be toured around Swiss cinemas: BEST OF FANTOCHE ON TOUR 2014 showcases the best animated short films from the "International Competition" and "Swiss Competition"; BEST KIDS 2014 features the latest cartoons for children aged 8 or above.

Best of Fantoche on Tour
17.9. – 23.9. Zinéma, Lausanne, from 18.9. Kino Riffraff, Zürich, from 18.9. Kino Bourbaki, Luzern, 18.9. Stadtkino
Basel, 18.9. Landkino in Kino Sputnik, Liestal, 19.9. Cinématte, Bern, 19.9. Filmfoyer in Kino Loge, Winterthur, 19.9. Cinéma ABC, La Chaux-de-Fonds, 20.9. chinoworb, Worb, 21.9. Qtopia, Uster, 22.9. Astoria, Visp, 24.9. Kino Freier Film, Aarau, 28.9. Filmpodium, Biel, 28.9. Cinema Odeon, Brugg, 3.10./16.11. Kino Orion, Dübendorf, 26.10. Apollo, Chur

Best Kids 2014
17./20./28.9. Cinélux, Genève, ab 18.9. Kino Houdini, Zürich, 20.9. Lichtspiel, Bern, 21.9. Zinéma, Lausanne, 28.9./5.10. Cinema Luna, Frauenfeld, 21./24./27.9. Cinéma ABC, La Chaux-de-Fonds, 28.9. Filmpodium, Biel, 18.10. Burgdorfer Kulturnacht im Kino Krone, 18./19.10. Lichtspiele, Olten, 2.11. Apollo, Chur, 16.11. Qtopia, Uster, 16.11. Festival Castellinaria, Bellinzona


Read More About: