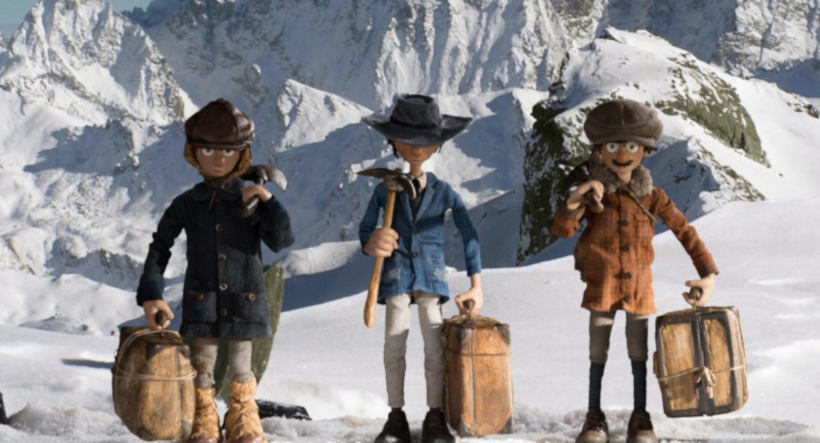 The new animation feature No Dogs or Italians allowed by Alain Ughetto.
After the clay animation Jasmine, French director Alain Ughetto returns with his second stop-motion feature, No Dogs Or Italians Allowed Autobiographical material, but also a larger Franco-Italian-Swiss production than the previous Iran-based feature.
This is an autobiographical feature for its director, Alain Ughetto. He describes the quest of Luigi, his grandfather to move away from their Piémont village to the country of "La Merica, where the dollars grow up on trees" -only to steelte down in France. He states that it's the story of thousand of Italians, who left their homeland to settle down in France, Swtizerland and Belgium.
Luigi and his brothers set out from their native village in the Piedmont, off to discover "La Merica", the fabulous land where dollars grow on trees. Finally, instead of crossing the Atlantic, Luigi puts his backpack down in southern France, with hands that could no longer work a depleted and stinting soil, he built our roads, bridges, and dams. Luigi was my grandfather, a dashing man with a romantic destiny. He fought two wars, poverty, and fascism. At last he met Cesira and founded a family, who cheered for the Tour de France and waltzed to Yvette Horner's accordion. But his story is above all that of hundreds of thousands of Italian immigrants who left their homeland to settle elsewhere - Film Synopsis
No Dogs Or Italians Allowed trailer
The film is produced by Foliascope, Vivement Lundi! and Nadasdy FIlm, It features a as a work-in-progress at the 2020 Annecy Film Festival.