Info
Services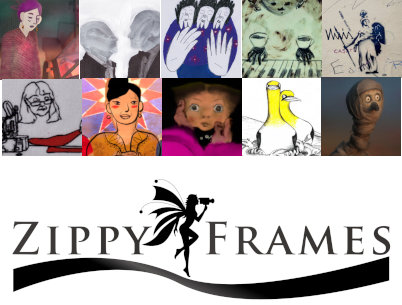 Shorts Featured at Zippy Frames Shorts Corner
For Animation Filmmakers:
SHORT FILM SUBMISSION
Have an animation short to premiere/feature online, and need a comprehensive presentation (in the form of interview/review)? Zippy Frames is a trusted independent animation news website, which has featured a vast array of short animation films, from the more narrative to the outright experimental ones. Send us your film for consideration
⇒ Here's more info how to submit  
STORY DEVELOPMENT SERVICE FOR ANIMATION PROJECTS
We address the story aspects of your animation film; we examine its theme, plot structure, characters, context, in accordance with your already stated idea and director's own intentions. We come up with solutions to story problems you face, and provide examples of fine practices for your project.
CONSULTANCY AND FESTIVAL SUBMISSIONS FOR ANIMATION SHORTS
Animation festival submission seems both a laborious and a mindless process for independent animation filmmakers. We can make the process seem more structured, less laborious and more promising for your festival career of your film - handled by the same people who manage Zippy Frames (via Scheriaa Productions)
For Animation and Film Festivals & Events Professionals

FESTIVAL PROMOTION
Zippy Frames hosts an extended database of call for entries from animation festivals. A large part of its news roundup covers animation festivals and film festival news. However, not everything can be covered with the same depth and extent as it could (and should) have been. If you're interested in getting in talks and an offer for a festival promotion agreement, contact our Head Editor (vassilis AT zippyframes DOT com)
VIDEO REPORTS
For festivals, conferences, film promotions, companies and products related to the animation industry, we offer reviews, interviews or video reports that promote your services or products in a creative and friendly way. For more info, email: info AT zippyframes DOT com
Read More About: