70 Years of Malaysian Animation: Interview with Hassan Abd. Muthalib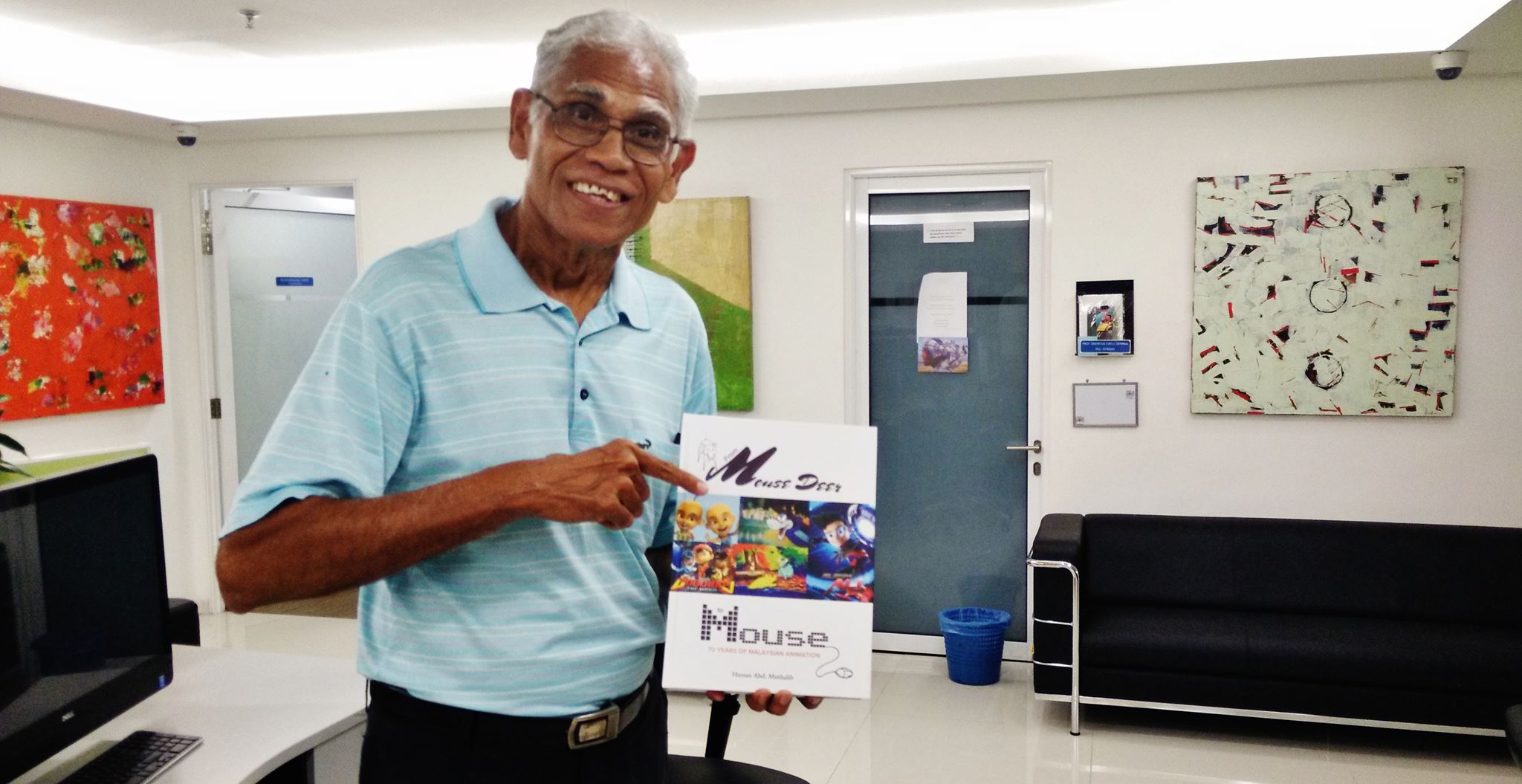 'The government kick started the industry and took it to another level''
Hassan Abd. Muthalib is a self-taught artist, designer & filmmaker who has been involved in the animated film scene for 50 years. He directed the popular, animated Sang Kancil series & Silat Legenda, Malaysia's first animated feature film. Muthalib is officially recognized as the Father of Malaysian Animation.
Recently his impressive book From Mouse Deer to Mouse, about 70 year of Malaysian animation (Akademi Seni Budaya dan Warisan Kebangsaan (ASWARA - National Arts, Culture & Heritage Academy), Kuala Lumpur, ISBN 978-983-2538-33-2) was published.
 For the first time ever, Malaysian animation history spanning the last seventy years or so, has been cleverly encapsulated into a book.
The book provides chronicling of animation history whilst documenting the achievements, trials, tribulation and sacrifices of those involved in the animation industry from 1946 right up to the present.
Zippy Frames animation journalist Peter Schavemaker interviewed Hassan Abd. Muthalib.
PS: You mention Gillie Porter, a British army combat cameraman, as the first Malaysian animation teacher. Amongst Goh Meng Huat, Anandam Xavier, the pioneers of Malaysion animation, can you explain the roles of each person within the history?
HM: Goh was the first staff to be recruited from a high school in late 1946. He was assistant to Potter and even helped out in making documentaries. He was a titling artist making titles in English (at the time, documentaries were made in 4 languages – English, Malay, Chinese & Tamil).
He and his friend, Hong Chye were the first to be taught how to make graphics for films. Hong Chye left to become a cameraman so Goh was the first to learn & do animation. But when he was promoted to be the head of the unit in 1957, he was more into administrative matters and totally left animation.
Xavier was a formally-trained artist in India. He was hired to make the Tamil titles and later, was promoted to be a set designer. Because of his excellent artwork, he was asked to handle the making of the first animated short film in Malaysia, Hikayat Sang Kancil (The Tale of the Mousedeer, 13 mins). He began in 1961 and did it on and off. It was finally completed in 1978 with him doing the character & background design and the entire animation with no formal training in anything. It was trial-and-error for him. He has never been recognized for it until my book came out.
PS: In Chapter 3 you write about the huge role Gillie Porter played in the development of the Malaysian animation, from the early start up to even in the 1980s. What is his legacy?
HM: I really can't say that the staff at the time really picked up the theories behind what he taught. I never saw or heard anyone speak about what he taught.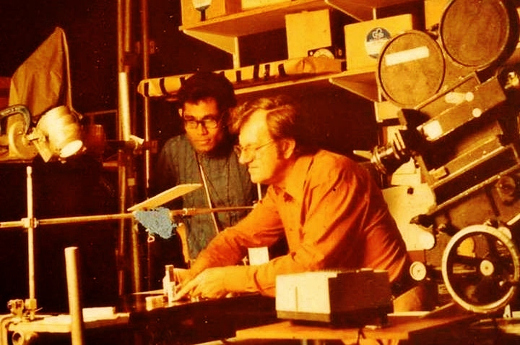 with Gillie Porter (1979)
But his legacy is more in the foundations of filmmaking that also apply to animation. Also in the strict discipline in producing quality work that can be seen in the titling of those times. I have many stills of this that I can send which were all manually done.
PS: In the book you look back and write about your career and role in the history. Do you see yourself as a pioneer too, like the above names and others in the book?
HM: I had never imagined myself as a pioneer until I began to read about other people's articles on the animation industry. It was then that I realized that what I had done in the 1970s (including TV & cinema commercials) had inspired cartoonists and others to get into animation. When I began to be interviewed by students for their thesis, I began to recollect all that I had done at the beginning. It's a good thing that I have kept a lot of the original artwork.
PS: The book gives a chronicling of the Malaysian animation since 1946 up to the developments in 2016. How would you define the current Malaysian animation industry?
HM: Compared to the 1990s when the animation industry started, animation today is being seen as a business and one that needs to go global. Many companies have made inroads to the world market because of quality work. This also happened because more and more young people made animation their career and went for formal training locally and overseas. Almost all schools, colleges and universities are now offering courses in animation and multimedia. Foreigners also opened companies here and there was transfer of expertise. The studios that are aggressively marketing their expertise and products at film festivals and trade shows are seeing results.
Now there are not enough animators to go around. Games is the big thing now and at least one studio is making for Pachinko in Japan.
PS: In the 1990s, government support became important. Can you explain how it leaped the industry?
HM: Through MDEC (Malaysia Digital Economy Corporation) & FINAS (National Film Development Corporation Malaysia), the government kick started the industry and took it to another level by first providing funds for locally-produced animation TV series at a high price. Job opportunities were created as a result. This provided a fertile ground for skills and experience. The next step was to provide further funds but this time, at a bigger budget, to produce world-class animation. The outside world began to take notice.
The Multimedia Super Corridor was a grand scheme to bring in expertise from outside without the bureaucratic hassle. These people either brought their studios in joint-ventures with locals or set up their own studios with tax breaks. They also brought knowledge on how to make it in the international arena and deal with buyers.
PS: Did it also benefit a step forward, internationally, for the industry?
HM: Yes. Some of the studios have done major work for Nelvana, Cartoon Network, Nickelodeon, Disney Asia, including games like Nintendo & Super Mario Brothers.
PS: You write, in 1981 the fourth Malaysian prime minister, Dr. Mahathir Mohammad, initiated a push for the use of digital technology in all sectors of the civil service. How did this decision change the future of the Malaysian animation industry?
HM: In the early 1990s, Kamn Ismail who made the first TV series, experimented with a very low-end software to try and make animation series as he knew that training staff in the cell animation method would take too long. He trained staff in the drawing directly into the computer with the mouse. This bypassed many steps. A number of studios also used this method. Later, when high-end computer software was available, it led to a newer generation of animation personnel coming into the picture.
PS: Many animation industries stayed domestic for a very long me, like the Malaysians did until the 1970s. On page 91, you write 'the Information Ministry had created a ruling that no animation was to be done outside the country, as had been the norm'. When did the Malaysian industry open its doors and went international?
HM: This was after Dr. Mahathir began the Multimedia Super Corridor and offered no hassles for foreigners to come in & work here & also produce for the international market. It took some time and only happened after trade teams met up with the right people internationally. Kamil Othman can be credited for doing this.
PS: Can Kampung Boy (developed in the US and made in the Philippines and Vietnam) be considered as the first international orientated series within the Malaysian animation industry? Animasia Studios seems to be the first studio with international successes, and ambitions.
HM: Yes, Kampung Boy was the first. It was originated by ASTRO, the satellite TV station at a budget that was more than 10 times for a local series. Inspidea had earlier started the ball rolling on their own.
Animasi took advantage of government support and achieved a lot of success, especially with their contacts in the China market.
PS: Which studios do you consider currently leading? (Chapter 8 describes the new studios)
HM: I would put Vision Animation, Silver Ant, Inspidea & Animasia. Vision Animation produced Biru Sebijak Laut (Fish Tales)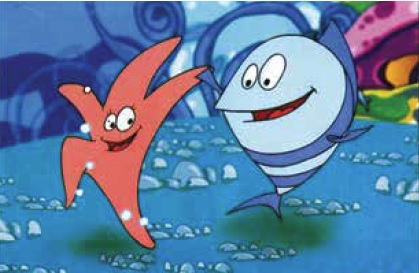 PS: Malaysian studios currently are co-producing with China (in the book chapter 8 explains about co-productions), Korea, Hong Kong, North America, Middle East in massive deals. How did this change the Malaysian animation industry?
HM: Firstly it provided more job opportunities that also helped training institutions to take in more students in animation. Now specialization is beginning to take shape as compared to before when one person took on many roles. This resulted in an increase in quality. Today, you really need to be good to get ahead. Training institutions are also having their students intern with some studios as well as bringing in industry advisors to run workshops as well as be syllabus moderators (I am one of them).
PS: Are there also cooperation deals with European animation studios?
HM: I don't know as everybody is secretive about this!
PS: What place has Saladin in the 70-years of history?
HM: A short 6-minute promo made by Silver Ant with high-end CGI was used to try and sell the idea for making 3D animation series in Malaysia. It finally paid off when Al-Jazeera came into the picture.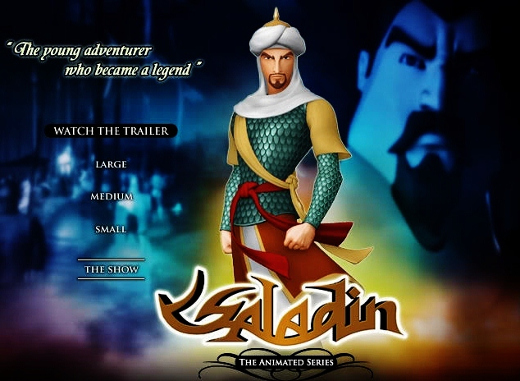 The final series made by Young Jump Animation proved that Malaysia could do work that was of international standard.
PS: Malaysia has a young feature film culture. In total 10 feature films were made since the 1990s, among them are Saladin, SeeFood and Ribbit. Is there a reason for it?
HM: The total number is now 14, a record among ASEAN countries. The first 5 were self-funded. But then to make the quality more global, the government offered incentives for visual effects and partial funding that helped companies to produce the films. There are many other incentives that the studios took advantage of like bringing in foreign directors or having some of the work done overseas.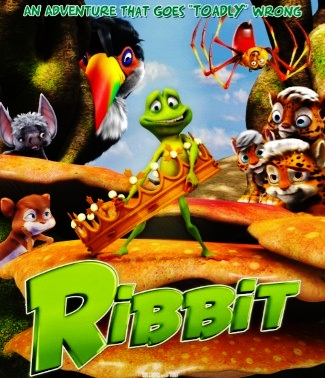 PS: In the 1960s and 1970s, mostly commercial animation productions were made instead of series, shorts and feature animation productions. What is the main reason for that?
 HM: At the time, no one ever imagined that it was possible due to the high cost of making it traditionally. Added to that was the fact that there were probably about 6 or 7 animators in the country and hardly any directors and other personnel.
PS: How would you explain the role of RTM (Radio Television Malayasia, public broadcaster) in the 1990s which started a new era for the industry, as you write in chapter 7? And what is the current role of the National Broadcasting Corporation in developing own Malaysian content. Do they buy mainly domestic material? Do commercial stations also play a role in buying and broadcasting content?
HM: In 1995, RTM started screening locally-made TV series. It was only more than 10 years later that the commercial TV stations slowly came into the picture & asked studios to produce for them. Today, with the international success of many series like Upin & Ipin & Bola Kampung, TV stations have deals with local studios to provide content. This is a logical move as the scenario is now highly competitive competing for the same viewers.
PS: Reading, it seems most of the (still important) studios were opened in the 1990s and 2000s. Is that true?
HM: Yes, but more and more are springing up with the number of graduates in animation increasing. To help them, many incentives for start-up and develop original content is being given by the government.
PS: The 13 episode series, Sang Kancil dan Monyet, completed in 1984 became the first series to be shown outside Malaysia. Until today it is still very popular and can been seen on YouTube  Why is the series so groundbreaking?
HM: It was meant to be 13 episodes but only 2 were produced. This is because there was no proper studio available to handle it. Our unit specialized in titling for film, not animation. So the short was more a training film, both for me as well as the staff, as none of us had ever made an animation narrative short. Due to my experience in making commercials, I planned out everything and the staff just followed my instructions. I had to cut a lot of corners because the Information Minister was breathing down my neck and I had to finish it fast!
But the short, Sang Kancil dan Monyet (The Mouse Deer & the Monkey), the second short to be made in Malaysia, was a sensation as it made full use of the animation medium by including zany humor.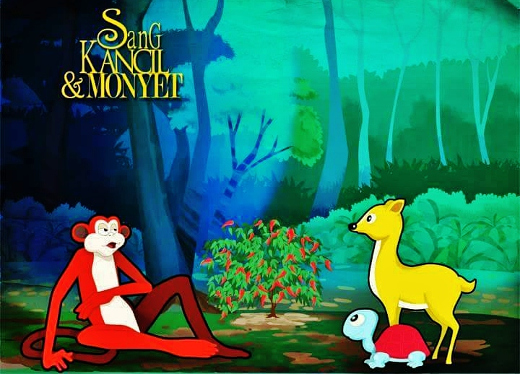 Also, it was the first to have the correct use visual storytelling that appealed subconsciously - as I analyze in my book. This lack of understanding of film language is the drawback in work produced by the studios today.
PS: You write, Malaysia currently has the most number of animation productions for film and television amongst ASEAN countries. What is the main reason Malaysia has such a large production?
HM: Because of total support from the government – now from the private sector with the success of iconic character like Upin & Ipin and BoBoiBoy which have crossed borders.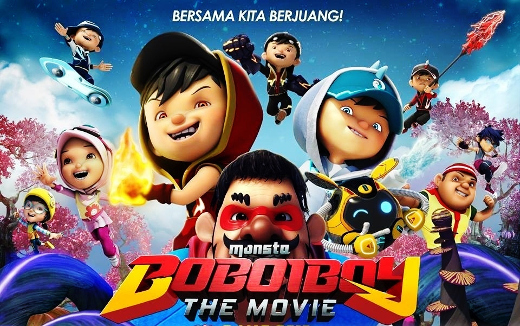 PS: How would you define the influence from animation from neighbor countries like Thailand, Indonesia, Japan, India on the Malaysian industry? In your book you also describe the development of these countries animation industries.
HM: I don't see any influence in Malaysian animation from these countries. In the early days, influence came from anime but only among those animators who were trained in the anime method due to contractual jobs from Toei in Japan.
PS: Malaysian Fables, Folk Tales and Legends have always played an enormous role in the first and mids part of the Malaysian animation history. How would you describe their role in nowadays animation productions?
HM: Some studios do refer to legendary characters but on the whole, they prefer superheroes, aliens and others that seem to be based on successful, international brands.
 PS: You describe Malay-shadow play – Wayang Kulit – as proto-cinema. It has inspired Malaysian animators, you write. Can you explain how it influenced animators by mentioning films?
HM: Perhaps inspired is not the right word as I don't see that influence. Reference to the tradition is there or paying homage as in my feature film, Silat Legenda and Lat's Kampung Boy in one episode. It is only in short films that we see designs and expressions that refer to wayang kulit but not as silhouettes. The first student to make a final-year project using local designs was Alan Aziz in 2000 with Singapura dilanggar Todak (Singapore Overrun by Swordfish).
PS: The Mouse Deer is a species that also lives in South East Asia, including Malaysia. The Mouse Deer became a national icon in the 1980s and was used as a character in many animation productions, like in the country's first 3D animation by Jaafar Taib (2004), the first animated short Kancil in 2008 and first animated feature, Silat Legenda in 1998; made by you. Can we compare the development of the Malaysian animation like Disney, where it all also started with a mouse?
HM: Actually there is no comparison. Mickey became a huge hit mostly due to good stories, good character design, voicing and marketing. The mouse deer never reached that level. But because of the three mouse deer stories, in the 1980s, the character is very recognizable as a Malaysian icon.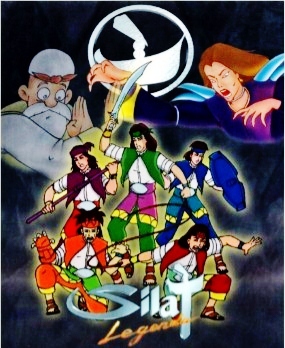 Silat Legend
PS: How would you see the future of the Malaysian animation industry? On page 253 you see success in the global arena in the recent years 2011-2016. You write 'What had been envisioned for the industry 20 years ago had now become a reality'. What challenges do you hope for in the next 25-30 years, when Malaysian animation turns 100 years? At the end of the book you write you are 'Looking optimistically to the future'.
HM: In terms of software and animation skills, we are far ahead. But the industry has still got a long way to go in other areas. Attention must be given to story development rather scriptwriting and visual development rather than production design. Right now, the cart is usually put before the horse. Rather than lay the foundations, most tend to jump into the later stages of animation.
The thinking process is important on why certain things need to be done in certain ways. This should begin at the training level. The other is visual storytelling with the correct use of film grammar that leads to film language. There is no book on this at the moment. This is why everyone is blissfully unaware of it. I'm the only one in Malaysia who has been harping on this since the 1970s and teaching it at universities and some animation studios.
I'm optimistic that there will be a realization among training institutions to churn out animation filmmakers rather than animators. In this way, they can work better with film directors & do not have to be told too many things about what needs to be done. This will definitely be good for the industry.
PS: MDec played an important role – you consider it 'excellent work' on page 255 - in the past, investing in animation. It marks a very interesting role and a large effort of the government for animation. What should their role be in the future? It is very interesting to read about programmes, initiated by MDec connecting to the future of animation, in games and on the internet.
HM: They have already done their job and as the government envisioned it, ultimately, the studios should be able to strike out on their won.
Now MDEC should focus on nurturing young talent for the future (they are already doing this to a certain extent). It is also important for veterans in the industry to be used by MDEC to be mentors to these young people so that they can learn for earlier mistake and go on to higher things.
The book cover of Hassan Abd. Muthalib, From Mouse Deer to Mouse: 70 Years of Malaysian Animation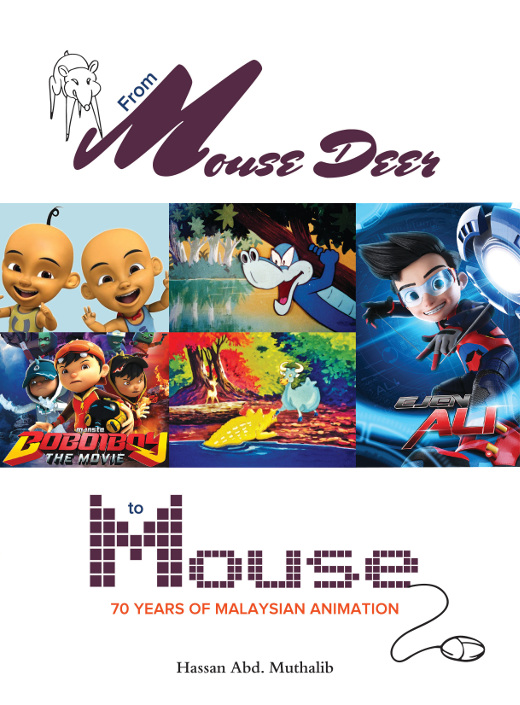 Read More About: