On Fairytales and Slugs: Interview with Aline Höchli (Swiss Animation Portraits 2022)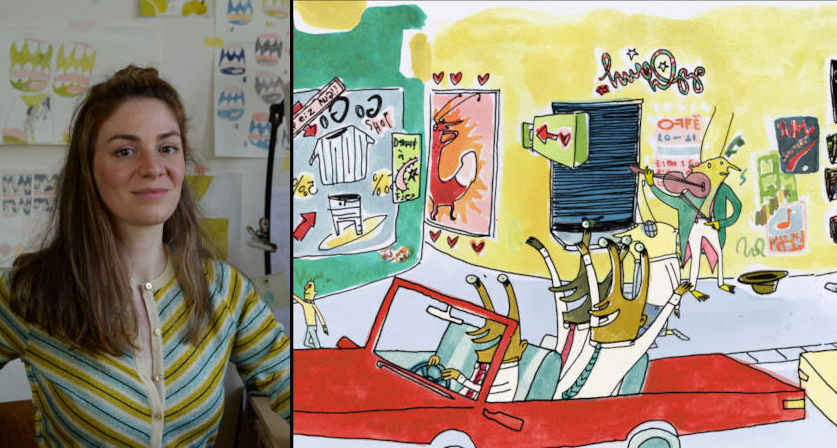 Aline Höchli is a Swiss animation artist and director, primarily known for her highly successful animation short and post-capitalist parable, 'Why Slugs Have No Legs' (2019). She started her career with the graduation film of odd misfits, a lady, and a crocodile in 'He sö kherö' (2016) – coming from HSLU (Hochschule Luzern, Design & Kunst). She then started on her 'Why Slugs Have No Legs' projects but self-produced her second film, 'Kuckuck' (Cuckoo, 2017), in which a girl has to live with a bird in her head. The film went on to premiere at Locarno Film Festival (Junior Award for Best Swiss Short Film). Two years later, 'Why Slugs Have No Legs' followed (producer: Cinéma Copain Ltd), while at the moment she's preparing the 8-minute 'Caries short, an internal investigation into one's own mouth.

'He sö kherö' means nonsense, but Aline Höchli is no-nonsense animation artist. 'As a child, I always wanted to become an illustrator, because I saw the British Peter Rabbit TV animated series (1992), based on Beatrix Potter children's books. It's an animated children's tale, but they had these live-action scenes about the author (played by Niamh Cusack) drawing in the fields. And I really admired her being in the forest drawing all day. After struggling for two years to become a teacher -which her environment would have liked -she was finally supported to apply to the art academy in Lucerne'. Her Foundation Course in Art and Design already put her in contact with animation and the Praxinoscope; from flipbooks, 'it even seemed freer than the illustration in creating its own worlds', as she described, she decided to do animation. Her HSLU studies gave her a lot of space for change as well.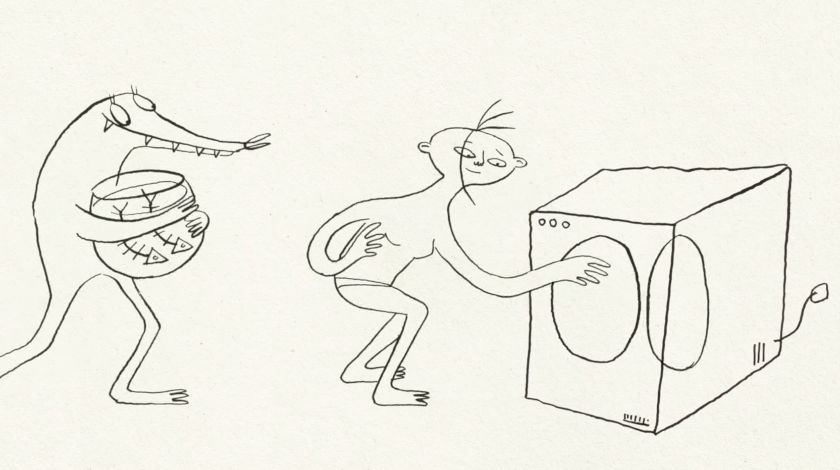 Her graduation film about fish, reptiles, and unusual friendships took less than a year to make (it was finished in 2016). But it started off as something completely different. 'I had an idea about an island and a lot of different characters living on the island. And I wanted to paint it in oil, with these dark blue colors, combined with yellow'. This over-ambitious idea was soon shelved, so the story of the woman and the crocodile suddenly emerged -and, instead of oil painting, ink sketches took their place.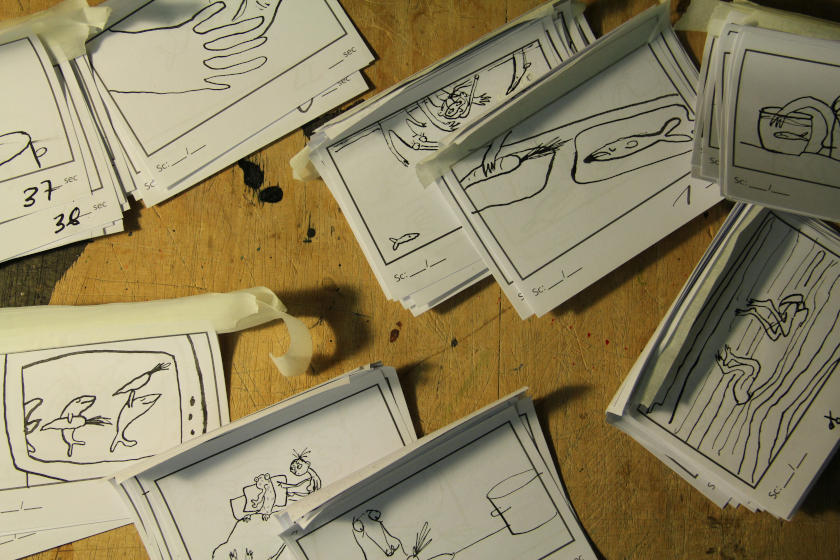 Computer animation was only used for compositing, The film started with storyboards. 'I never had a written script, Aline mentions. 'We always worked with a storyboard, first thumbnails and then storyboards. So, it was very visual from the beginning'. Visual scenes were combined to give an event narrative; the conflict between the two characters also came during the storyboard phase'. This was also a period of personal convalescence for the Swiss animation director (who had to undergo surgery during the storyboard phase), so the question of 'healthy relationship' had its own personal dynamics.

Her next film, 'Cuckoo', about a girl with a brain and a bird in her head, had an interesting production story as well. 'It started as an experiment and it was self-produced, so I didn't have to wait for application funding results. I was absolutely free and I really enjoyed it'.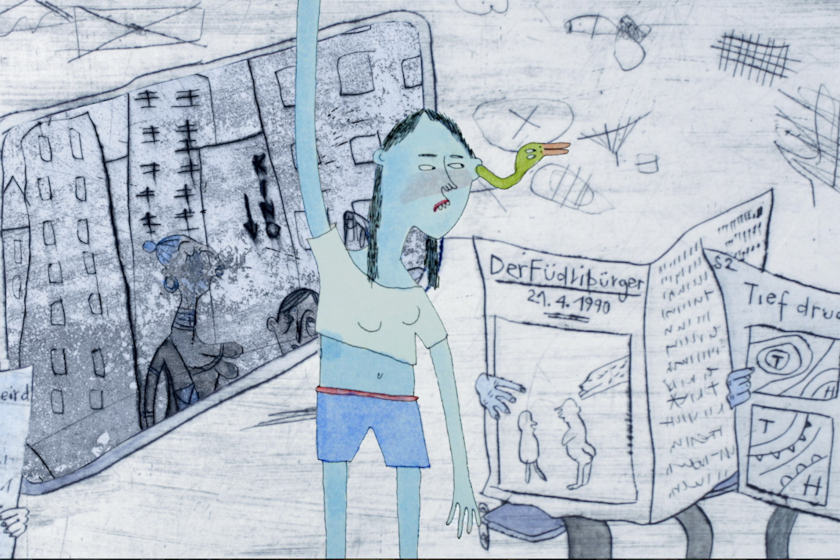 The animation director shared her studio space with a colleague in the leather business and this was a refreshing investment. The film›s backgrounds are etchings; the animation was done separately on paper, and computers were used again for compositing. 'I remember people like the soundtrack by Samuel Scharnz a lot. It was the first time I worked with him on a solo project And he really got my sense of humor or what I really liked, these details he could see and he chose a lot of artificial sounds. It was a bit cartoony, but not the traditional cartoony sounds like the one we already know.  The sound is very important for me because I get fixed ideas about it already when I animate the characters.'

The same person did the sound effects, sampling od vinyl music and having a playful approach. 'Actually, the film was made while I was awaiting responses from cultural funding institutions for my 'Why Slugs Have no Legs' film. I'm not trained in production, but it's very important to produce my own work because I feel like I can make the space for my work in a way that works best'. Aline Höchli worked at a grocery store during that period to make the ends meet; the 'Cuckoo' film was further produced, and it took around 6 months to complete. 'I remember I was just for fun trying to see if I can upload any kind of project to the SWISS FILMS promotion agency website.  I just checked if it's possible, and it was possible. And then they approached me and said: "We want to see the film. So we suddenly had to hurry up and finish it."

The film premiered at Locarno Film Festival and won the Junior Jury Award for Best Swiss Film. 'It's about parts of you that you perceive as parasites, Aline Höchli explains, 'but they're actually part of you. And you have trouble accepting it'.

She self-identifies as socially awkward, but perhaps in the indie animation business, this is a benefit. At least, dealing with the topics the director tackles. In 'Why Slugs Have No Legs' she uses two very common animals (slugs and bees) to tell her own human exploitation story.

'It started as a fairy tale, but it quickly turned into parody', she mentioned. 'I had the idea about 'Slugs' many years before I graduated. But the very idea of the film really came in before I even started to study animation. In an antique shop in Berne, I saw a Japanese fairytale called The Silly Jellyfish, printed on rice paper and I loved it,  but it was too expensive to buy. So, I told myself I'll make my own book'.
Aline Höchli came up with a fairytale about slugs. The three lazy but lucky slugs who survived and were procreated because they were too sticky to be eaten was the first idea -but this transformed into an office workplace concept for the film project. 'And it's funny because I had never worked in an office before. After graduation, I just put all my fears of transitioning, from a student to someone who is making their own living in this world we live in. So, I just put everything inside this film'. The storyboard (ready to send to the film funding bodies) had already the workplace scenario. With backgrounds drawn by illustrator
Claudia Wirth
, the composer and sound designer Samuel Schranz used some samples of Bollywood music ('the producer liked it a lot, so they stuck to it').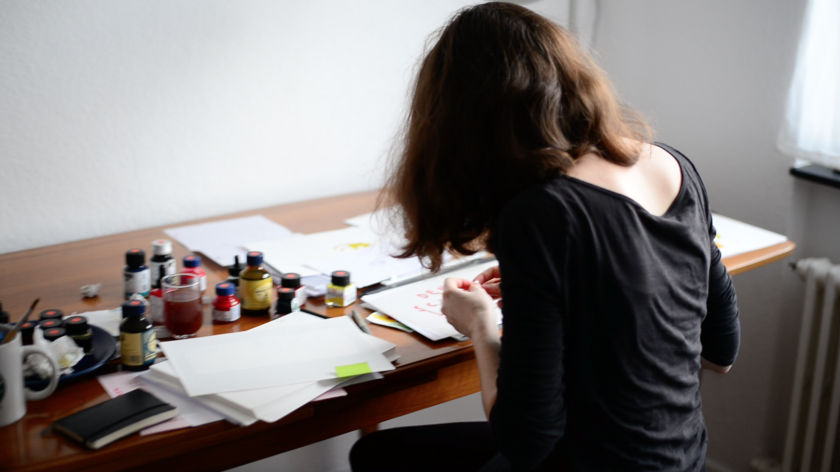 Characterization was crucial as well. 'I didn't want the bees to look and sound all mean, I wanted to have a more nuanced characterization than simple antagonists. Also, slugs are not stupid and they're not naive. Höchli wanted to use this insight into voice characterization as well, but budget constraints would not allow the hiring of voice actors.  Still, the resulting film became a distinct hit in animation festivals ('Watching films at festivals is both an exciting and an overwhelming thing at the same time, like getting this huge, delicious cake and you cannot possibly eat it').

Talking of eating cake especially, Höchli's next film in development, 'Caries', refers to the processes of investigating one's own mouth. 'This surreal atmosphere with all these bright lights is both very artificial and funny in a way; these people are doctors and probably their families are proud that they're doctors and they have this status (degrees on the wall etc.). But the work itself is very handiwork; they're actually digging in other people's mouths and they get a lot of spit everywhere. And I like these contrasts'.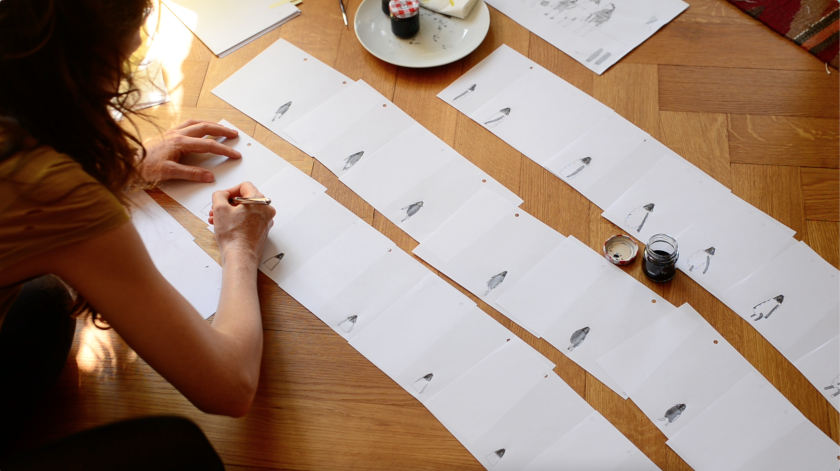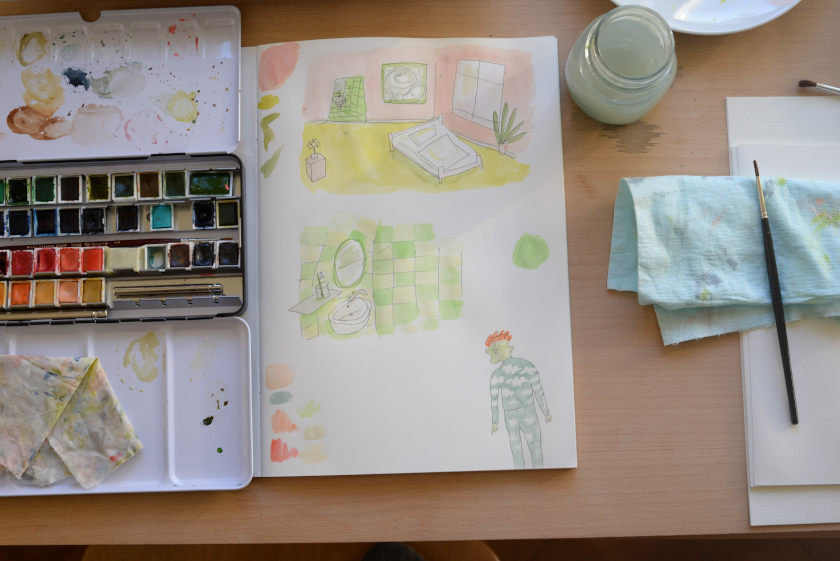 Half of the 7-8 minute animated short currently in development is taking place inside the mouth; the technique is similar to the 'Slugs' film, ballpoint, and watercolor.

Höchli feels very comfortable with being the author of her animation film and being able to make them ('I think it's a huge privilege'). She also now feels more comfortable with team collaboration, a process she herself describes as 'being in the middle of' -just recently her co-worker Stefan Holaus advanced to being co-producer.
Yet the results are really fine to watch on the big screen.
Swiss Animation Portraits 2022 series is conducted in partnership with Swiss Films.
SIGN UP: Want to read more free articles like this? Sign up for Our Newsletter
Read More About: