Academic
Free Inspirational Webinars from Kids Kino Industry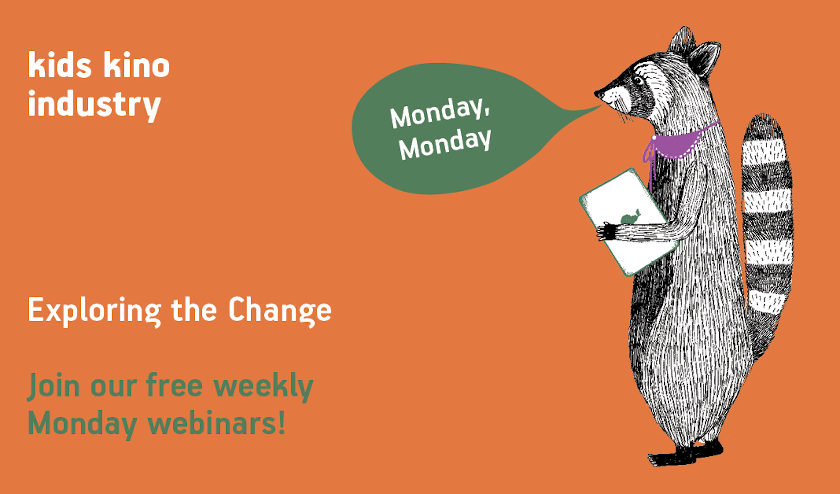 The webinars are part of this year's extended programme of the Kids Kino Industry, international pitching forum – online edition. The webinars will be held every Monday via ZOOM and are free of charge, which means that only computer and internet connection are needed. Inspirational Webinars are dedicated to the film industry professionals who want to know more what's going on in terms of creating content for kids. During each webinar excellent speakers will share with you loads of tips and creative insights on how to shape future content for the young audiences in the new quarantine times.
Here is the programme of the free weekly webinars:
24TH AUGUST, 15:00 – 16:00 CEST (GMT +2): EXPLORING THE CHANGE. GÖTEBORG'S FILM FESTIVAL NOSTRADAMUS REPORT MEETS KIDS KINO INDUSTRY
A dynamic session on the future of the children's screen industry in the light of the COVID-19 crisis.
Insights on:
- screen industry developments
- possibilities for creators and distributors
-children's choices
-public broadcasting reshaping
Speakers: Johanna Koljonen, media analyst, broadcaster and experience designer in talk with David Kleeman, Dubit & Prix Jeunesse, SVP, Global Trends & Advisory Board Chair, USA; Madiana Asseraf-Jacob, Head of Media Strategy & Development at the European Broadcasting Union | Moderated by David Kleeman | In cooperation with KIDS Regio
31ST AUGUST, 15:00 – 16:00 CEST (GMT +2): NEW FORMATS IN KIDS TV
Get inspired by the producers behind the fresh new content that are shaping the future storytelling ideas. Discover a new line up of winning programs and let's meet the creators from:
- MY # QUARATINELIFE - the new cross media project, available on YouTube, which shares news, opinions and stories from around the world by children for children.
- LOCKDOWN – a social media mystery for tweens (8-12) in the social distancing era. An up-to-the-minute series that reflects the current state of the world, shot entirely via webcam and smartphones. The series won the special achievement award at the Prix Jeunesse 2020.
- TALKING HEADS – children talk about their views of life while getting a haircut. Prix Jeunesse winner in the category Non-Fiction 7-10 and the Prix Jeunesse German. Funny, meaningful and heart-breaking anecdotes that are recognizable for children and their parents.
Speakers: Jan-Willem Bult, founder of Children's in the Centre Foundation, Free Press Unlimited, WADADA News for Kids, Netherlands; J.J. Johnson, Executive Producer of Sinking Ship, Canada; Saara Chaudry, actor, Canada; Koji Nelissen, producer and founder of Keplerfilm, Netherlands
7TH SEPTEMBER, 15:00 – 16:00 CEST (GMT +2): STUDIO PRESENTATION – UP-AND-COMING PROJECTS
Get a closer look at two up-and-coming animation productions EVEN MICE BELONG IN HEAVEN (feature from Czech Republic, Poland, Slovakia, France) and TWO LITTLE BIRDS (TV series from Argentina, Uruguay, France) and their studios featuring their impressive taste in animation storytelling, combining stop motion, puppets, 2D animation and special effects. Also find out more about the South American's incentive structure for audio-visual works and its co-production possibilities with Europe.
Speakers: Vladimir Lhoták, lead producer Fresh Films (Cz); Luciana Roude, lead producer Can Can Club (Argentina); Silvina Cornillón, coordinator of the Animation industry section at the Latin American Film Market Ventana Sur, Argentina | Moderated by Katarzyna Gromadzka, Momakin, Poland
14TH SEPTEMBER, 12:00 – 13:00 CEST (GMT +2): A QUANTUM LEAP - GAME TECH IN FILMMAKING
Interested in how gaming tech leverages filmmaking? The long awaited fusion of CG animation and film production has finally arrived with the use of game engines being adopted by small and large studios. During this session we will delve into two best practise examples:
- the BBC/HBO live-action TV series HIS DARK MATERIALS and
- Blue Zoo's distinctive short animation ADA exploring why and how real-time engines helped them to transform from a traditional animation production towards a brave, new, virtual future of powerful VR and game-creation capabilities.
Speakers: Dan May, Co-Founder at Painting Practice, VFX Art Director, Previs Supervisor; Dane Winn, Commercials Director at Blue Zoo, UK. Moderated by Jan von Meppen, game Designer, Writer, Producer and co-founder of LUDINC, Germany
21ST SEPTEMBER, 12:00 – 13:00 CEST (GMT +2): CURSE or BLESSING. CO-PRODUCTION IN A CHANGED ENVIRONMENT
The first look into the live-action feature MISSION ULJA FUNK produced by In Good Company GmbH (Germany) in cooperation with ShipsBoy sp. z o.o. (Poland) and Samsa Film (Luxembourg) and on its particular production process that was maintained during the lockdown situation. This session will be joined by an interactive Q&A session focused on pros and cons of the co-productions.
Speakers: Roshanak Behesht Nedjad (Founder & producer of In Good Company GmbH, Germany), Krystyna Kantor (Line Producer of ShipsBoy sp. z o.o., Poland), Susan Newman-Baudais (Head of the coproduction programme, Eurimage, France), Anke Lindemann (Head of Children & Family Programme, MDR, Germany), Claas Danielsen (Managing Director of the Central German Regional Fund MDM). Moderated by Agnieszka Dziedzic, Founder & Producer Koi Studio, Poland | In cooperation with the Association for the Promotion of German Children's Film and KIDS Regio
The participation in all the webinars is free of charge. You can take part in the webinar at the official website and register by fulfilling the registration form. Then you will receive a confirmation email with all the details. A day before the webinar, you will be sent a link to the ZOOM.
Inspirational Webinars are part of the extended programme of Kids Kino Industry the international co-production forum for films and series aimed at the children's market. This year Kids Kino Industry will take place online from the 29th September – 2nd October 2020.
SIGN UP: Want to read more free articles like this? Sign up for Our Newsletter