Academic
Rising of Lusitania AnimaDoc Conference: Call for Talks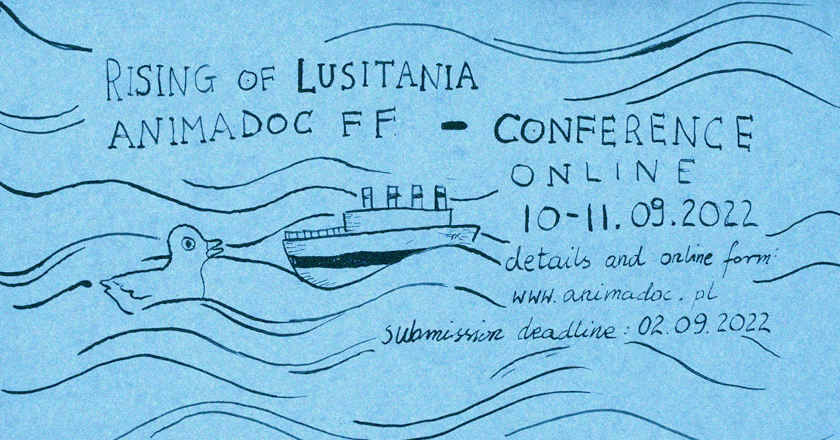 The academic conference accompanies the 4th edition of Rising of Lusitania AnimaDoc Film Festival (07 - 13 September 2022, Lodz, Poland), and focuses on a wide range of topics related to animation and politics, social issues, communities, and our own world.


Call for Entries and Talks

Animation can unite us in the face of difficult experiences.
It may combine the multiple styles of the creators into an expressive statement. Let us recall examples of collective projects created in response to the painful events of recent years and months - #sprzeciwpolek // #polish_women_resistance, #AnimatorsForBelarus, Animators Against War series, or  Animation for Ukraine. This type of creative engagement, although based on rebellion, builds a community consisting not only of the authors but also of the viewers.
Many stirring animated documentaries are created by merging the confessions of people whose lives were influenced by similar geopolitical and cultural circumstances. In 'It's Like That' (2005) by the Australian collective Southern Ladies Animation Group children with a refugee experience talk about living in confinement. The characters of the embroidered 'Tanko Bole Chhe' (dir. Nina Sabnani, 2010) are, among others, artists who are looking for their identity after an involuntary migration. From the shocking '$ 75,000' (dir. Moïse Togo, 2020) we learn the stories of people drastically injured due to the superstition about the supernatural powers of pigment-free skin.
Also the most famous full-length animadocs so far, 'Waltz with Bashir' (dir. Ari Folman, 2008) and 'Flee' (dir. Jonas Poher Rasmussen, 2021), although they are based on personal confessions, speak out on matters that concern the entire social groups. The self-therapy which can be noticed in the films provokes the audience's reflections on matters that go far beyond the private experiences of the film's figure.
The festival would like to devote our talks that accompany this year's edition of Rising of Lusitania AnimaDoc Film Festival to animadocs and other animations referring to real and difficult events, social and cultural phenomena. We are aware that we will face different, incomparable stories, and the belief in the unifying potential of animation may turn out to be weak and insufficient to build hope.
The organizing committee invites all authors and researchers to consider the following and related issues in their 15-minute speeches:
History and collective memory in animation.
Animated images of war, pandemics and social crises.
Animation in the face of trauma: attempts of (auto- / arte-) therapy.
Engaged animation, propaganda in animation, and animated rebellion.
Collective animators' projects, 'social' animation.
Animation as an expression of social mood.
The material of the animation and its relationship to the place it tells about.
Animated stories about the identity of the communities.
Submission deadline: Sep 2nd, 2022. Participation is free of charge.
Conference dates: 10-11 Sep 2022 (online)
SIGN UP: Want to read more free articles like this? Sign up for Our Newsletter
Read More About: