News
Animation Block Party 2018: Opening Night (26 July)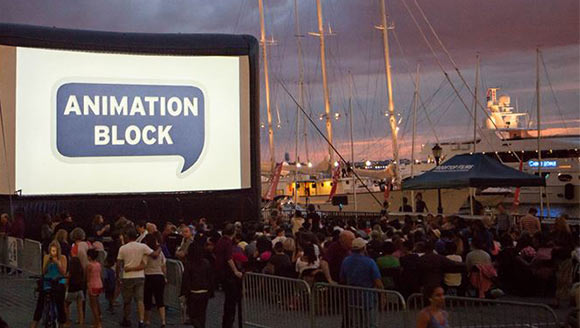 Animation Block Party will be celebrating its 15th annual animation festival with an opening night celebration on Thursday, July 26, 2018 that will feature the debut episodes of two new shows from DreamWorksTV.
The DreamWorksTV premieres include Baby Crocket, a show about a baby, alongside his raccoon friend Buddy attempting to tame the wilderness with complete lack of knowledge and experience, and Kip Van Creepy, a show about a pizza delivery boy delivering pizza to ghosts, Dracula, and the Mummy.
To commemorate the 15th annual festival, the evening will feature a special Animation Block Party T-shirt launch from Brooklyn Cloth, a lifestyle brand inspired by the energetic surf and skate scene in all five boroughs of New York City. Laid back and comfortable, their clothing appeals to the fashion forward thinker, as well as the "get up and go" individual.
The celebration evening will be highlighted by a live animated comedy showcase from Picture This!, the only live animated comedy show, starring the best comedians in New York having their jokes drawn live by artists from The Tonight Show and BoJack Horseman.
The opening night party will be followed by three days of festival screenings, retrospectives, panel discussions and world premieres at BAMcinématek, located at 30 Lafayette Ave, Brooklyn, NY 11217.
Its call for entries is still open until 8 June 2018 (late deadline).
Animation Block Party 2018 will run from July 26-29, 2018 with the opening night celebration at Littlefield, located at 635 Sackett St, Brooklyn, NY 11217. Animation Block Party is an animation festival on the East Coast, dedicated to exhibiting the world's best independent, professional and student animation.
Sign Up: Stay updated on European and Independent Animation News. Subscribe to our Newsletter.
Read More About: