3+4 Animation Films for the 2016 Césars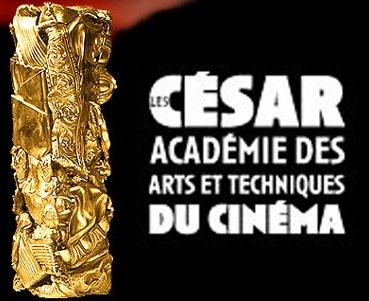 The French Academy of Cinema Arts and Techniques announced (Wednesday, 27.01.16) its selection of animation features and shorts to compete at the 2016 César for the Best Animated Short Film.
The production company behind Persepolis, Je Suis Bien Content, has its stab at nomiations with the Annecy-awarded adventure April and the Extraordinary World (Christian Desmares, Franck Ekinci dir).

It is a small wonder to think that The Little Prince by Kung Fu Panda director Mark Osborne was made in France, and it actually qualifies as a French film (also nominated for a César
 The very modest in budget, but impressively-looking film Adama from Simon Rouby tells a true story of a West African child looking for his brother who has been kidnapped in the midst of WWI.
No Longway North (Tout en haut du monde) in the César nominations, a film that also competed at Annecy and now screens at French theaters [read our review].
Best Feature Animation Nominees:
ADAMA dir. SIMON ROUBY, production PHILIPPE AIGLE, SÉVERINE LATHUILLIÈRE, AZMINA GOULAMALY, ALAIN SÉRAPHINE
AVRIL ET LE MONDE TRUQUÉ dir CHRISTIAN DESMARES, FRANCK EKINCI,  production MARC JOUSSET, FRANCK EKINCI
LE PETIT PRINCE  dir. MARK OSBORNE, production DIMITRI RASSAM, ATON SOUMACHE, ALEXIS VONARB
4 animation shorts compete at the 2016 Césars, selected from a longlist of 12 French animated shorts.
A love letter to François Truffaut, Angelique's Day for Night by Pierre-Emmanuel Lyet & Joris Clerté recalls the infelicities and the magic of ciinema shooting magically documented in the French director's La nuit Americaine.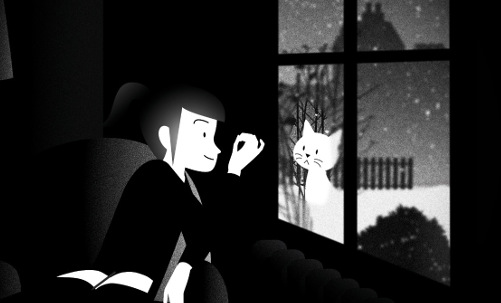 - LA NUIT AMÉRICAINE D'ANGÉLIQUE by Pierre-Emmanuel Lyet & Joris Clerté (Senso Films / 7 min)
 Sacrebleu Productions competes with Sunday Lunch by Céline Devaux. It's Sunday. At lunch, James observes his family. They ask him questions, but don't listen to his answers; they give him advice but don't follow them themselves. They caress him, they smack him, but it's normal, it is lunch on Sunday.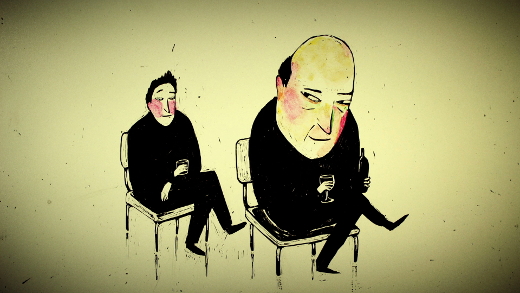 - LE REPAS DOMINICAL by Céline Devaux (Sacrebleu Productions /14 min)
A story of coming to terms with traumatic events, Under Your Fingers (Sous tes doigts) is the 2D film by Marie-Christine Courtès. The Indochina events of 1956 provide the background of a story filled with love, dance and reconciliation.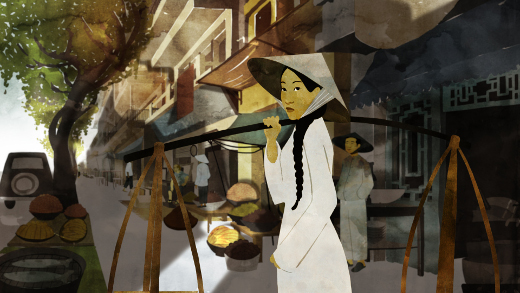 - SOUS TES DOIGTS by Marie-Christine Courtès (Vivement Lundi !, Novanima productions /13 min)
The 8-minute short Tigers Tied Up on A Rope ("Tigres à la queue leu leu) by Benoît Chieux is a highly original story of a son who doesn't want to do anything except for the basic necessities, adapted from a Corean story.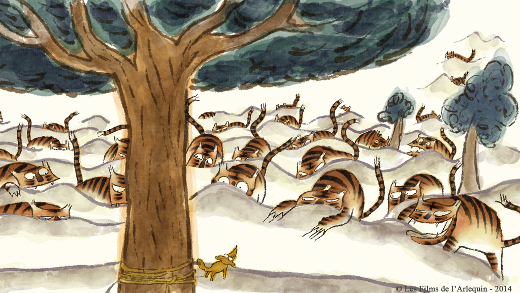 - TIGRES À LA QUEUE LEU LEU by Benoît Chieux (Les Films de l'Arlequin / 8 min)     
Best Short Animation Nominees:
LA NUIT AMÉRICAINE D'ANGÉLIQUE,  dir. PIERRE-EMMANUEL LYET, JORIS CLERTÉ, production MARYLINE CHARRIER
LE REPAS DOMINICAL dir. CÉLINE DEVAUX, production RON DYENS
SOUS TES DOIGTS,  dir. MARIE-CHRISTINE COURTÈS, production JEAN-FRANÇOIS LE CORRE, MARC FAYE
TIGRES À LA QUEUE LEU LEU,  dir. BENOÎT CHIEUX, production DORA BENOUSILIO
The 41st César award ceremony takes place  26 February 2016.
Read More About: