Roughhouse, Music and Clowns, Aardman, Get British Animation Awards 2020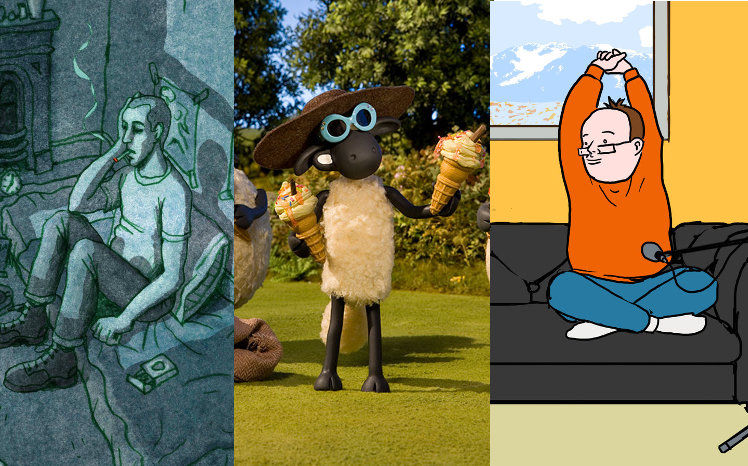 The winners were announced  for the British Animation Awards 2020 (BAAs), the UK's most prestigious animation awards -and one of the few events that survived the coronavirus crisis. Given in BFI Southbank, London, the awards reward biennially the very best in British animation across a variety of categories– now in their 24th year – attract the great and the good from across the industry to this biennial celebration of their craft.
In this edition, Aardman Animations picked up four awards (out of 6 nominations) for the following: 
 
A Shaun the Sheep Movie: Farmageddon (Best Long Form Animation)
Shaun the Sheep: Squirreled Away (Children's Choice Award)
New Mindset voted Best Social Good and 
Coldplay's "Daddy" (Best Music Video)


In the best short film category,  Roughhouse by Jonathan Hodgson (Papy3D productions) won the award. Three friends set off for a new adventure in a foreign city, but the day that a new, manipulative member joins their group, the friends' loyalty is damaged with terrible consequences.
The other nominees were: 4:3 by Ross Hogg, Black Earth Rising by Steve Small Studio AKA,x Bloomers by Samantha Moore, Fabric of You by Josephine Lohoar Self.
For the Best Postgraduate film, the winner was the animation documentary Music and Clowns by Alex Widdowson (Royal College of Art).
Despite being close to nonverbal my brother is funny, charming and perceptive. I discuss with my parents what it was like raising a child with Down syndrome. Our speculations about his inner life reveal as much about our own subjectivity as they do his.
The other nominees: In Her Boots by Kathrin Steinbacher,  My Dads Name Was Huw. He Was an Alcoholic Poet by Freddie Griffiths.
In the Best Undergraduate film award, the winners are Border / Line by Megan Earls (University of Creative Arts Farnham),
The other nominees: Dear England by Marta Lemos (University of Creative Arts Farnham), Towels by Prawta Annez (Falmouth University), and Cats Can't Swim by HaiLing Morgan (Arts University Bournemouth).
The recipient of the Best Animation in a Commercial award was Conception: Catie & Jen: by Moth Studio.
The full BAA Award winners:
Best Longform: A Shaun The Sheep Movie: Farmageddon - Dir: Will Becher, Richard Phelan, Produced by Aardman Animations
Best Voice Performance: Sally Hawkins as The Snail- The Snail and the Whale - Dir: Max Lang, Daniel Snaddon, Produced by Magic Light Pictures
Best Childrens Series sponsored by Sue Terry Voices: Moominvalley - Dir: Steve Box, Produced by Gutsy Animations
Best Children's Pre-School sponsored by Brown Bag Films: The Adventures of Paddington - Dir: Adam Shaw, Chris Drew Produced by Studio Canal, Heyday Films
Best Music Video: Coldplay - Daddy - Dir: Asa Lucander, Produced by Aardman
Writers Award: The Amazing World Of GUMBALL: The Agent - Dir: Mic Graves, Produced by Great Marlborough Productions Limited for Cartoon Network
Best Post Graduate Student Film: Music and Clowns -Dir: Alex Widdowson (RCA)
Best Original Short Form Content: A Whale's Tale - Dir: Giovanna Utichi, Robin Celebi, Produced by Cartoon Network for Hope Works
Best Original Music: The Tiger Who Came to Tea - Composer David Arnold, lyrics Don Black, Director Robin Shaw, Produced by Lupus Films
Best Social Good: New Mindset - Dir: Danny Capozzi, Produced by Aardman
Best Commissioned Animation: Conception: Catie & Jen- Dir: Moth Studio, Produced by Moth Studios for the New York Times
Best Film or TV Graphics/Motion Design: Da Vinci Learning - Dir Chris Randall, Producer Second Home Studios
Best Under-Graduate Student Film Sponsored by Blue Zoo: Border / Line - Dir: Megan Earls (UCA)
Best Short Film: Roughhouse - Dir: Jonathan Hodgson, Papy3d Productions, Hodgson Films, ARTE France
Children's Choice: Shaun The Sheep- Squirreled Away - Dir: Carmen Bromfield Mason, Produced by Aardman
Best Use of Sound: The Amazing World of Gumball – The Future, Dir: Mic Graves, Produced by Great Marlborough Pictures Limited for Cartoon Network
Public Choice Award for Best Music Video:The Beatles – Glass Onion by Alasdair Brotherston and Jock Mooney
Public Choice Award for Best Short Film: Grandad was a Romantic – by Maryam Mohajer
Lamb Award Sponsored by Disney: Roxannah (Roxi) Linklater- rigger and armatures, Aardman
This year's ceremony was held at London's BFI Southbank on 12th March 2020.
SIGN UP: Want to read more free articles like this? Sign up for Our Newsletter
Read More About: