Belgium, Ireland Win at Cartoon Tributes 2019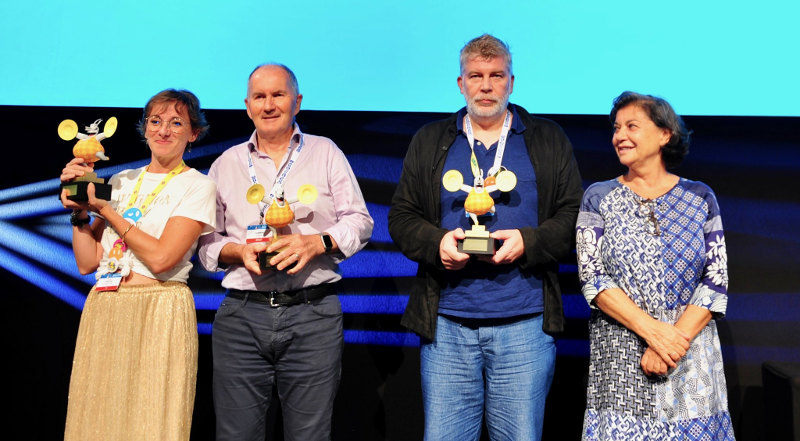 Cartoon Tributes Winners 2019 / copyright: CARTOON
The awards recognizing the work by companies or individuals that have substantially contributed to the development of the European animation industry over the past year.

Coinciding with the spotlight on the Wallonie Brussels Federation animation during Cartoon Forum's 30th anniversary edition, the Broadcaster and Producer of the Year Awards were given, respectively, to OUFtivi -the children's and family audience channel of Belgium's public broadcaster RTBF - and Panique! studio based in Brussels creator of the cult series and feature film "Panique au village", among other titles. Belgium shared the podium with Ireland, which won the prize Investor/Distributor of the Year awarded to Telegael.

The winners were voted by the more than 1000 professionals attending the Cartoon Forum, the European rendez-vous for animation TV Series professionals that this year presented 85 projects from 24 countries.

CARTOON TRIBUTES 2019 WINNERS

Broadcaster of the Year: RTBF-OUFTIVI (Belgium)
In 9 years, OUFtivi, RTBF's 360° Youth Label has become a leader in the audiovisual landscape of young French speaking Belgians. The channel has no advertising and provides content for children from 3 to 12 and for the whole family, that stimulates creativity, good values, and develops their critical thinking.

 Investor/Distributor of the Year: TELEGAEL (Ireland)
Telegael invests substantial sums annually in high-quality film and television content –animation and live action. The company operates one of Ireland's largest animation studios specialising in scripting, design, storyboards, voice record, sound design, picture & sound postproduction. Telegael's productions have been licensed to over 150 territories and translated into more than 40 languages.

Producer of the Year: PANIQUE! (Belgium)
Panique! takes over from the company La Parti production. In animation, it has produced "Panique au Village" (series, feature film & TV special), "Ernest & Celestine", "Stinky Dog" and "Big Bad Fox and Other Tales". Latest film "Back to School", received the Jury Award for a TV Special in Annecy in 2016.

The list of nominees also included Czech Television (Czech Republic), Radio Televisión Española - RTVE (Spain), Sky (United Kingdom) and TVP ABC (Poland) in the Broadcaster of the Year category; Atmosphere Media (Germany), Cyber Group Studios (France), Ferly (Finland) and Kids First Distribution (France) in the Investor/Distributor of the Year; and Graphilm (Italy), Miyu Productions (France), Studio Soi (Germany) and Xilam Animation (France) in the Producer of the Year category.

About CARTOON FORUM
Created in 1990 to boost the co-production and distribution of European animation for television and new media platforms, Cartoon Forum has helped 786 animation series obtain financing to the tune of over 2.7 billion Euros. The main partners of Cartoon Forum Toulouse are Creative Europe - MEDIA, CNC (Centre national du cinéma et de l'image animée), Occitanie / Pyrénées-Méditerranée Region, Mairie de Toulouse, Toulouse Métropole, Casino Barrière and France Télévisions.


SIGN UP: Want to read more free articles like this? Sign up for Our Newsletter
Read More About: