Goya nominations 2013: Feature and short animated films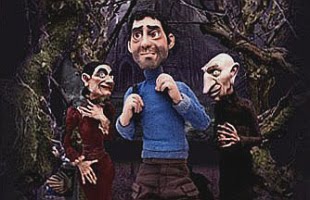 The gothic stop-motion thriller O Apóstolo by Fernando Cortizo (The Apostle) [review], is the story of an escaped convict that faces strange situations in a secluded village, is nominated for Best Animated Feature.
O Apóstolo is produced by Artefacto Producciones, and wil also have a US theatrical version.
 The computer-animated comedy The Adventures of Tadeo Jones/ Tad, the lost explorer, a huge box-office hit in Spain is another  strong candidate. The film was also nominated in the best new director (Enrique Gato) and best  adapted screenplay (Verónica Fernández, Jordi Gasull, Neil Landau).
El corazón del roble (Ricardo Ramón / Ángel Izquierdo, dir) is an environmental adventure with elves and dragons.
The wish fish (Gorka Vázquez, Iván Oneka dir.) is a sci-fi story of boy who hates fish, but has to fight against the Earth's guardians when his wishes about fish come true.
The full list:
El corazón del roble Production: Dibulitoon Studio (Ricardo Ramón), Milímetros, S.A. (Lucía Gómez)
Las aventuras de Tadeo Jones Production: Telecinco Cinema, S.A.U. ( Álvaro Augustín), Telefónica Producciones S.L.U. (César Vargas), Ikiru Films, S.L. (Edmon Roch), Lightbox Entertainment (Nicolás Matji), El Toro Pictures (Jordi Gasull)
O Apóstolo Production: Artefacto Producciones Audiovisuales (Isabel Rey)
The wish fish Production: Image Venture (Mathiseelan Ramachandran), Baleuko, S.L. (Karmelo Vivanco), Talape, S.L. (Eduardo Barinaga)
4 short animated films were nominated for a Goya 2013 award. 
The Juanma Suárez love story of Alfred y Anna [see info and trailer] is among the 4 films, while the short Tadeo Jones spin-off, La Mano de Nefertiti (Guillermo  García Carsia) also competes in the race.
The scientific-educational Spanish film Por qué desaparecieron los dinosaurios? seems a surprise entry in the category.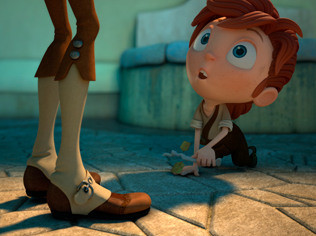 The Goya-awarded director Jaime Maestro Sellés (Sr. Trapo) competes again with the new film, El vendedor de humo (The smoke seller).
The full list for short films:
Alfred y Anna, Juan Manuel Suárez García
El vendedor de humo, Jaime Maestro Sellés
La mano de Nefertiti, Guillermo García Carsia
Por qué desaparecieron los dinosaurios?, Esaú Dharma Vílchez Corredor and María del Mar Delgado García.
Wrinkles (Arrugas la Pelicula) was the recipient of the 2012 Goya award for  Best Animated Feature, and Birdboy (Pedro Rivera) won the award for best animated short.
The 27th Goya awards will be handed out on 10 February 2013.
Read More About: