News
Dutch animator Gerrit van Dijk dies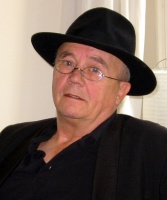 Gerrit van Dijk was a well-known figure in European animation. He was born in 1938 in the village of Uden, and studied at the Tilburg Academy.
Since 1971, he started making films, using a high number of styles and techniques.
 His modernist Pas à Deux (with Monique Renault, 1988) won him the Golden Bear in Berlin Film Festival for Best short film.
His I move, so I am (1997) presents a hand which draws other hands, and finally the animator himself, in a movement that never stops. (A second Golden Bear was awarded to van Dijk in 1998).
Gerrit van Dijk helped create the Holland Animation Film Festival (HAFF) and the Netherlands Institute for Animation Film (NIAF).
A few months before his death, van Dijk claimed that the Incubus music video for for their 2000 hit Drive was based on his I move, so I am. Incubus manager, Stevie Rennie, responded to the accusation.
Gerrit van Dijk died on 4 December, one day before his 74th birthday, of a long term illness.
van Dijk worked up to the last days before his death in various animation projects.
In his Facebook account, his relatives state:  "His heart was in animation, in which he could bring to life reality as he saw it as a visual artist. By giving subjects a creative twist, he constantly succeeded in confronting society with 'the other side of reality'."
Watch two of the Gerrit van Dijk films below:
PAS A DEUX
I MOVE,SO I AM
Read More About: