News
European Animation Features Get 2019 US Release via GKIDS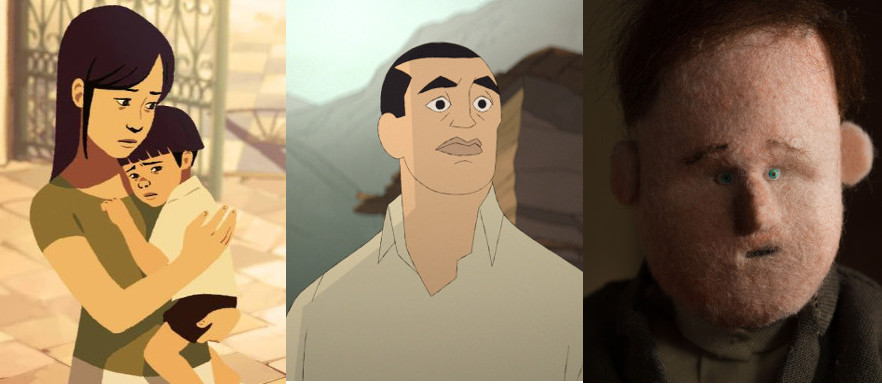 The summer-spring slate of GKIDS distribution company (which got its 11th Academy Award nomination this year for Mirai) includes three of the most discussed animation features of 2018 and 2019.
The Zagreb-awarded (and Cannes' Directors Fortnight selected) This Magnificent Cake! by Emma De Swaef and Marc James Roels (Belgium, France, The Netherlands, 2018, 44 min ) is already playing in US theaters 
In the late 19th century, keen to compete with other European imperial powers on the continent, King Leopold II of Belgium proclaimed, "I do not want to miss a good chance of getting us a slice of this magnificent African cake." The subsequent occupation of the Congo would come to attract a contingent of servants, merchants and miscellaneous bourgeois driven by everything from insatiable greed to existential fear. From the intimate stories of these characters — many of whom pass through a luxury hotel in the middle of the jungle – emerges a greater narrative concerning the imperialist mentality.
Funan by Denis Do (France, 84'). The Khmer Rouge drama was the 2018 Annecy Winner for a feature film.
Cambodia, April 1975. Chou is a young woman whose everyday world is suddenly upended by the arrival of the Khmer Rouge regime. During the chaos of the forced exile from their home, Chou and her husband are separated from their 4-year-old son, who has been sent to an unknown location. As she navigates her new reality, working in the fields day and night under the careful watch of soldiers, and surviving the small indignities and harrowing realities of the increasingly grim work camps, Chou remains steadfast in her determination to reunite her family – even if it means risking everything.. Featuring the voices of Bérénice Bejo (The Artist) and Louis Garrel (The Dreamers).
US Release date :  14 June 2019  (Los Angeles, L

aemmle Glendale)



Buñuel and the Labyrinth of The Turtles, director  Salvador Simó   Spain, 79 min). A much-anticipated story on the celebrated Spanish surrealist director.
In a stranger-than-fiction tale befitting the master surrealist filmmaker, BUÑUEL IN THE LABYRINTH OF THE TURTLES tells the true story of how Luis Buñuel made his second movie. Paris, 1930. Salvador Dalí and Luis Buñuel are main figures of the Surrealist movement, but Buñuel is left penniless after a scandal surrounding his film L'Age d'Or. However, his good friend, the sculptor Ramón Acín, buys a lottery ticket with the promise that, if he wins, he will pay for his next film. Incredibly, luck is on their side, and so they set out to make the movie, an ambitious documentary on the Las Hurdes region in Spain.
US Release Date: Summer 2019
SIGN UP: Want to read more free articles like this? Sign up for Our Newsletter
Read More About: