Animarkt 2018 Stop Motion Forum: Full Programme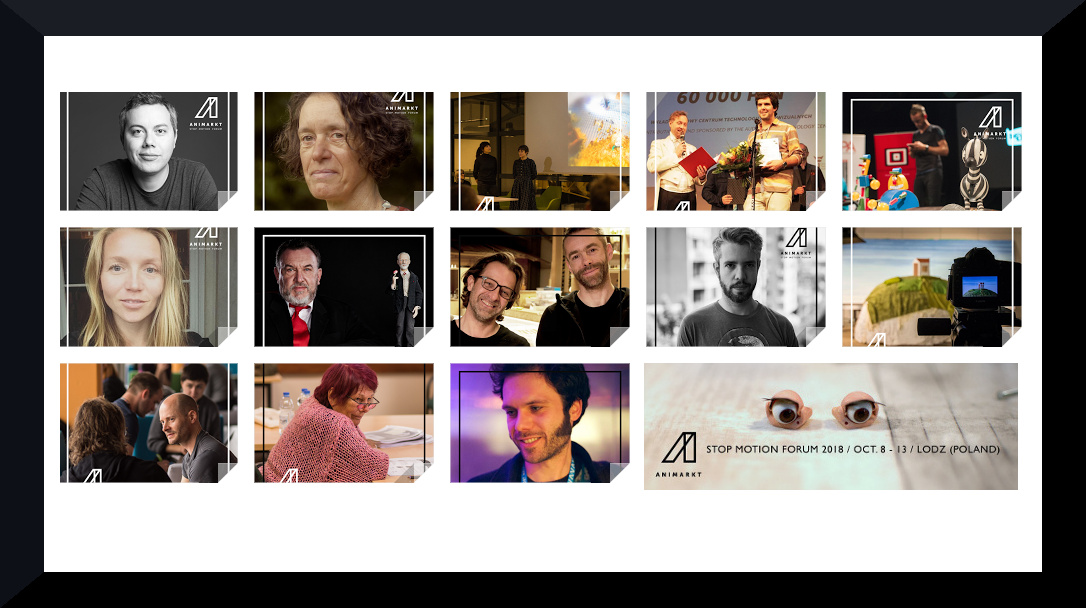 Three masterclasses, three 3-day workshops, pitching for stop motion shorts with 15 projects in the final, numerous presentations, LAIKA recruitment, animation breakfasts with special guests, and one-to-one meetings will take place during the 3rd edition of  ANIMARKT Stop Motion Forum 2018 (Poland, October 8-13, 2018).
Without further ado, here's (some of) the lineup of Masterclasses (free registration at the Animarkt website)
Angela Poschet Masterclass "How to plan and schedule stop motion production to not lose money and do it successfully." It will be a look behind the scenes of "Isle of Dogs" from the Production Supervisor point of view. Angela will talk about her work, involvement and responsibility: planning and monitoring the shooting timeline and the set and puppet fabrication progress during the whole production.
Angela Poschet is an award-winning Line Producer, Production Supervisor, Manager, Consultant for animation productions in Europe. Her credits include numerous distinctive and commercially successful film and television projects. She was the Production Supervisor on Wes Anderson latest stop motion movie "Isle of Dogs" and Tim Burton's Oscar nominated "Frankenweenie".
Alvaro Ceppi Masterclass "Paper Port: development and production of a Latin American paper-motion series." Alvaro will go through the whole process of the show, a hybrid papercraft stop motion/2D TV series from Chile, from concept-story development to its production.
Alvaro Ceppi is a creative director, producer and partner of Zumbastico Studios . Among his work are the animation series "Horacio & The Plasticines", "Zumbastico Fantastico" (first original Latin American series premiered by Cartoon Network) and the hybrid stop-motion show "Paper Port", now on its 2nd season. He has also directed and produced several short films, documentaries, music videos and commercials. During the Masterclass, Alvaro will be supported by Carlos Bleycher, Head of Story & Script of "Paper Port" series.
Barry JC Purves Masterclass "Animation - a celebration of artifice." Barry will look at what animation is, and how an awareness of the techniques and the tricks and the process are all part of the enjoyment of animation. Barry will also look at how this awareness of the artifice is shared by other arts such as theatre, opera and dance.
Oscar-nominated director Barry JC Purves has been involved with stop motion animation for forty years now, on series as "Wind in the Willows" and most recently, "Twirlywoos", as well as his own award winning darker, adult short films, such as "Next", "Screen Play", "Rigoletto", "Achilles", "Plume" and "Tchaikovsky". Along the way, Barry was involved with "King Kong" and "Mars Attacks!". Barry has written three books on animation, and teaches around the world. He also directs and designs for the theatre, and is currently involved with a play called "Playhouse Creatures" and a play about the Brontes.
ANIMARKT TALKS – one-day conference with presentations about presence of stop motion animation in commercials and video games (detailed programme to be revealed)
ANIMARKT 2018 novelties
LAIKA recruitment – the one and only meeting in Central and Eastern Europe, during which Anna Kvorning from LAIKA will recruit animators and costume fabricators to work in the studio in Portland, US. Anna Kvorning oversees talent acquisitions at LAIKA and has been with the studio for 5 years during the productions of "Boxtrolls", "Kubo and the Two Strings" and "Missing Link".
Αnimation breakfast: Distribution and promotion of short films – Laure Goasguen from MIYU Distribution will share her experience on working with such titles as Oscar-nominated "Negative Space" (dir. Ru Kuwahata, Max Porter) and "Garden Party" (dir. Florian Babikian, Victor Caire, Vincent Bayoux, Lucas Navarro, Gabriel Grapperon, Théophile Dufresne).
Animation breakfast: Funds, regional organizations, and animation. Meeting co-organized by Lodz Film Commission, an organization providing comprehensive and professional assistance to producers of feature, documentary, and animated films, will be a chance to gain knowledge of different ways of receiving financial and organizational support.
MOMAKIN agency consultations – MOMAKIN agency offers to liaison with talented artists and service providing companies working in animation industry, including animators, set designers, character designers, sculptors, model makers, puppet makers, post-production specialists and other crew members. It represents crew members who underpinned artistic successes of numerous international productions, including animated shorts, children's series – both animated and documentaries. Consultations at ANIMARKT 2018 are aimed at producers looking for a film crew, as well as at professionals seeking for new projects.

ANIMARKT 2018 supports new talents
The winner of last year's ANIMARKT Pitching Martin Smatana, completed his short "The Kite". A compilation of some scenes from this stop motion animation will be shown during the event.
At this year's ANIMARKT Pitching representatives of the 15 projects selected for the pitching will take part in the training sessions with tutors experienced in script writing and public speaking: Wim Vanacker and Nancy Denney-Phelps. Then, the selected projects will be presented on October 11th, 2018 in front of the Jury and the audience. Pitching awards include contribution in-kind sponsored by the Audiovisual Technology Center (CeTA) with a value of PLN 60.000 (c.a. $16,000) and PLN 40.000 (c.a. $10,600), and prizes sponsored by Dragonframe, DitoGear, Playade Sound Studio, FestivalWhizz, Ale kino+, CITIA.
To help new talents to improve their skills in creating stop motion animation, three 3-day workshops will take place at ANIMARKT 2018. Steven De Beul and Ben Tesseur from the successful Beast Animation studio will lead "Directing stop motion animation" workshop. Carlos Bleycher, a scriptwriter, content consultant and story editor specialized in animation and childrens' oriented content, will give theoretical and practical examples how to develop characters of TV series that fit organically into the story ("Character development and storytelling" workshop). And for the second year running, Tim Allen will supervise a group of stop motion animators during his intense "Character animation" workshop.
 
ANIMARKT 2018 – networking opportunities
 Networking plays a key role at ANIMARKT. To help people to get to know each other and start collaboration, this year a special Matchmaker tool will be introduced. All registered participants of ANIMARKT will gain the access to Matchmaker website with the profiles of all people taking part in the event. It will help in setting the one-on-one meetings and finding future collaborator.
ANIMARKT Stop Motion Forum will take place in EC1 Lodz complex, 8-13 Oct 2018. The organizer of ANIMARKT is MOMAKIN (www.momakin.pl) – a multi-tasking unit working for popularizing and propagating animation and supporting creators in Poland and in international arenas. The Main Partners of the event are: EC1 Łódź – City of Culture and Lodz Film Commission. The partners of ANIMARKT also include: Audiovisual Technology Center (CeTA) from Wroclaw which is also the founder of the awards for pitching winners, ASAF (Czech Republic), Mozinet (Hungary), Fest Anča International Animation Festival (Slovakia), Dragonframe, DitoGear, FestivalWhizz, Mlodzi w Lodzi, Playade Sound, CITIA, Ale kino+, Boutique Hotel's, SPPA – Polish Animation Producers Association, SFP – Polish Filmmakers Association. ANIMARKT is partially funded by the International Visegrad Fund, Polish Ministry of Culture and National Heritage, and co-financed by the Polish Film Institute.
SIGN UP: Want to read more free articles like this? Sign up for Our Newsletter