Buñuel In the Labyrinth of the Turtles: New Trailer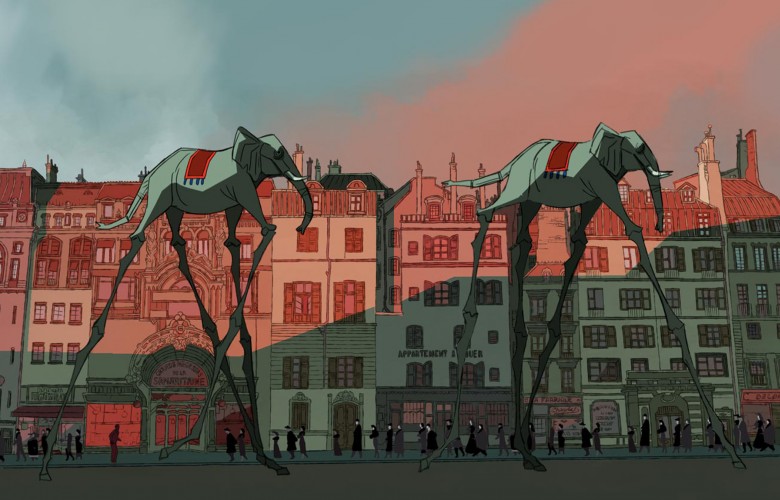 Produced by Manuel Cristobal (Wrinkles) and directed by former Disney animator Salvador Simo, the 2D animation film gives its own take on the famous Spanish surrealist director.
Based on the graphic novel by Fermin Solis, and his filming Land Without Bread (Tierra Sin Pan) in 1933, immediately after the outrage his earlier film, L'Age D'Or (1930) caused.
In a stranger-than-fiction tale befitting the master surrealist filmmaker, Buñuel in the Labyrinth of the Turtles tells the true story of how Buñuel made his second movie. Paris, 1930. Salvador Dalí and Luis Buñuel are main figures of the Surrealist movement, but Buñuel is left penniless after a scandal surrounding his first film L'Age d'Or. However, his good friend, the sculptor Ramón Acín, buys a lottery ticket with the promise that, if he wins, he will pay for his next film. Incredibly, luck is on their side, the ticket is a winner and so they set out to make the movie. Both a buddy adventure and fascinating episode of cinematic history, Buñuel and the Labyrinth of the Turtles utilizes sensitive performances as well as excerpts of Buñuel's own footage from the production, to present a deeply affecting and humanistic portrait of an artist hunting for his purpose.
The new US trailer mixes animation and Buñuel material, and creates a sense of conflict, deceit and social relevance.
Manolo Galiana, who was animation director in Chico and Rita (and lead animator in Chomet's The Illusionist) resumes duties here as animation director. The film is produced by Sygnatia, Glow, The Glow Animation Studio, Submarine Hampa, Telemadrid, and Canal Extremadura TV.
Critics Reviews:
Johathan Holland in The Hollywood Reporter writes:
Salvador Simo's animated feature, telling the story of the shooting of Bunuel's pioneering weirdo masterpiece, does ample justice to its subject. Part homage to the work and part revision of its status, Bunuel is above all a good story elegantly told, transcending its obviously niche appeal and showing that Spanish animation, following last year's multiple award-winning Another Day of Life, is looking healthy.
Even though he finds some parts of the animation process potentially problematic,  Peter Debruge in Variety praises the overall project:
it was a brilliant choice on the part of director Salvador Simo to use such an expressionistic medium to examine how surrealist filmmaker Luis Buñuel bent reality to his own ends in the making of 1933 documentary "Las Hurdes" (aka "Land Without Bread").
Alfonso Rivera in Cineuropa concentrates on the main character figure:
This humanisation of a figure so venerated as Luis Buñuel (who we see here at a crossroads, at war with himself and the uncertainty of youth) lends a touch of emotion, authenticity and audacity to a film which reveals some of the filmmaker's most horrific nightmares and uses flashbacks to reflect on his childhood and the complicated relationship he shared with his authoritarian father
International sales are handled by Latido Films. GKIDS  distributes the film in selected US theaters.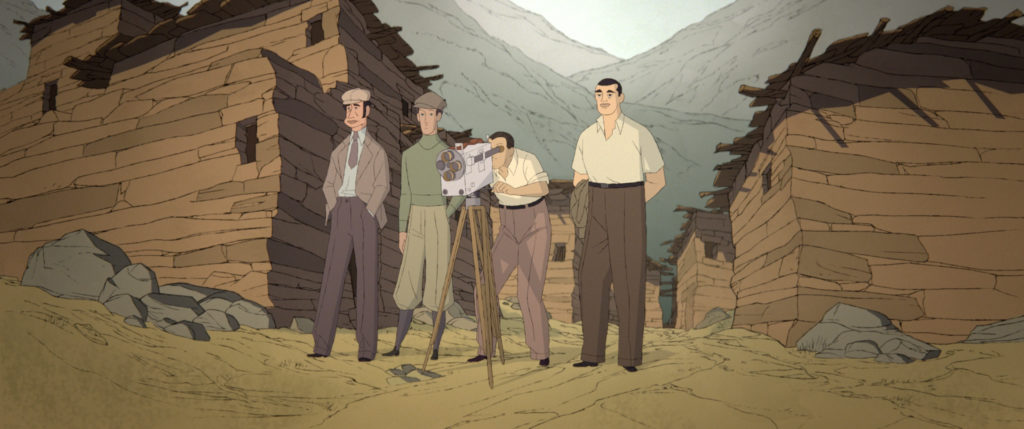 SIGN UP: Want to read more free articles like this? Sign up for Our Newsletter