Discover the 2019 CARTOON Tributes Nominees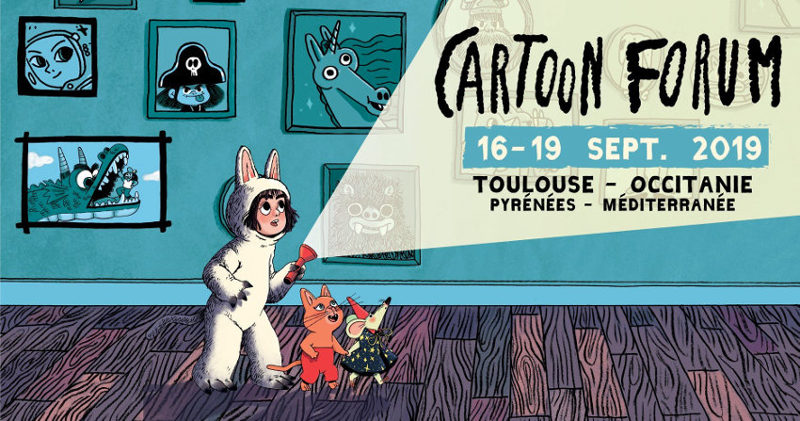 Toulouse will host the 30th edition of Cartoon Forum, the unique co-production platform for European animation series from 16-19 September. 85 new projects from across Europe will be pitched. This year 24 countries will be presenting their projects to about 1000 producers, investors, distributors, buyers, SVoD/VoD platforms such as Netflix, WarnerMedia, Playkids or Hopster TV...

Along with the presentation of projects, this key event for the European animation sector will host the ceremony of the Cartoon Tributes, which are professional awards for the most positive and influential broadcaster, investor/distributor and producer of the year.

The 2019 Cartoon Tributes nominees are:
BROADCASTER OF THE YEAR

CZECH TELEVISION (CT) | Czech Republic. CZECH TELEVISION (CT) (Czech Republic) is a public broadcaster. Currently it operates 6 channels, two of them – ČT1 and ČT2 – are the nationwide channels. In 2013, Czech Television's new kids' channel "ČT:D" was launched as a Free TV digital channel broadcasting every day from 6 am to 8 pm. Animation represents 54% of the content and 2824 hours per year. CT offers colorful, entertaining, contemporary and inspiring content – not only educational programming but also high-quality entertainment, series and movies as well. ("Chico Chica Boumba", "The Big Bad Fox and Other Tales", "The Jungle Bunch", "Ernest & Celestine", "Dimitri", among others.)
RADIO TELEVISIÓN ESPAÑOLA (RTVE) | Spain. RADIO TELEVISIÓN ESPAÑOLA (RTVE) (Spain) is Spain's largest multimedia group. The RTVE Corp. is entrusted with the mission of guaranteeing state-owned public radio and television services, offering objective & plural information, encouraging democratic participation & debate, effectively promoting culture, knowledge, child protection, gender equality and social & territorial cohesion. With 6 television channels and 6 radio stations, RTVE aims to serve the widest audience ("Monchihi", "Simon", "Lunnis", "Momonsters", "Mya Go", among others)

RTBF-OUFTIVI | Belgium. In 9 years, OUFtivi, RTBF's 360° Youth Label (TV-WEBSocial Media-Events-YT) has become a leader in the audiovisual landscape of young French speaking Belgians. The channel has absolutely no advertising and provides content for children from 3 to 12 and for the whole family, that stimulates creativity, good values, and develops their critical thinking. OUFtivi's DNA is to educate, entertain, inform and empower children with a touch of awesomeness. ("My Knight and Me", "The Fox Badger Family", "Arthur and the Children of the Round Table", "Pyjamasques", "The Jungle Bunch", among others.)
SKY | United Kingdom. SKY (United Kingdom) is one of the Europe's leading entertainment companies, serving 21 million customers across five countries. Sky is focused on proving the best entertainment service for the whole family. This includes kids as well as grown-ups with a recently launched dedicated kids app and a renewed commitment to investing in even more shows that kids will love, starting with Morph later this year. ("George & Paul", "Pirata & Capitano", among others)
TVP ABC | Poland. TVP ABC (Poland) has been launched in 2014 as a part of the largest broadcaster in Poland, public television TVP. TVP ABC's offer includes as well as programmes for pre-schools, youth and their parents but the main target is 4-12. TVP ABC broadcasts about 18 hours of programmes a day, as well as animation (80%) produced in European countries and from all over the word, along with educational programs/magazines. ("Masha and the Bear", "Super Wings", "Heidi", "Florka's Diary, among others)
INVESTOR/DISTRIBUTOR OF THE YEAR
ATMOSPHERE MEDIA | Germany. Founded by Peter Voelkle, former CEO of kids and family programming group TV Loonland, Atmosphere Media finances, co-produces, and distributes animated series and feature films in all formats. It is based in Berlin and Zurich and has a representation in New York. Atmosphere Media co-owns a studio in Liège (Belgium), and is building further production and distribution capacities in Europe and internationally. As part of Atmosphere Media Group, it pursues strategic investments in existing companies and assets. Current productions include "That's Joey", "Flix", "Osmond", "Anna & Froga", "Billy, the Cowboy Hamster", "My Spooky Family" and "Octopus's Garden".
CYBER GROUP STUDIOS | France. Cyber Group Studios is a French independent, multi-award-winning company founded in 2005 which develops, produces and distributes its own ("Zorro, the Chronicless", "Gigantosaurus") and third-party productions ("Nina Patalo", "The Long Long Holiday", "Ernest & Rebecca", etc.) and brands. The company focuses on content for kids and families, namely with 3D CGI and 2D HD-animated productions (TV series and movies). Its mission is to bring the best quality entertainment to the public, by creating partnerships with key talents worldwide and developing breakthrough technologies to enhance the quality of its programs.
FERLY | Finland. An entertainment company based out of Helsinki, Vancouver and LA. The company specializes in storytelling through TV, film, digital products, licensing and publishing with a team that has achieved the impossible many times over.
KIDS FIRST DISTRIBUTION | France. Kids First Distribution is a distributor, specializing in entertainment content for kids. The initial catalogue includes five brand new animation serie: "Nate is Late", "Max & Maestro", "Best Bugs Forver", "I, Elvis Riboldi", and "MarbleGen". Kids First is looking to distribute shows from the most talented French and international producers.

TELEGAEL | Ireland. TELEGAEL (Ireland) invests substantial sums annually in high-quality film and television content – animation and live action. It operates one of Ireland's largest animation studios specialising in scripting, design, storyboards, voice record, sound design, picture & sound postproduction. Telegael's productions have been licensed to over 150 territories and translated into more than 40 languages. It works with broadcasters including Cartoon Network US & Europe, Disney, ZDF, CITV, NickToons, KiKA, France 3 & ABC. ("Lexi and Lottie", "Yoyo", "The Wild Adventures of Blinky Bill", among others)
PRODUCER OF THE YEAR
GRAPHILM | Italy. An award-winning production firm founded in 1988 specialised in animation for entertainment and advertising. As leading Italian studio, it is internationally active to develop its properties in line with market trends and demands, uniting art, industry, cartoon tradition and new technologies. Graphilm will present its new TV series project "#In the Middle" at the 30th Cartoon Forum. ("Boo Boom the Long Way Home", "Nefertine on the Nile", "Hanukkah", among others)
MIYU PRODUCTIONS | France. An animation company created in 2009 (3 studios: Paris, Valence & Angoulême). The company is known for its high-quality 2D-animation ("Fog"). It has produced a series of acclaimed shorts ("Egg", "Symbiosis" etc.) and is currently developing its first series for a young public, as well as its first feature film ("Blind Willow, Sleeping Woman"). Miyu Productions will pitch its TV series project "Claudy" at Cartoon Forum 2019.

PANIQUE! | Belgium Panique! takes over from the company La Parti production. In animation, it has produced "Panique au Village" (series, feature film & TV special), "Ernest & Celestine", "Stinky Dog" and "Big Bad Fox and Other Tales". Last film "Back to School", received the Jury Award for a TV Special in Annecy in 2016.

STUDIO SOI | Germany
Studio Soi is an independent animation studio founded in 2003 by seven animation directors. They attract clients who value taking part in the creative process, and they seek to be both a haven and a collaborator for artists and clients who also aim to push their work forward, to explore and create something new. Studio Soi will pitch its new TV series project "Boots & Paws" at Cartoon Forum 2019. ("Room on the Broom", "The Gruffalo's Child", "Trude's Flatmate", "The Little Boy and the Beast", "Klump" among others)
XILAM ANIMATION | France. Founded in 1999 by Marc du Pontavice, Xilam is a production company specializing in family-oriented, audiovisual and multimedia content. Xilam creates, produces and distributes cartoons, animated series and feature films for TV, the cinema and all cutting-edge technological and media platforms. Xilam currently employs 300 people, including 200 artists, operating from its four studios: Paris, Lyon, Angoulême and Ho-Chi-Minh City (Vietnam). Its catalogue includes: "Oggy and the Cockroaches", "Lupin's Tales", "Mr Magoo", "Paprika", among many others. At the Cartoon Forum 2019, Xilam will pitch its new TV series project "Lucy Lost".

A total of 15 companies are among the nominees for these awards, French companies coming up most with 4 nominations, followed by Belgium and Germany with 2 nominations each. Czech Republic, Finland, Italy, Ireland, Poland, Spain and the United Kingdom are also present with 1 nomination each.

All professionals attending the Cartoon Forum will vote on site for their favourite nominee in the 3 categories. Winners will be announced on Thursday 19 September during lunch.

CARTOON FORUM was created in 1990 to boost the co-production and distribution of European animation for television and new media platforms, Cartoon Forum has helped 782 animation series obtain financing to the tune of over 2.7 billion Euros. The main partners of Cartoon Forum Toulouse are Creative Europe - MEDIA, CNC (Centre national du cinéma et de l'image animée), Occitanie / Pyrénées-Méditerranée Region, Mairie de Toulouse, Toulouse Métropole, Casino Barrière and France Télévisions.
Read More About: