Mono Club Chilemonos Opens a 3-Week Animation Event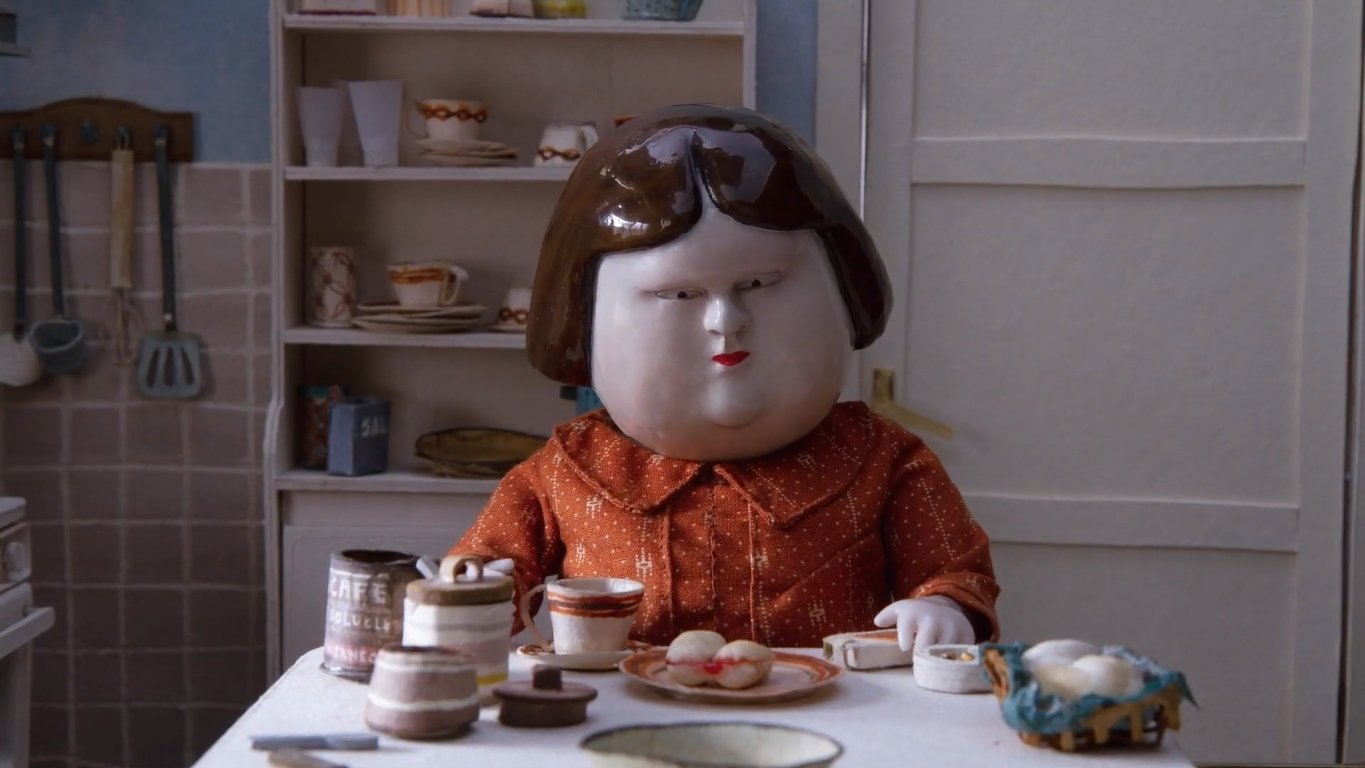 Mono Club was born as the Animation film club of the Chilemonos Foundation, seeking to create a Chilean and Latin American community between the audience, the animated works and the filmmakers.
In its 2021 edition, it will have a master class cycle, panels and workshops via streaming taught by the main exponents of Chilean and Latin American animation and illustration
First Week

20 October, 19:00 – 20:30 hrs (Chile) / Zoom
Constanza Wette, art director of the award-winning short film 'Bestia' (2021) directed by Hugo Covarrubias, will give the workshop 'Art in Stop Motion Animation'. Constanza will explore her experience developing art for animation and will emphasize her work in stop motion, as well as other techniques.
21 October, 19:00 – 20:30 hrs (Chile) / Zoom
Esteban Pedrozo, a graphic designer with experience in animated productions who currently serves as CG Character Artist for Netflix, will be presented. In his workshop 'From Sketch to Sculpture', Pedrozo will delve into the process of character production.
22 October, 19:00 – 20:30 hrs (Chile) / Zoom
The panel "Graphic Novel of Chilean Women" will be held, with the presence of Cecilia Toro, Antonia Bañados and Carola Josefa, each with notable published titles, which will talk about their creative projects and processes.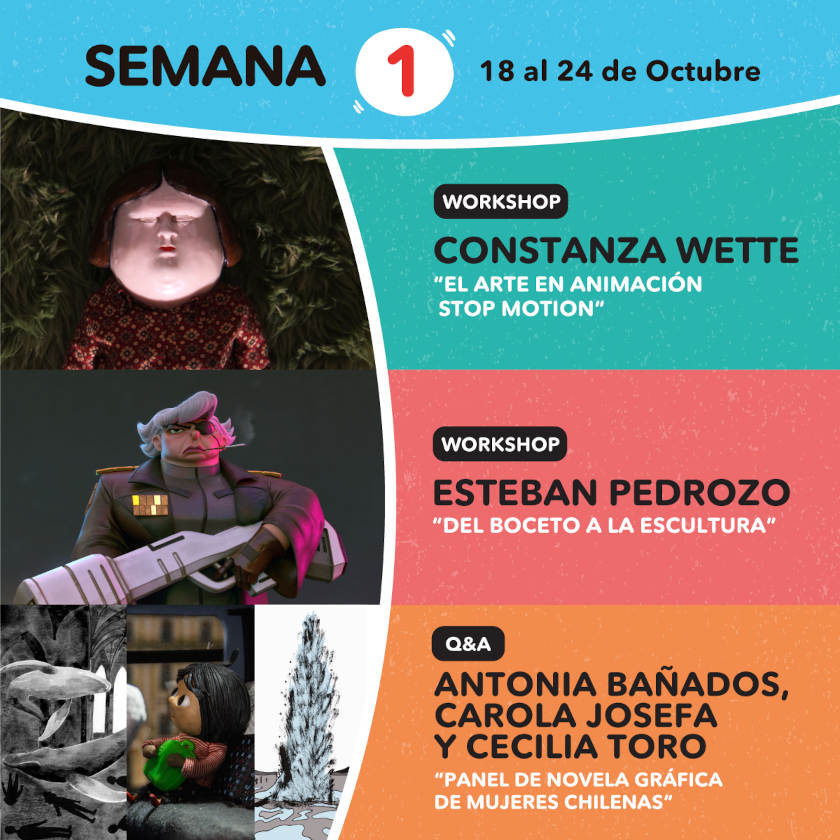 Second Week

27 October, 12:00 – 13:30 hrs (Chile) / Zoom
Conference "The Work of Character TD / Rigger in the VFX Industry, Animation and Video Games", given by José Antonio Martín, a software engineer who has participated in outstanding projects such as "Venom" and "Suicide Squad" and that he will talk about his work in the field of  visual effects or VFX for films, in addition to making an approach to the use of Maya software.
28 October, 19:00 – 20:30 hrs (Chile) / Zoom
The workshop "Tips for Fluid Physics with Realflow" will be held by Miguel Sepúlveda, designer and generalist 3D who will cover everything from the basics of Realflow software to the realization of a basic live exercise.


29 October, 19:00 – 20:30 hrs (Chile) / Zoom
the Q&;A session "From the adaptation of CSI to the success of Locke & Key" is scheduled, in which illustrator Gabriel Rodríguez will speak of his successful international career as a comic artist, where he highlights his co-authorship of the successful "Locke & Key" series, with Joe Hill.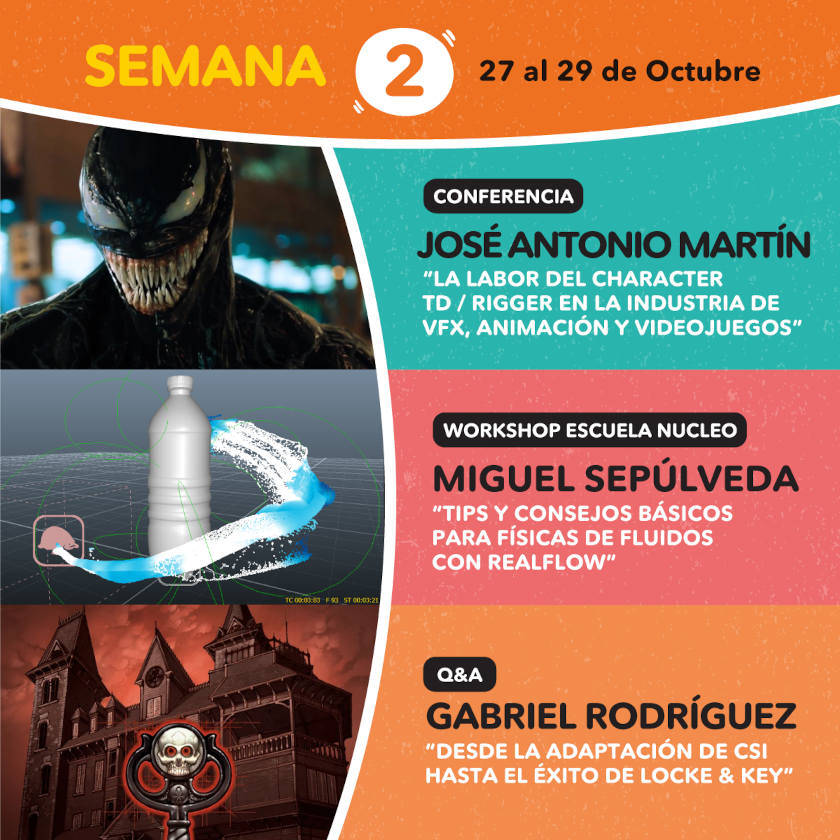 Third Week,
3 November, 19:00 – 20:30 hrs (Chile) / Zoom
Workshop "Character Design of the Golden Age of Animation", given by Juan Manuel Urbina, leader of Venturia Animation Studios, he will take a complete tour of the most iconic era of animation and the different styles developed between the years 20's and 60's.
4 November, 19:00 – 20:30 hrs (Chile) / Zoom
Miguel Sepúlveda, teacher and academic director of Core Escuela will be presented with the workshop "Cinema 4D R25, tips and flows for Mograph and node scene", focused on the use of the R25 software and its application in different types of projects in Cinema 4D.
5 November, 11:00 – 12:30 hrs (Chile) / Zoom
workshop "Blender for beginners and Introduction to printing 3D", where you will review the basics of using Blender and guide you to preparing models for printing in 3D.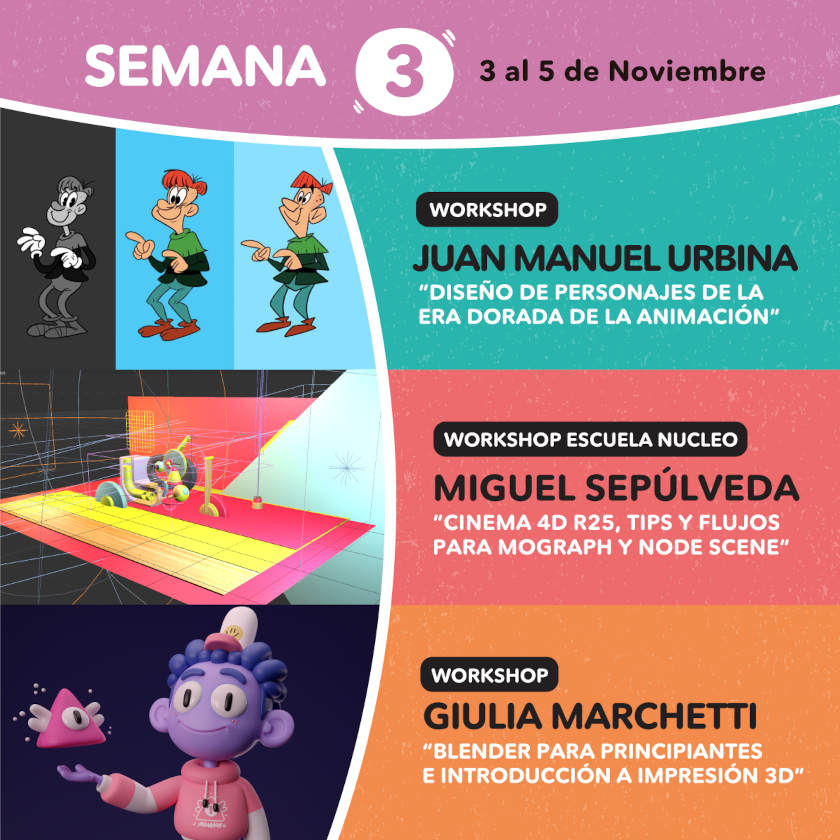 MonoClub will close its calendar with a face-to-face stop motion workshop taught by two representatives of the prestigious Belgian National School of Visual Arts of La Cambre: Vincent Gilot, Educational Coordinator and Alain Sace, animator, audiovisual director, professional and teacher at the same school. The activity is aimed at students of animation careers, requires prior registration, and has limited spaces due to health restrictions.

The classroom workshop will be held in 3 instances: November 8 at UNIACC University, November 9, Universidad Las Americas, and will close on November 10 at Santo Tomás University, from 11:00 to 20:00 hrs. During the three dates mentioned above.
The event trailer:
Ninth MAI! Animation Industry Market
The itinerary continues with the ninth version of MAI! Market Animation Industry: the largest animation business table in Latin America.
In this new version, MAI! will be the meeting point of 14 Ibero-American countries, including Argentina, Colombia, Chile, Mexico, Peru, El Salvador, Ecuador and Uruguay. It will be held again online through a platform for business tables, which will be open on Wednesday, November 10, from 11:00 a.m. to 2:00 p.m.

One of the most anticipated activities in the MAI! calendar it is the sixth Pitch Cartoon Network, which invites Latin American producers and directors of animated series to present their projects under development to a Selection Committee that will choose the best proposal to be awarded with an amount of USD 4000. This year, the contest "New Animation Series for Cartoon Network" will be receiving projects from children's animated series aimed at an audience of 2 to 5 years, with potential for cross-platform exploration.
 Tuesday, November 9, from 19:00 to 20:30, the script workshop "Story from character" will take place, given by Michael Baser, Head of Department VFS and Maria Torres, Director and screenwriter, both representatives of Vancouver Film School, o.
Wednesday, November 10, at 7:00 p.m., Andrés Lieban, creative director of the Brazilian studio 2DLab, will hold the workshop 'How to grow your own content'
Thursday, November 11, it will start at 11:00 with a conference on the distribution of animated short films, given by Miguel Español Celiméndiz on behalf of Miyu Distribution, a large French audiovisual distribution company; In the afternoon, at 19:00, the Argentine director Gustavo Cova will deliver the workshop "Direction for Preschool Content".
Friday, November 12, will take place at 11:00 am the technical workshop of Unreal 5.0, dictated by the expert in that software Sebastián Henríquez, To finish at 19:00 with the award ceremony of the winning project at the Pitch Cartoon Network.
From November 8 to 12, MAI! it will also offer free lectures and animation workshops for the public. With a variety of guests, the activities of this version will address different topics that guide the development and projection of an animated work in the industry, and will start at 11:00 hrs on Tuesday 9 November with Jean Fraisse, director of art currently devoted to virtual teaching, who will give the lecture "The color for concept art in animation".
All activities of the Chilemonos Monoclub will be conducted online and free of charge
SIGN UP: Want to read more free articles like this? Sign up for Our Newsletter
Read More About: