Training /Residencies
2017 Anidox: Residency Open for Applications
 Building on the already existing Open Workshop artist residency and AniDox:Lab training programme at The Animation Workshop, AniDox:Residency will make it possible for one animated documentary short film of high artistic quality to be produced every year from 2014-2017. This will up to a screening event at the European Capital of Culture Aarhus 2017,  with the support of at the European Capital of Culture Aarhus 2017.
AniDox:Residency is an artistic spearhead in the examination of the possibilities and potential of animation documentary. The Animation Workshop will host the production and provide studio facilities, workstations, housing for the director, production support as well as financial support. The residency program is open for international filmmakers.
Production is expected to start in January 2017 with a premiere in January the following year.
The Animation Workshop will provide:
• Studio facilities
• 2 workstations with relevant software
• Technical support
• Housing for the director (single bedroom w. shared facilities)
• Production support
• Financial support for materials and salaries which amounts to ca. 200.000 DKK (approx. 27.000 EUR). The amount is subject to change and depends on the Aarhus 2017 grant.
Here's the application form.
Also needed a single PDF with CV, Project description, financing plan, detailed budget, project schedule and distribution plan.
Deadline: 1 October 2016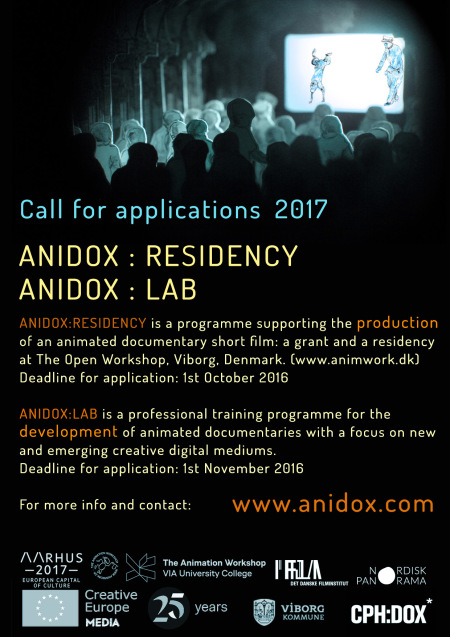 More info at the Anidox site.
Read More About: