Training /Residencies
AniDox:Lab: Call for Applications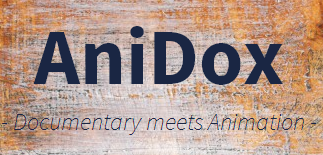 AniDox:Lab is The Animation Workshop's animation documentary continuous training project, during which it brings together documentarians and animation film directors, to maximize their artistic capacity and develop their respective projects, for creative research and forming new collaborations.
Through a series of 3 professional seminars in Viborg and Copenhagen, Anidox:Lab gives talented documentary and animation filmmakers the opportunity to engage and combine their two worlds.
Uri Kranot, Klara Grunning, David Polonsky (Waltz with Bashir, art director) and Asta Wellejus are among the confirmed speakers [link ]
Its programme includes the following sessions:
ANIDOX:LAB SESSION #1 (The Animation Workshop, Viborg, Denmark) entitled "Introduction to Animated documentary, techniques and forming new collaborations" being held from 2 to 4 May 2014.
ANIDOX:LAB SESSION #2 (The Danish Film institute, Copenhagen, Denmark) entitled "Project Development – New Documentary Filmmaking practices and models" which will take place from 28 to 30 June 2014.
ANIDOX:LAB SESSION #3 (The Animation Workshop, Viborg, Denmark) which is a 'Hands-on' Creative Workshop taking place from 10 to 14 September 2014.
AniDox:Lab is designed for and open to Animation Film directors, and Documentary Film Directors creative producers from the 27 Member States of the European Union, from the EEA members (Iceland, Liechtenstein and Norway), from Switzerland and from Croatia.
European filmmakers applying for AniDox:Lab are expected to have previous experience in Animation or Documentary Filmmaking.
The application deadline is 17 February 2014.
The fee is 500 euro, while a limited number of scholarships are available for eligible candidates.
If you are interested, read the admission regulations and fill in the application form.
Anidox:Lab takes place in partnership with the Danish Film Institute and supported by the MEDIA Programme of the EU.
Read More About: