Shorts
Prey by Salman Arbaboon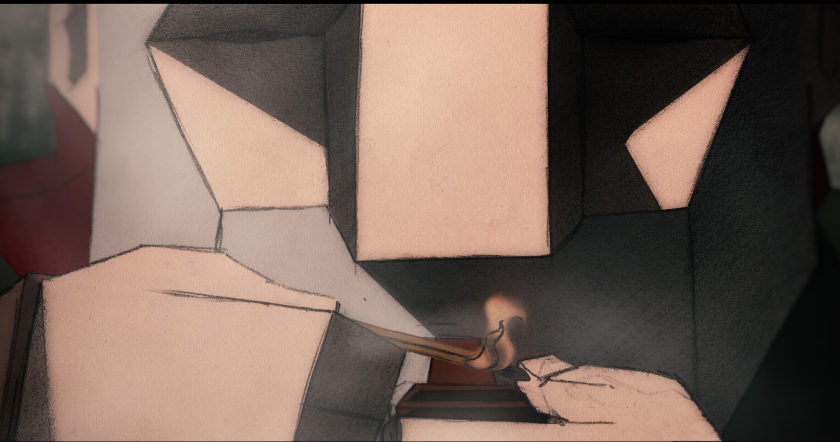 An intriguing, hand-drawn and highly symbolic film by Salman Arbaboon explores the limits of hunting and the hunter. In Prey, a constant trapping play occurs between fish (a symbol of life and happiness in Persian culture) and an old fisherman (old people representing the society norms). Yet, the fisherman can also be himself a bait.
"Prey" is the story of an old man who enters a foggy lake for fishing. He throws his hook into the water. After we see him catch a fish and the fish's struggle to release itself, we find out that the old man is dead. Finally, the man confronts the fish in a dream world - Synopsis
The 8-minute Prey is to be paper-animated with painted backgrounds, and digital compositing to follow.
According to the director, "This animation captures the simultaneous coexistence and clash between vivacious life and decay, as represented in the stiff body of old age". Physical and spiritual death and decay using the fish as a symbol of life, a staple in the Iranian culture as  well, including Iranian culture. As the Iranian quote says, "every time the net brought a fish - this time, the fish went and carried off the net".
The film went to crowdfunding and also succeeded to partner with the Documentary & Experimental Film Center (DEFC), one of the only government-run schemes for supporting experimental films and animations in Iran.
Armed with a B.A. degree in cinema and animation, Salman Arbaboon has begun his animation work in 2009, and has co-produced short, feature films and advertising films. Apart from animation, he's been doing painting, graphics, and sculpture. Prey is his directorial debut in animation; the script is written by Payam Parsafar and produced by Documentary & Experimental Film Center (DEFC).

From the day that I decided to make the animated short "Prey"; written by Payam Parsafar, it has been almost 8 years. In this time we even once managed to produce parts of it but never managed to finish it. These years gave me a chance to work on the story more, I developed my directing approach, I also worked on the concepts and the subtext of the story more and "Prey" ended up with a lot of changes - Salman Arbaboon

Work is now done remotely due to the pandemic. Concept arts, backgrounds, and layouts are being created by Négareh Halimi. The Prey scenes are being animated using the paper drawing technique by Mehdi Ghoomoorloo. The rest of the Prey team consists of: Salmeh Arbaboon as video editor, Hassan Mahdavi as sound designer and mixer, and Farnam Farhang Kermani as the composer.
SIGN UP: Want to read more free articles like this? Sign up for Our Newsletter