Shorts
Room with A Sea View by Leonid Shmelkov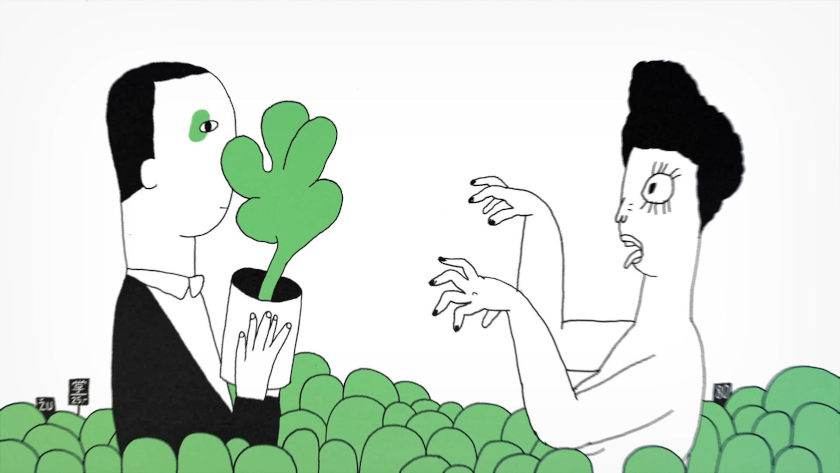 Russian Leonid Shmelkov graduated (2005) from Moscow State University of Printing, Graphic Arts department, and from School-studio "SHAR" in Moscow on a specialty director of animation films.
His "Room with A Sea View" is the result of his M.A. studies at the Estonian Academy of Arts.
Herbert arrives in the seaside city on a long working trip. Accidentally he falls in love with a very strange beautiful saleswoman in a flower shop. He suffers from insomnia, which he treats by watching billiards on TV. But now it doesn't help anymore. His obsessive passion keeps him awake..- Film Synopsis
The film participated (official competition) at Animafest Zagreb, OIAF, Anima Brussels among other festivals, and has won awards at PÖFF Shorts 2020 (Jury Mention), Supertoon Croatia (Special Metion).
Mikhail Gurevich wrote about the film: Shmelkov presents here a student-again work – a twisted love-obsession story where Russian sensibility tangibly mixes with Estonian estrangement, or vice versa.
Watch Room with A Sea View
Sneak Notes (Vassilis Kroustallis):
Leonid Shmelkov's film juxtaposes animals and plants, our carnivore and our idealistic humanity together, as if it were a plant to be consumed and then put away to just meditate. In a world full of indifferent actions, the main character's own sense of humanity might not bring the best for him, but it certainly stands out and colorfully (in green, mostly) tells us it's OK to have feelings planted in both our bodies and pots.
SIGN UP: Want to read more free articles like this? Sign up for Our Newsletter
Read More About: